Embracing the challenge
Since the company first appeared as Introl Limited in Brighouse, Yorkshire during 1967, Koso Kent Introl has evolved to become a leading name in the design and manufacture of specialist valve solutions across the global energy and offshore market.
Throughout its history the company has continued to expand and grow though a series of mergers and acquisitions. The Koso brand first appeared in 2005 when Nihon Koso Co Ltd of Japan acquired Kent Introl from Vetco Gray to form Koso Kent Introl Limited (KKI). Koso represents a strong family owned group with operations in India, the US, China, Korea and Japan with a total yearly turnover of around $400 million. While Koso owns Kent Introl the company retains a high level of operational freedom while enjoying the financial stability of its parent, as KKI managing director Denis Westcott elaborates: "Like Kent Introl, Koso is a valve producer, but while Kent Introl operates principally within the upstream and midstream oil and gas markets, Koso focuses more on downstream and other industry sectors. Hence
KKI is allowed to operate autonomously. In simple terms we are free to operate effectively where we wish within the oil and gas market." The KKI product range includes topside control valves, choke valves and subsea choke valves as well as a range of butterfly valves. The company specialises in providing engineered solutions for arduous services for both topside and subsea applications for oil and gas producers. Valves can be provided in a variety of sizes, pressure ratings and materials to suit a spectrum of applications and customer requirements. All KKI products and services are delivered in line with ISO 9001, TS 29001, OHSAS 18001 and ISO 14001 certification, allowing clients to order from the company with the greatest confidence.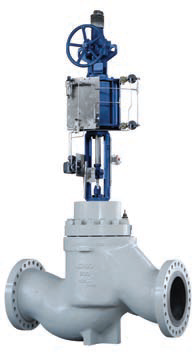 When the company was last featured in European Oil & Gas Magazine during September 2013, Denis discussed the company's £2 million investment in a state-of-the-art Scharmann Ecoforce 1 HT2 as part of its strategy to increase production capacity at its Brighouse production facility. The Ecoforce allows KKI to deliver new angle style bodies, typically used for topside choke and subsea valves in a single efficient operation. Likewise, during 2013 Denis announced the company's plans to implement a new business system by early summer 2014. Today KKI is in a prime position with increased production capacity and a new management system that differentiates the company from other players in the market. "Customers who visit the Brighouse factory are always impressed by KKI personnel and facilities as well as its open style and visual management system. Clients can track orders through the business by looking at the visual system, which shows orders from the point of entry in sales right through to dispatch. In simple terms the company is defined by good people, good facilities as well as a strong track record and an open visual style."
From its current position KKI is presently gearing up to meet the challenges of the oil and gas market as it continues to evolve. "We see the future of oil and gas in two prime areas, which will become further linked as time passes," says Denis. "First are the ongoing developments in the subsea arena. As fields are developed in deeper waters and further from land, the need will grow for more complex subsea installations with the potential to carry out processes traditionally handled topside or onshore, on the seabed. Secondly more fields will fall into the high temperature/high pressure, or even ultra-high pressure/ultra-high temperature zones. This will not only increase the demands placed on the technical design of valves but also on materials technology. We are involved in various initiatives to place the company appropriately to meet these potential markets."
Traditionally KKI has enjoyed strong performance in the North Sea and in several other sectors around the world including the Caspian Sea and South America with an especially strong presence in Brazil. Furthermore, its sister company Koso India Pvt. Ltd. (KIPL) is well established in India, the Middle East and Far East. Today KKI continues to operate in diverse sectors throughout the world and in March 2014 the company won a contract to supply its 11 VeCTor velocity alloy steel control trims for a major offshore project in Africa. The VeCTor trim design has been developed by KKI over many years for use in severe service environments worldwide, including high temperatures or high pressure-drop applications. The valves on order are to be used for a high-pressure application off the west coast of Africa late in 2014. Furthermore KKI maintains a prestigious ongoing frame agreement with Statoil Petroleum in Norway. To date Statoil has made significant purchases of spares and valves from KKI for new-build projects, upgrades, modifications and replacement units.
From its current strong position KKI is well placed to embrace both the challenges and opportunities of the oil and gas market well into the future. Commenting on the company's future strategy Denis concludes: "KKI will focus on developing its products for floating and subsea systems, but the prime focus will most likely continue to be on subsea products. If this market follows predictions it is set to expand substantially over the next five to ten years. Presently KKI has 600 subsea chokes installed worldwide and this number is set to grow over the coming period."
Koso Kent Introl
Services: Control valves