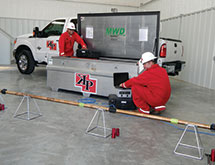 KP Directional Drilling Services
KP Directional Drilling Services knew its business model needed to stand out from the beginning. The directional drilling services it performs for the oil and gas industry might look similar to those of many other companies, but its attention to detail, quality personnel and flexibility are what set it apart.
Kirk Pearcy founded KP Directional Drilling Services in 2012. The Midland, Texas- based company operates horizontal and directional drilling, and measurement-while-drilling (MWD) technology in the Permian Basin and greater Texas area. "We contract with energy companies and provide the highest quality of directional drilling services to our customers to achieve maximum return on every project," Pearcy explains. "When drilling a well, many factors have to be taken into consideration to achieve what the energy companies are trying to accomplish for greater returns on production."
KP Directional Drilling Services also offers well planning, survey tracking and logistics management services. The company is always looking to improve its services and drilling technology programs. "Technology on the drilling side has changed astronomically," Pearcy notes. "We have better directional mud motors, drill bits and MWD tools than ever before. Using advanced technology can and is changing the way we drill for greater production, deeper formations and pinpoint accuracy when drilling."
This technology has allowed the company to perform many other types of directional services, which include 'S' wells, straight-hole drilling, multilateral drilling, reentries and open-hole side tracks.
Supplier Selection
To separate itself, KP Directional Drilling Services works with a variety of top-tier suppliers instead of committing itself to just one good company. By doing so, it provides excellent customer service by working with manufacturing companies of choice. "We don't believe there is a one and done approach to drilling," Pearcy says. "There is not just one directional tool we want. There are many top manufacturing companies today that we can go to that will provide different solutions to solve the same problem, but will create better drilling results."
KP Directional Drilling purchases its directional drilling tools from manufacturers in the United States, and Pearcy believes in going back to the source for product maintenance. "We ship tools back to the manufacturer because the quality of service and technology we get provided greatly exceeds what we could provide," he adds. "We feel like because of that, our service and quality is at a higher standard."
The manufacturer's certified level one, two and three technicians provide more quality control to KP Directional Drilling Services by servicing the motors and MWD tools. "We feel we have better quality control over our tools and that is one of the things we feel is critical in performance drilling," Pearcy says.
Ideal Pairings
KP Directional Drilling Services pairs its teams based on each individual's years of experience, personality and character. "When our teams start a job, they may be on location from 30 to more than 110 days and may be drilling one to four wells per pad," Pearcy explains. "There has to be a sense of continuity, so we try to match people together by experience."
Trusting each other is also a vital aspect of the job because KP Directional Drilling Services' employees not only look out for their own safety, but for everyone on the site. "We strive to be a team player; we don't want to be an individual service company on location," Pearcy adds.
Being a team player not only resonates in employees but in the overall company culture. Its drilling programs are built around the energy companies versus pushing its own agenda. "We don't just build what we want; that's not how we work," Pearcy says. "We focus on aligning our drilling programs with companies who want better service and quality by reducing the number of drilling days, increasing depths and being safe all at the same time."
KP Directional Drilling Services does not aspire to be just another directional drilling company and Pearcy admits the company model may not fit every energy company. "We hang our hat on our integrity and character; that's the way I built our company," he adds. "We want to be known as a company that puts integrity and our commitment to our clients first."