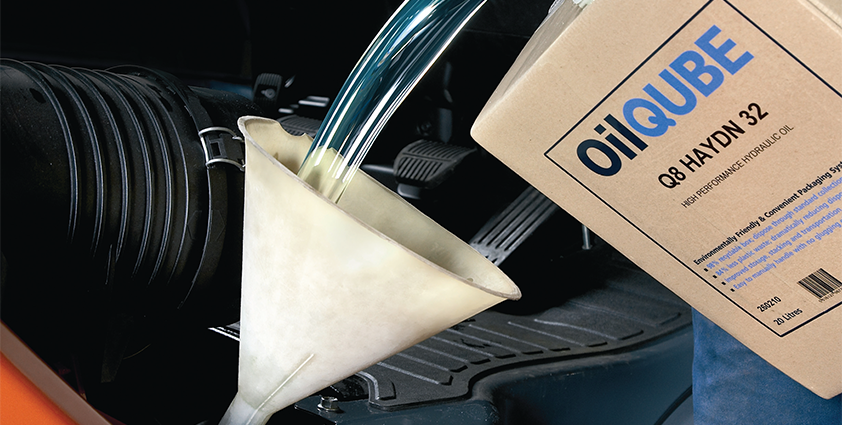 Smooth operator
Kuwait Petroleum International Lubricants (KPIL), operating under the Q8Oils brand, has become a major player in the global lubricants market.
Its success is founded on significant corporate resources, a commitment to product development and uncompromising standards of quality and service. "We constantly monitor the increasing demands of component technology to ensure that our lubricants represent the very best and latest in lubricant technology," notes KPIL UK country manager, Andy Dixon. "Q8Oils' product portfolio consists of over 600 grades of base oils, process oils, extracts, waxes and finished lubricants for every conceivableapplication, each engineered and formulated for the job. This comprehensive range makes us one of the most complete suppliers of lubricants and petroleum based products in the industry. Our-state-of-the-art plant in Leeds produces over 40 million litres a year and over 1000 different product/pack combinations."
Launched in 1986, the Q8Oils brand was an instant success, differentiating itself via its strength and originality. More recently, customers are able to benefit from strong technical and onsite support in the form of Q-Care. This service enables managers to have staff trained in the correct use of lubricants, as well as providing advice on key environmental, health, safety and quality considerations. Q-Care also offers adedicated business to business website featuring concise information on lubricants management.
Based in Leeds, Q8Oils develops and supplies products and services to the following sectors:
Automotive
Industrial
Marine
Energy (gas engines, wind turbines)
Considering what sets the business apart in the marketplace, Andy sites: "We have a commitment to be continuously developing products." Also, with Q8Oils being a part of the Kuwait Petroleum Corporation (KPC) it has the benefit of sharing corporate resources. He continues: "Q8Oils products are derived from Kuwaiti crude; unique in its consistency and product quality. With complete control of our raw materials we can guarantee a consistency of product quality matched by no other company, so our customers have complete confidence in the performance of our products."
The company has recently launched an exciting new innovation; Q8 OilQUBE, a 20L packaging system, developed as an alternative to the traditional plastic drum. Manufactured and filled at the Leeds blending plant, where a purpose-built, automated Q8 OilQUBE filling machine is based, it is a new and environmentally acceptable packaging style launched initially for a wide range of agricultural and plant machinery lubricants.
"Q8Oils believes in developing and supplying innovative products that reflect customers' demands," says Andy. "Our customers are looking for packaging that is practical and cost-effective to dispose of, convenient to store and easy to use. The Q8 OilQUBE offers this and much more in a box. It is made up of two key components – a water-resistant, 98 per cent recyclable cardboard box and an inner plastic bag, which produces 84 per cent less plastic waste compared to a standard plastic drum. For our customers, this means a significant reduction in the disposal costs associated with plastic waste as well as improved storage and stacking with the new box-shaped design. Without the glugging of a traditional plastic drum, pouring is also easier allowing for minimum spillage and product waste."
Switching to Q8 OilQUBE offers a whole host of benefits compared to the traditional plastic drum. Discussing how the new development has been received by the market, Andy reveals: "Since the launch in April 2010 at the FPS EXPO 2010, Q8 OilQUBE has generated much interest from new and existing customers with orders being taken at the exhibition stand on the day. Q8Oils are pleased with the positive results so far and are working towards extending the product range across other market sectors."
Most importantly, Q8 OilQUBE is recyclable, demonstrating Q8Oils' commitment to achieving good environmental practice and its dedication to operating in a sustainable manner. "We are committed to the prevention of pollution and the continual improvement of our environmental performance and management as an integral and fundamental part of our business strategy and operating methods," Andy explains. "It is our priority to encourage our employees, customers, suppliers and all business associates to do the same. Not only is this sound commercial sense for all, but it's also a matter of delivering on our duty of care towards future generations."
Another of Q8Oils UK's big considerations is research and development, which is a means of staying ahead in the market. Kuwait Petroleum Research & Technology is the European development facility, staffed with over 80 scientific and administrative staff aiming to satisfy the increasing demands of component technology, maintenance practices and the environment.
Andy comments: "Technical innovation and combining our extensive knowledge of the refining process with the very latest in additive technology enables Q8Oils to maintain its position as a leading supplier of lubricants. This is particularly vital at present, considering the negative impact the economic downturn has had. Hard work is required by all to maintain volume and sales levels."
Q8Oils' combination of an experienced sales force, technical support, customer service professionals and a worldwide delivery network means it can consistently deliver the highest level of service and after sales back up. The fact it prioritises R&D means the business will always remain at the forefront of its markets, in respect of delivering what clients need, and Q8 prides itself on its proven track record of providing useful and innovative solutions to its diverse sectors.
KPIL UK
Services: Lubricants and lubricant technology