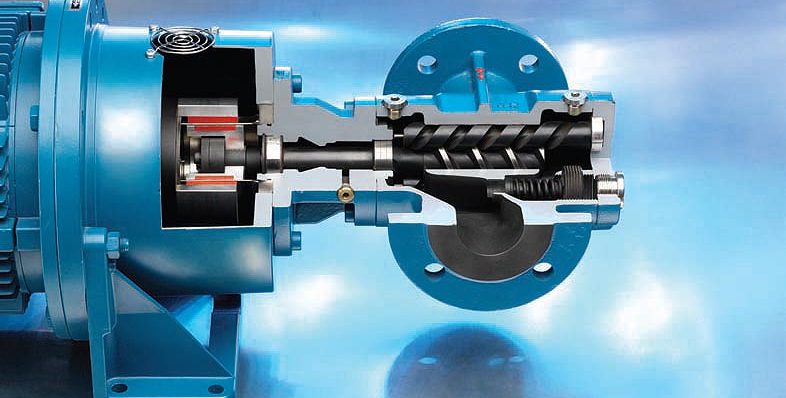 First-class standards
For close to 70 years KRAL AG has delivered market-leading solutions in liquid handling applications.
Today the company continues to innovate in the field of pump and flowmeter technology, providing world-class products that assure its customers' competitive edge. As such, from its headquarters in Austria KRAL services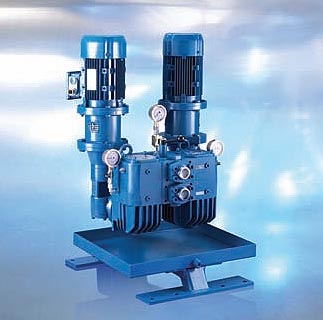 clients operating on a global level. Alongside this it operates a second business within the US named KRAL-USA. Furthermore it employs a global network of representatives that ensures that wherever its products are required, KRAL is on hand with the appropriate solution.
The company was originally founded in 1950 with a product range that included domestic water pumps, electric motors, industrial water pumps and gear pumps. Throughout the years as the company has grown, it has developed its product range to meet the needs of five targeted market sectors. These are marine, chemical engineering, mechanical engineering, oil and gas, and power generation applications. With dedicated branches focusing on each of the company's specified market sectors, KRAL delivers bespoke products and services to meet the specialised requirements of its clients.
Within the oil and gas sector specifically, KRAL manufactures a comprehensive range of American Petroleum Institute (API) compliant pumps, pump stations and pump systems as well as precision measuring instruments. The company understands that safe operation is paramount within the sector with regards to personnel, equipment and the environment. Additionally, KRAL recognises that every drop of product is important and therefore strives to deliver innovative solutions of the highest quality for the processing of petroleum and other liquids. An important application in which KRAL is able to enhance the performance of its customers' operations is in fuel consumption. The KRAL Volumeter re-measures the diesel fuel that is delivered to engines to ensure that they run at their optimum operating point. Furthermore, Volumeter also measures the flow of fuel from the storage tanks so that throughout multi-engine systems a full spectrum of measurement is taken to eliminate costly waste. Measurements include engine-related fuel consumption, the quantity of fuel within storage tanks and the amounts extracted from tanks.
KRAL also provides the means to display, log and store flow data, enabling customers to evaluate the measurements and further facilitate efficient operation. The company's systems provide a centralised display of the fuel consumption of all of the engines within a multi-engine system. Furthermore, systems can be further expanded in accordance to the client's needs, meaning that a bespoke solution is available for every application. Complex measuring tasks are made possible through the integration of individual flowmeters throughout the system.
When it comes to handling and directing fluid, KRAL has the right solution with an extensive portfolio of screw pumps with operational pressure capacities ranging from between 87PSI to 1740PSI. With a wealth of focused experience that dates back to the company's inception, KRAL is able to deliver some of the best pumps on the market. All of its screw pump products are designed and manufactured in-house and the company's certified quality assurance system is fully EN ISO 9001:2008 compliant to guarantee the highest quality and consistency. KRAL screw pumps are designed with long-term operation and reliability in mind and are coated with a special surface treatment that further ensures problem free performance.
The first-class standard of KRAL fabrication is achieved through the selection of optimum materials from trusted suppliers such as MUZ, which represents an important strategic partner to the company. Finally, every screw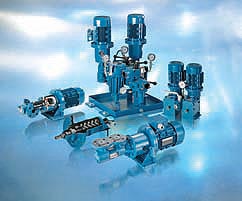 pump is certified with a performance test at the company's production facility before shipment and distribution through its partners worldwide. KRAL screw pumps are then delivered to the oil and gas sector with applications in compressor lubrication, turbine lubrication and booster module separators for offshore platforms. Its pumps are also employed within the sector as transfer and burner pumps, meaning that the company's product portfolio enjoys a wide footprint throughout the market. Operationally KRAL screw pumps provide a host of benefits that differentiate them from alternative products, for example they offer high delivery rates with relatively small space requirements in comparison to other pump types. Further to this, KRAL screw pumps offer exceptional control capabilities and low-pulsation transporting. The delivery rate of a screw pump is strongly dependent on speed; in contrast to other pumps KRAL screw pumps have linear delivery rate characteristics, meaning that they can be controlled inexpensively and with ease through the use of a frequency converter.
When transporting liquids pressure pulsations represent a danger to operations that can damage pumps, systems and even the pumped liquid. A further advantage of the screw pump design is that it feeds product conserving and therefore causes considerably less pulsations than piston and gear pumps. The pumped liquid is not pressed and there are no pressure pulses that can damage the piping and other components or trigger vibrations. An additional advantage of the KRAL screw pump design is that the solution operates very quietly.
KRAL AG is also highly committed to aftersale service as well as delivering world-class fluid handlling solutions. The service that the company provides begins from the moment a client chooses KRAL as its operational partner. Its highly competent engineers are on hand to offer assistance in installation and commissioning to facilitate an efficient and smooth start up on site. Furthermore, its staff are always on hand to carry out or oversee routine maintenance and a constant supply of spare parts is always maintained to ensure that client's needs can be met at a moments notice. Repairs and maintenance can be carried out both in-house and onsite, and all work with KRAL Volumeters can be verified and tested at the company's in-house calibration facility that is fully ISO/IEC 17025 compliant.
With a long and consistently innovative history and strongly established support network of distributers and agents, KRAL AG is on track to continue to supply market-leading fluid handling solutions well into 2014 and beyond. With a broad range of market segments and clients, the company is able to adapt to changing market conditions to ensure that while one market becomes slow it is able to grow and expand in other areas where business is more buoyant. This delivers a turnkey package that makes KRAL AG an established market leader.
KRAL AG
Services: Pumps and fluid handling solutions