Tank commanders
In 1990, Mr.Friedemann Krampitz founded the company KRAMPITZ Tanksystem GmbH to actively promote his concept of a new generation of steel storage tanks. He proposed that by using rectangular/cubicle tanks, instead of the traditional cylindrical tanks, he could improve the amount of liquid stored in the same footprint by using the 'corners'. In general, he could increase the storage capacity by 20 per cent with the same footprint.
From the very beginning, KRAMPITZ focused on the creation of non-pressurised steel tanks, recognising that the industry prefers to make long-lasting investments in the highest quality products,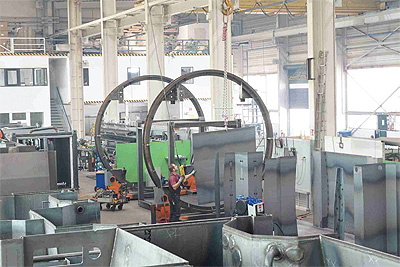 that offer the longest durability. Having convinced the market of the viability of Friedemann's idea and obtained all the required certificates, KRAMPITZ then made the next step forward and introduced double walled tanks in 1994. With detailed static calculations, a unique manufacturing process and via numerous tests, the company was able to prove to the authorities that double walled tanks were safe for the environment. At that time, most installations used single wall tanks. An additional drip pan, or any other type of containment below the tank, was required so that, in the event that corrosion or an accident caused a leakage at the tank, the contents could not drain into the soil/ground, with devastating environmental consequences. Also, big tanks were normally buried in the ground, whereas KRAMPITZ tanks are certified as above ground storage tanks.
Thanks to the vision and determination of Friedemann and subsequent members of the Krampitz family, today KRAMPITZ is the leading manufacturer worldwide of cubicle tanks for any kind of fuel and other liquid as per DIN 6601. Even though the company's major focus remains on diesel and hydrocarbon fuels, KRAMPITZ nonpressurised tanks are also used to store any kind of liquids with a maximum density of 1.2 kg/ltr. The business manufactures tanks from as small as 100 ltr. up to large storage tanks of 96,000 ltr., all made from either mild steel (SS235JR) or stainless steel. All single walled tanks are also available as double walled tanks.
Additionally, KRAMPITZ offers double walled tanks in ISO-Standard sizes of 10", 20" and 40", with 20" and 40" also in HC design. For easy handling and transportation those ISO-tanks can be supplied with a CSCcertification from DNV-GL. It is also possible to split these tanks into up to three chambers for different liquids, which means that only one single tank installation may be needed, bringing investment, installation cost and space advantages.
German quality
KRAMPITZ tanks can be installed inside or outdoors, can be insulated, can be equipped with tank heaters and are designed to meet almost all earthquake-zone-requirements worldwide. It is also possible to group a number of tanks, creating an automated tank farm with a centralised dispensing and filling point, for example. On top of that, KRAMPITZ ISO-container tanks can be delivered with a specially certified design so that they can be stapled up to three tanks high. Therefore, large volumes can be stored, even if only a small installation area is available.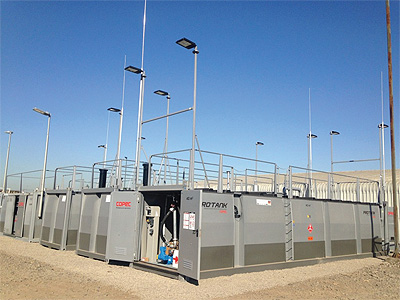 Having achieved these major goals in storage technology, KRAMPITZ maintained its momentum, and continued with its path of innovation. Over the years, the business increased its portfolio, and using existing tank know-how, it was able develop new products, such as its CEN-transport tanks in 1999, which come with a BAM certificate, or its mobile fuel stations, based on 20" and 40" ISO-HC tank containers, which have several niches in which items such as dispensers, diesel GenSets and pumps can be installed. The ability to offer the tanks with up to three chambers allows the operator to fill vehicles with diesel, gasoline and AdBlue from a single tank installation, for instance. In a single-lift design, these mobile fuel stations can be placed at any location on simple strip foundations, connect to electricity (or use a built-in diesel generator), be filled and immediately start dispensing to cars, buses, trucks or any other equipment that needs fuel.
As we enter the early months of 2019, KRAMPITZ is still a family-owned company, which manufactures more than 2500 fully welded tanks per year. Offering German quality, ISO 9001 certification, a registered and certified welding shop, and is certified by the German water environmental authority, KRAMPITZ also holds several patents on storage tank technology. Its tanks and mobile fuel stations can be found all over the world, and are used in industries including power, mining, small airfields, chemicals, machinery, petrochemicals, small harbours and fuel distribution.
Its customers return time and again to buy products from a company that changed the tank world, and with nearly three decades of experience in the manufacturing of tanks, remains dedicated to innovation, the latest technology and exemplary levels of customer service. The KRAMPITZ name guarantees the highest quality, security, safety and product design – more than 35,000 manufactured units represent the trust of a wide variety of customers from around the world.
KRAMPITZ Tanksystem GmbH
Products: Manufacturer of steel storage and transport tanks