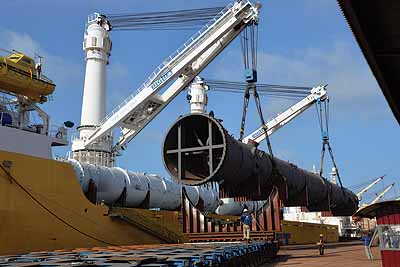 Kuantan Port Consortium Sdn Bhd
Port for the future
From its strategic location on the eastern seaboard of Malaysia, Kuantan Port is quickly developing into a hub port for the region's East-Coast Industrial Corridor. Operating as a subsidiary of Malaysia's IJM Corporation, Kuantan Port Consortium (KPC) manages the port and is able to respond to the rapid changes in the demand for its facilities. From its headquarters in Selangor, Malaysia IJM has expanded its operations into ten countries with a primary focus in Malaysia, India, China and Indonesia. As such KPC is able to draw on the significant expertise in construction, property development, manufacturing and quarrying, infrastructure concessions and plantations of its parent company in the running of Kuantan Port and shares the commitment of IJM to ethical business conduct. This includes the principles of good corporate citizenship, allowing sustainable growth and development.
"KPC operates Kuantan Port as a multipurpose port that is strategically located in the fastest growing region of Indo-china and China," elaborates Chief Operating Officer, Dato' Ir. Haji Khasbullah Bin A. Kadir. He added: "Its proximity with the numerous industrial areas, which are yet to be fully developed on the east coast of the Malaysian Peninsular also make it a suitable port of import and export within the region. Kuantan Port is able to offer suitable berths for petroleum and chemical products and even dedicated berths to major petrochemical players. The liquid bulk operations at Kuantan Port are certified with ISO 9001. KPC is committed to providing the right infrastructure and the highest level of customer experience for its customers."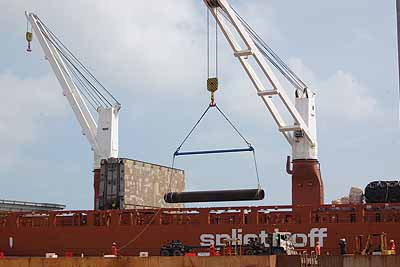 Presently the port's main activity is export of minerals such as iron ore and bauxite to China, which accounts for around 52 per cent of Kuantan Port's total cargo throughput. Next to the exports in minerals the port is heavily involved in the petrochemical industry through the import and export of both liquid and containerised cargos as well as the transit of palm oil, mineral oil, bare and coated pipes and other commodities. As the demand for these products continues to increase KPC has worked to increase the capability of the port through an ongoing expansion plan.
"There has been a lot-of progress at Kuantan Port in terms of cargo throughput and the port expansion plan. Construction of a 4.63 kilometres breakwater is on going and is expected to be completed by the end of 2015," said Dato' Ir. Haji Khasbullah. He further revealed: "The main feature of the expansion of Kuantan Port is the development of a new deep water terminal (NDWT) to cater for large ships up to 150,000 DWT from the current capacity. By providing a deeper port and an additional two kilometres of berth, our clients will no longer be restricted by the size of ships and the limitation of shipment volume, facilitating existing and new clients to expand their operations in Kuantan."
Malaysia has recently unveiled several major upstream and downstream oil and natural gas projects, as part of the country's strategy to enhance its output from existing oil and natural gas fields and to further its exploration in deep water areas. Malaysia's ambitious energy strategy represents a significant opportunity for Kuantan Port and on 1st June 2015 a privatisation agreement including both the current port and the new deep-water port terminal providing a concession period of 30 years plus an additional 30 years was signed with the Malaysian Government. "KPC believes that there are immense opportunities to reap from the oil and gas sector by providing facilities to conduct ancillary services to the oil and gas players including vessel lay-ups, ship repairs and supply of stores," Dato' Ir. Haji Khasbullah says. "KPC is 40 per cent owned by the Guangxi Beibu Gulf Group and will leverage on the partnership to establish new shipping lines with major ports in China. The establishment of the Malaysia- China-Kuantan Industrial Park (MCKIP) and its sister park in Qinzhou will also enhance bilateral trade between the two countries. From its strategically beneficial location facing China, Kuantan Port will be able to take full advantage of this opportunity and coupled with the port expansion, will definitely serve as an attraction to value adding activities and container lines."
Indeed the strength of Kuantan Port as an integrated industrial and logistics hub is further highlighted by its identification as of significant importance by the East Coast Economic Region Development Council (ECERDC). "ECERDC is spearheading the industrialisation of the East Coast Region and Kuantan Port has been earmarked as the logistic centre for the East Coast region. The development of the NDWT and both MCKIP and MCKIP II would further enhance the capability of ECERDC's Special Economic Zone to develop Pahang to be at par with the West Coast states of Malaysia," said Dato' Ir. Haji Khasbullah and he further related: "The strategic location of Kuantan Port in the Peninsular of Malaysia would further develop trade links with China taking into consideration the location of Kuantan Port, which is the closest port to China and having the capability to provide modern port facilities with additional industrial landbank."
Amid a flurry of activity and development, the future of Kuantan Port Consortium is certainly an exciting one. Commenting on the focus of the port over the coming years, Dato' Ir. Haji Khasbullah concludes: "KPC will continue its focus on fast tracking the port expansion project. At the same time, we will also continue with our efforts to promote Kuantan Port to new and potential clients both internally within Malaysia and overseas. Over the next three to five years, our strategic vision is to place Kuantan Port on the maritime map as the preferred port not only on the East Coast but in Malaysia as a whole. IJM's partnership with Guangxi Beibu will spur more traffic and cargo throughput for Kuantan Port as well as bringing with them best practice of port management and a wide network of clientele from China. Most importantly, Guangxi Beibu will play a pivotal role in linking the shipping network and cargo movements between China and South East Asia which forms part of the Maritime Silk Route. This will set the stage for Kuantan Port to be a vibrant port city in the future."
Kuantan Port Consortium Sdn Bhd
Services: Petrochemical and cargo hub
Issue 125 October 2015