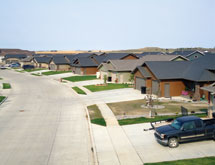 For many oil companies, the Bakken Shale in North Dakota, Montana and Saskatchewan has proven to be a worthwhile venture. But for Kuntz Builders Inc., operating in the region has paid off for another reason entirely, as it has built new homes there.
"It's been rewarding," Associate Kyle Kuntz says. "It's been enjoyable to see a strong community starting to turn into something more."
The Dickinson, N.D.-based general contractor specializes in residential and commercial projects. Kyle Kuntz's father and uncle, owners Tom and Larry Kuntz, founded the company in 1978. "They were in their lower 20s when they started," Kyle Kuntz says.
Throughout the years, Kuntz Builders has continuously grown. "We've had good, steady growth from year to year," Kyle Kuntz says. "With a staff of 14 employees, our job sites can have anywhere from 30 to 60 people working at any given time."
One of the critical aspects of its success, Kyle Kuntz notes, has been its ability to maintain a strong reputation. Because the company does not use much marketing, it has to do this through its work. "We work really hard to make sure we do things right every time," he declares. "That is how we stay busy and keep a good reputation.
"Depending where the market leads us, we have done up to four commercial projects per year," Kyle Kuntz says. "But in the last couple years, the market for us has been the housing sector."
Family Legacy
Kyle Kuntz says he has wanted to be part of the family business for his entire life. "I grew up with Kuntz Builders," he says. "Getting a degree in construction management, working for a larger homebuilder after college and working for the company at every level has always been my path to continuing on the family business. I am so excited to see the first and second generations working hand [in] hand and we see that continuing over the next decade."
"Everyone takes their role and performs it," Kyle Kuntz says. "In a company like ours, those roles change day by day or week by week." His mother, Rose Kuntz, has always been part of the company since day one. She has had roles of office manager, sales and selection coordinator. Rose does so many things for the company that are not always seen in the building of the projects.
This also includes Tom and Larry Kuntz, as well as Kyle Kuntz's cousin Dallas Kuntz, who also works at the company. "We are a team," Kyle Kuntz says.
Adapting and Adjusting
Kuntz Builders' construction crews have always had to cope with the hot summer heat and the extreme cold of the winters. Building in North Dakota for the Bakken formation can be a challenge because the extreme differences in weather.
The company also has found it difficult to find enough labor for jobs. "I've had many people that I've interviewed that I would like to hire," Kyle Kuntz says, but notes that some of them have gone to find work elsewhere due to their needs of finding a more affordable place to stay.
However, Kyle Kuntz asserts that the company does not mean to complain. "We just like to do a good, quality job," he says. "We've had to adapt on how we build our houses [and] how we handle things because of the demand on everybody."
But Kyle Kuntz asserts that the firm has adapted. "My father has always led us when it comes to change and adapted to different business climates," he says.
"He makes sure personally that we can deliver what we promise," Kyle Kuntz says. "This is not an easy task to do when you are working and building in a market that we have in the Bakken."
Kyle Kuntz adds that Kuntz Builders has seen many homebuyers moving into the area with their families. "We think that is a good indicator that they are moving here for the long term and that this is a well-established oil play for years to come," he asserts.
Kyle Kuntz says the company wants to stay on its current track of success. "The future of our company is doing exactly what we're doing today and keep providing good quality housing at the end of the day," he says. EMI