An energetic focus
"Kuwait Energy is an independent oil and gas entity actively engaged in the exploration, appraisal, development and production of hydrocarbons," begins its CEO, Sara Akbar. "Since our establishment in 2005, we have built a high quality, diversified portfolio of oil and gas assets in the MENA (Middle East and North Africa) region. The MENA portfolio consists of 12 exploration, development andproduction assets across Egypt, Iraq, Yemen and Oman, of which we operate seven." Producing from all of its active regions, as of December 2014, Kuwait Energy's 2P working interest reserves are approximately 671 mmboe and over the course of that year it averaged a daily working interest production of 25,252 boepd.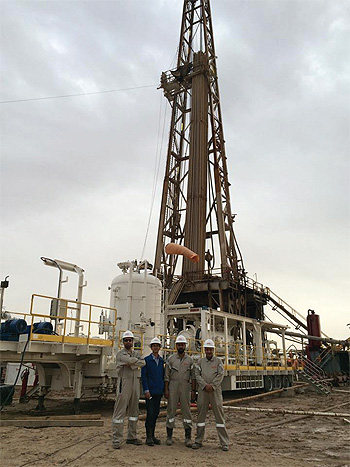 Sara puts the company's historical success down to three things: its operational excellence, solid financial position and strong regional relationships. "Operationally, we enjoy material and low risk exploration and appraisal upside within our existing portfolio," Sara explains. "As we remain strategically focused on the most prolific and cost effective hydrocarbon regions globally we are ideally positioned to secure future potential opportunities in the MENA region."
Kuwait Energy's performance in this respect has already earned itself a strong track record with operations in Egypt contributing to 82 per cent of its total production, which will be balanced once production begins in Iraq where 94 per cent of its total 2P reserves sit. Illustrating the operational excellence on which the company prides itself, average working interest production within the MENA region has increased by 57 per cent in the ten years of operating.
"Financially, our existing production as well as our new future production projects in Iraq provide stable cash flows and mitigate financing risk," Sara continues. "Our revenue has been steadily increasing and is up 40 per cent since 2007. Essentially, our strategy is to maintain relatively low operating costs for producing assets and this has resulted in consistently high EBITDA margins. Both our operational and financial strengths are supported by the strong regional networks and relationships we have established with key decision makers, enabling us to access new opportunities and support current operations. In addition, our management team is well known in the regional oil and gas sector and has a solid track record of reserves, resources and production growth delivery."
As the company has grown according to these strengths its vision and strategy has evolved to focus more consistently on strong markets with good potential. As such, in 2014 Kuwait Energy exited from the Ukrainian and Russian fields to rationalise and refocus its commitment on the MENA region. This exit successfully coincided with its largest discovery in the Block 9 field in Iraq. Block 9 and the Siba gas project, also in Iraq, have therefore become the major focal points for Kuwait Energy as it works to realise its ambition of becoming one of the largest E&P companies in the Middle East.
"According to our plans, we are allocating great effort and finances to fast-track these two projects into their final stages of completion," outlines Sara. "Drilling activities are ongoing in Siba, along with pipeline construction and, very recently, the commencement of the main processing facilities and EPC works. All this should enable us to start production in late 2016. Regarding Block 9, we successfully made our first discovery last September and our second in December. Production followed in October 2015 and with these successes in mind this field's complete development is being fast-tracked."
As part of developing the Block 9 project, at the start of 2014, Kuwait Energy farmed-out a ten per cent participating interest in the service contract to its Egyptian partner, the Egyptian General Petroleum Council (EGPC) in the partner's first international investment. "The merit of this investment is its contribution to building an economic relationship between Iraq and Egypt," notes Sara.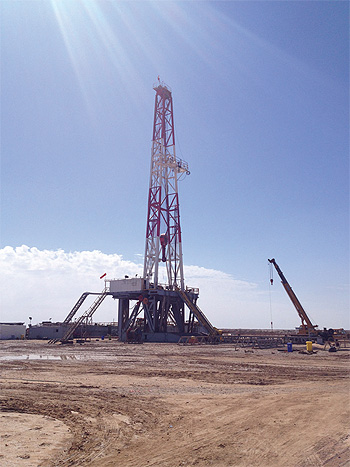 Another area of particular focus for the company is Oman, into which it entered in August 2006 through a service contract for the Karim Small Fields cluster. With a 15 per cent revenue interest, Kuwait Energy has successfully operated in this region where 18 mature oilfields exist, 12 of which are still producing, since and still sees a wealth of opportunity in the area. "There is really good potential to expand the Oman assets base in the future," highlights Sara. "Recently, we were granted a 25-year extension to our contract for the fields as we believe in the potential for growth and this location remains strategically important for us as we aim to maintain and strengthen our presence in the MENA region."
Alongside the commercial and operational success achieved by Kuwait Energy over the past decade is its strong corporate social responsibility programme. Within this programme the company has engaged in a number of social initiatives in the region including supporting youth development – it recently supplied school provisions to children in Egypt and Iraq – responding to the emergency needs of deprived families in Iraq and Yemen, and providing opportunities to enable and empower women in the region. This latter subject is aimed at everything from educating illiterate women to setting up small businesses and giving them a better quality of life to inviting female engineering students to begin their careers at the company. It also concentrates carefully on its own environmental impact, monitoring and continuously upgrading its procedures in line with the highest safety and sustainability standards.
"We strongly believe that we are part of every community in which we work," Sara says, highlighting the importance of these kinds of programmes. "We have a duty to enrich the lives in the diverse areas where we operate – beyond the employment and other commercial opportunities we create."
In working towards achieving its vision to become the pre-eminent independent oil and gas company in the Middle East, Kuwait Energy is always on the look out for new growth opportunities in the region. Having spent the last decade establishing itself a reputation for operational excellence as well as building its financial strength, the company is well placed to take advantage of any exploration and production prospects that may emerge in the MENA area. Taking this into account with its exemplary approach to social responsibility and engaging with its local communities, the future for Kuwait Energy looks positive as it moves ever closer towards realising its aspirations.
Kuwait Energy
Services: Independent oil and gas company based in the Middle East