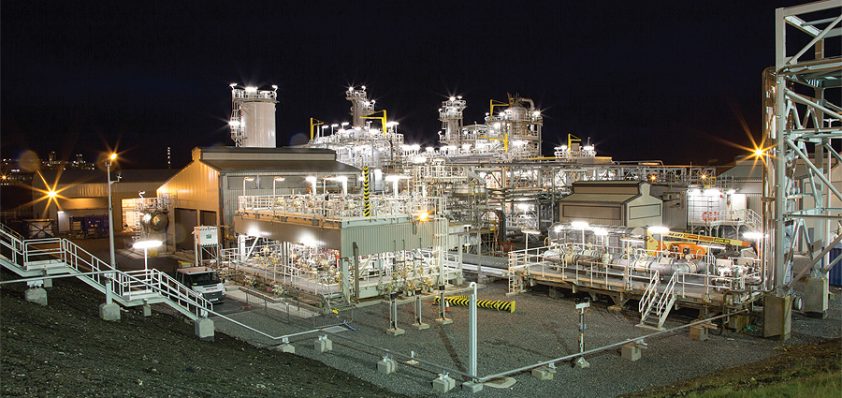 Laggan-Tormore Project – Total E&P UK
Pushing the boundaries
In February 2016, Total announced that it had officially started production from the Laggan-Tormore gas and condensate fields. The Laggan-Tormore development consists of a 140-kilometre tie-back of four subsea wells to the new onshore Shetland Gas Plant (SGP) site on the Shetland Islands. The fields themselves are located 125km north west of the island's coastline and are set to produce 90,000 barrels of oil equivalent a day (boe/d). At the fields' peak production, the 500 million standard cubic feet of gas per day will contribute eight per cent to the UK's total gas
consumption. This makes it a hugely significant development project for Total and its partners DONG E&P (UK) and SSE E&P (UK).
The Laggan field was first discovered in 1986, but it wasn't until the discovery of the neighbouring Tormore field in 2007 that gas production in the region became economically viable and in 2010 the project to extract these resources and supply into the UK network via SGP and the Shetland Island Regional Gas Export pipeline (SIRGE) was sanctioned. Over the six years that followed, a hugely complex design, build and commissioning programme took place to develop the innovative subsea-to-shore concept.
Located at a depth of 600 metres, four wells are connected back to the Shetland-based gas plant via two 143km long 18" import lines, one of the longest tiebacks in the world. "We are really pushing the extremes in terms of tieback distance whilst operating in such deep water," explains Simon Hare, Operations Manager for the project. "In terms of technical feasibility, especially considering the harsh metocean conditions of this area, you can't build a fixed platform in 600 metres of water. Floating systems were also ruled out as being inappropriate for a gas field development, so it was decided that a subsea tieback solution would be best for the Laggan-Tormore project.
"This also eliminates the need to have personnel offshore, which has massive safety benefits. The onshore gas plant can be spread out and the risk of an incident occurring is reduced compared to an offshore installation. Similarly, the logistics of operating an onshore plant are much simpler. We are also able to operate independent of the weather thanks to the whole design philosophy for the subsea installations which is centred on high reliability and redundancy. This means if we are unfortunate enough to experience any subsea equipment failures over the winter period we should be able to wait until a more clement time of the year when we can mobilise intervention vessels to fix them."
To mitigate many of the weather challenges during the construction phase of the gas plant, much of the construction work was carried out by building modules in the Middle East which were then shipped to and installed at site. Working with multiple contractors and suppliers from around the world, a total of 2800 people were working on Shetland at the project's peak.
The SGP facility is designed to dehydrate and process gas for export into the FUKA system and the UK distribution network via the newly installed 234km SIRGE export pipeline. Condensate is partially stabilised on SGP prior to export to the Sullom Voe Terminal where it is stabilised and then exported via tankers.
In terms of equipment and processes used, Simon notes that the best available technology and components were used both in terms of performance and environmental impact.
"Two examples of this advanced technology are the MEG (mono-ethylene glycol – antifreeze) regeneration and water treatment systems," he highlights. "The MEG is necessary to stop hydrates forming in the subsea pipelines whilst transporting gas from the wells, but it is very expensive so we have installed a regeneration system to separate it from the gas, condensate and water before injecting it back into the subsea wells. Whilst it's not the first time for a system like this to be used, it isn't very common in the offshore industry, as it's very complex with heat exchangers, pumps, distillation columns, separators, mixing vessels, filter presses and centrifuges.
"In terms of water treatment, for an offshore platform to put water back into the sea you have to have no more than 30mg of oil per litre, but because we are discharging close to the shoreline in a sensitive environment the limits tighten to just 3mg/l, meaning we have to employ completely different technologies that are closer to those you find in a refinery waste water treatment plant."
This adherence to environmental regulation is an inherent part of developing any major oil and gas project, but Total's responsibility to ecological and social sustainability has extended much further than this. The company has ensured that the plant can provide vital economic benefits to the Shetland Islands and has taken significant steps to engage local populations at every stage of the development. "We have worked with the communities right from day one to achieve two key things," Simon indicates. "Firstly, that we cause as little disruption as possible to the local population, and secondly that we can benefit the economy during the different phases of the project and in the future.
"For instance, in normal operation a total of around 230 people will be employed directly or indirectly by the plant and around 80 of these are Shetlanders. We employ 15 apprentices from the island and have put them through the OPITO training scheme to become production technicians – this has proven to be incredibly successful. Beyond this, we have set up contracts with local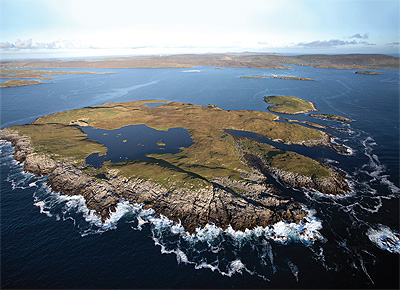 businesses and suppliers to ensure that we make use of the services provided on the island and help contribute to the economy. We also work in partnership with schools, charitable organisations and the local authority on projects linked to our corporate social responsibility programme.
"In terms of environmental protection, our focus covers everything from the careful protection of local wildlife to the preservation of 700,000 cubic metres of peat, which is being held in two large peat stores on site ready to be put back when the plant is eventually decommissioned." Simon points out that this culture and attention to detail has been adopted widely by all workers on site and has resulted in an 'Excellent' rating from SEPA (Scottish Environment Protection Agency) in 2015 for its levels of compliance.
Safety remains a core value and has always been an important part of Total's operations throughout the Laggan-Tormore Project. Across a total of 43 million man-hours, zero fatalities and only 16 lost time injuries occurred. This commitment to safety continues into the operational phase.
Helping to support the development and operation of the Laggan-Tormore project are DONG E&P (UK) and SSE E&P (UK), both of whom hold a 20 per cent share. Simon highlights that DONG's longstanding experience in the Shetland area and with deepwater tieback projects made DONG a very valuable partner throughout the programme, whilst SSE's operational excellence brings key benefits as it looks to expand its own North Sea gas capacity.
Looking ahead, the development of the Laggan-Tormore fields and the Shetland Gas Plant provides a sturdy platform upon which to open up new opportunities. The Edradour and Glenlivet fields, for example, are both located in close proximity to the existing Laggan-Tormore subsea facilities. "By themselves these would never have been economically viable, but because Laggan- Tormore is already in place it allows us to install a relatively simple tieback into the existing pipelines and control systems in order to bring them in to production," Simon outlines. "This project was given the go ahead in 2014 and Edradour is due to come on-stream in October 2017 with Glenlivet following in September 2018. This provides a great opportunity for the future of the gas industry in Shetland, as other stranded gas fields could be exploited through the existing infrastructure, making it a very exciting position to be in as we move forward."
Total E&P
Project: Shetland Gas Plant/Laggan-Tormore Project