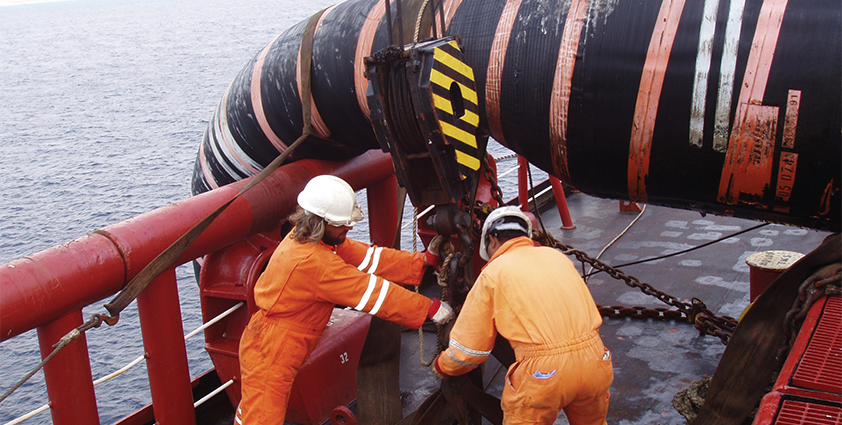 High performance
Established in 1963, with its operating headquarters in the United Arab Emirates (UAE), Lamnalco Group is today one of the leading marine terminal operators in the world with almost 50 years experience in providing turnkey marine support to the global energy market.
With operations in 16 countries across four continents, supporting the shipment of more than five million barrels of oil equivalent every day, Lamnalco has a staff of some 1500 professionals, both ashore and afloat. The group occupies an established position in the midstream oil and gas industry, which includes activities related to the storage, processing and transportation of crude oil and natural gas commodities. At present Lamnalco has two major shareholders – Royal Boskalis Westminster NV, a leading dredging and infrastructure development company, and Rezayat Group, a leading privately owned engineering and trading conglomerate.
Within its targeted market Lamnalco provides a comprehensive range of marine support services to producing installations and facilities such as floating production units, marine terminal and ports, liquefied natural gas (LNG) marine facilities, and single point moorings. Expanding upon these activities Gary Dockerty, business development director, says: "Our service portfolio includes the escorting, berthing and unberthing of tankers, shipping scheduling and terminal management, marine operations support and logistic services for offshore activities, and surface and subsurface maintenance operations to all existing mooring systems. These activities are facilitated by our 60-vessel fleet, which includes small rigid inflatable boats, high performance tugs and sophisticated multi-purpose support vessels." Lamnalco also provides specialist personnel such as pilots, mooring staff, maintenance teams and divers, as well as operating a successful spot chartering and re-hire department.
Certainly Lamnalco's focused approach to its core business has proved its worth, with the group currently positioned within the top three marine terminal support operators. This reputation is reflected in its diverse client base which comprises national and international companies such as Shell, Chevron, BP, and ExxonMobil, floating production contractors like
Modec, EPC contractors, infrastructure developers, offshore construction companies, and LNG terminal developers and operators. "We understand the challenges faced in new and remote operating locations, in terms of setting up and sustainability, and consequently we can optimise the marine support function for our customers" highlights Gary. "Our strong talent pool of staff is a reflection of our approach to the recruitment and retention of key personnel through world class structured training, competency assessments, and personal development. Alongside this, our leading position at the forefront of developing technological and operational advances in the business means that we stand apart in the market."
A key example of this innovative nature is the M Class Azimuth Floating Production Support (APS) vessel, which has had great success in the market. Developed by Lamnalco in collaboration with its ship designers as an evolution of the company's successful C Class vessel, the APS represented the next generation of FPSO/FSO support vessel, capable of serving the emerging offshore fields in deeper water and harsher environments. "The majority of new offshore discoveries are more remote from the shore and in deeper waters, from 300 metres down to 3000 metres," explains Gary. "These environments require more seaworthy vessels, greater bollard pull, increased endurance and more versatility in operating further and longer from shore support than traditionally has been the case in the past. In line with this we are currently in the preliminary stage of a new offshore vessel design study, which began in 2010, looking at delivering against all of these challenges, as well as environmental benefits in lower fuel consumption, reduced pollution risk and improving onboard living and working conditions."
In terms of driving these developments forwards R&D remains a primary focus, with Lamnalco's project engineering department offering support to initiatives and a through life cycle approach to new build programmes in order to optimise every aspect of asset design, construction and operation. Gary elaborates: "Lamnalco's expertise is often sought as part of efforts to exploit new technologies or push operability capabilities. At present we are investing in alternative power and propulsion technologies for the vessel fleet. These are designed to deliver local environmental air quality benefits, including reduced air emissions, whilst having a global benefit in reducing carbon emissions. The Lamnalco LNG powered tugconcept, which began life in 2008 with an aim to meet these challenges, is now ready to progress to the full detailed design stage."
Environmental sustainability is only one aspect of Lamnalco's corporate social responsibility policy. The company places great importance on utilising local supply sources and personnel within its various global sites. Having been present within Nigeria for almost twenty years, Lamnalco can boast full Nigerian crews on all its vessels, as well as 95 per cent Nigerian employment of management and specialists at all in-country office locations. Similar figures can also be seen in the group's Oman and Jordan activities. As well as helping to develop local expertise and employment opportunities, this approach helps improve local communities through the provision of educational, health, and infrastructure support.
The world's energy markets are beginning to show signs of recovery as large capital investments reach the final investment decision. Consequently, the project delays and funding difficulties brought about by the recession are becoming a thing of the past. Although this market recovery brings with it new challenges in the form of retaining skilled personnel, and keeping development costs low, Lamnalco is already undertaking new projects including a major ten year contract with Caspian Pipeline Consortium (CPC) in Russia. With thoughts on the group's business aspirations for the years ahead, Gary concludes: "Following the acquisition of SMIT International by Boskalis in 2010, we are looking forward to joining forces with SMIT Terminals division to create a world-leading marine terminal support company. With a focus on growth, improved profitability, and gaining market share in complimentary business streams, in order to add value to our core business; over the next five years we aim to double our contract base with a targeted double digit increase in net profit year on year."
Lamnalco Group
Services: Marine terminal operators