Local thinking, globally
Since last appearing in European Oil and Gas Magazine during February 2013, Lamons has expanded its global presence through the acquisition of several specialist gasket and bolt suppliers.
By focusing on the provision of high quality products and dedicated local service it is fast gaining a reputation as a leading manufacturer and supplier of gaskets and bolts across a range of applications.
The company boasts manufacturing facilities in the US, China, Brazil, the Netherlands and India. Its state-of-the-art facilities produce a range of standard and bespoke products for the refining, chemical, power generation, petrochemical (upstream and downstream), and pulp and paper industries. A differentiating feature of Lamons' production capability is that its facilities are set up with the same manufacturing equipment so that it can guarantee that a Lamons product will be the same wherever it is made. Its manufacturing plants are supported by sales and support services across the US, Canada, Europe, the Far East and Brazil. This means that its customers can be sure that wherever they are in the world, they can rely on the same high quality products and services that Lamons has to offer.
In the interim months since February 2013, the company has been aggressively focused on expanding its global footprint and its product portfolio. Seeking to expand its production and service capabilities in the Southeast Asian market through a series of acquisitions, Lamons now operates Basrur Uniseal Private Limited in India and Lamons Thailand (was formerly Tat Lee Thailand Ltd). Commenting on the Tat Lee acquisition, branch manager Tarek Said explains: "The Lamons philosophy is very simple; it is basically to establish branches that are close in proximity to our customers. Tat Lee is a manufacturer of specialty and standard gaskets, mainly in the petrochemical, refinery and energy plants. We plan to expand this location with bolt capabilities similar to our Rotterdam facility. The company will allow Lamons to increase its capabilities in the Southeast Asian market as well as its service level and market share."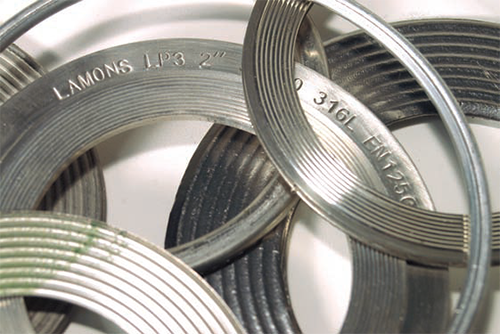 The company has also increased its European holdings with the acquisition of Wulfrun, based in Birmingham, UK. Like its Southeast Asian expansion, the move is intended to strengthen Lamons' position in a targeted market, however what makes the Wulfrun acquisition different is that the company traditionally offers a much more specialised product as Tarek elaborates: "Wulfrun is unique and the company has opened some doors for us in as much as it offers specialist machine bolting and greatly enhances Lamons' ability to deliver these services throughout the EU region." The incorporation of the new business will also further strengthen its existing European branches, solidifying the company's reputation as a global leader in producing and providing bolts and gaskets.
Complimenting the acquisition of new branches, the company has also introduced several new products to its portfolio in recent months. Lamons CorruKamm™ technology is a revolutionary new design that provides the benefits of a kammprofile technology with the additional attribute of recovery that is desired to offset flange relaxation and unloading. This design resembles a typical kammprofiled sealing element in that it utilises a heavy substrate capable of extreme load bearing properties. The dramatic feature that this design incorporates is a precisely located corrugated pattern that greatly enhances the ability to deflect and compress under load This creates a scenario in which the gasket will be more forgiving where perfect alignment and parallelism do not exist.
Other recent additions to the company's impressive range of products include the fire safe Isotek Defender isolation gasket and its Matrix line of premium biaxially oriented PTFE gasket material. The Defender FS provides a solution for electrical isolation and the reliability of being fire-safe in one groundbreaking gasket design. The gasket features established industry isolation technology combined with the sealability of the Kammprofile range. Its isolation technology is based on the use of fiberglass-reinforced epoxy, which maintains high compressive strength and has proven to be a suitable material for bolted joint assembly. The gasket ensures excellent dielectric strength within cathode protection systems and produces the lowest loss of product due to its high joint integrity. The Defender FS also makes use of Lamons' Matrix line of PTFE gasket material, which has been designed for use in critical piping systems where superior chemical resistance and performance is required.
Commenting on the company's increased product range and corporate philosophy Tarek says: "Lamons is separating itself from other companies by diversifying into different sectors. As a company it is probably one of the few, if not the only one that specialises in the full range of sealing products from Ring Type Joint metallic gaskets and semi-metallic gaskets, to isolation gaskets and compressed sheet material. Our customers recognise us as a global company that services locally. We differentiate ourself in that we make sure we are very close to our customers. Extending our product portfolio and expanding on the service the company is able to offer customers is what Lamons is about."
With 2014 rapidly approaching Lamons is committed to increasing its global footprint in the near future and further developing the service it offers to its local customers. In summary Tarek concludes: "Lamons Nederland was founded in 2008, so it is a relatively new company, but Lamons has been in operation since the 1940's. What we are doing is to transform the company from an American manufacturer to a truly world-class manufacturer."
Lamons Nederland BV
Services: Gasket and bolt supplier