King of the drill
Large Diameter Drilling (LDD), an Acteon company was established to provide exactly what it says on the tin – large-diameter drilling, drilling related installation, and the grouting of large diameter tubulars, casings and piles in near and offshore marine environments.
An extensive range of related specialist subsea and downhole tools, packages and techniques complement these services.
Following its establishment in late 2007, LDD followed an extensive marketing and expansion strategy, demonstrating to the industry the wealth of experience and knowledge that underpinned the fledgling business. The direct result of this, alongside making the LDD name known across the sector, was the award of a substantial contract.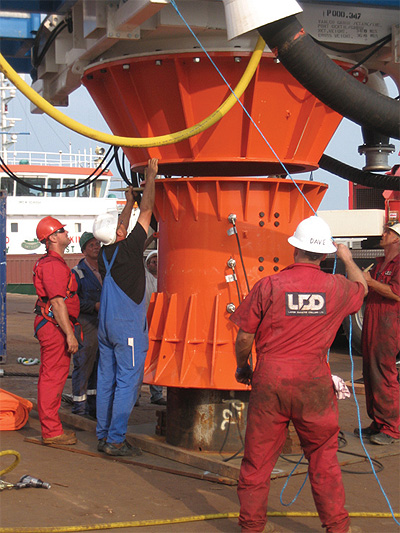 Managing director Jason Clark tells European Oil and Gas Magazine more about this early success: "The project was for Vaalco, carrying out drill and grouted pile installations at the Ebouri field, offshore Gabon. Being awarded the first contract so early in the business' life was testament to the demand for this service and the reputation we carry. The project allowed us to get going; we moved into new offices and focused very hard on getting all the equipment in place for the project, as we were due out onsite six months after we got the award. There was a lot of very hard work to be done."
The business expanded rapidly from this early success, continuing to focus its efforts on marketing, with the result of two more projects being awarded in quick succession. Jason elaborates: "Of the two jobs we've recently picked up, one is in Cameroon for two-metre diameter mooring piles, and the other job is in New Zealand, which is a marine project for two sewage shafts. We've had a lot of enquiries in our first year equal to well over £30 million worth of work. We've also been considered for two large jobs, one worth £16 million and the other £50 million."
Jason puts this rapid success down to the key strengths of the business, as he explains: "We are a very innovative and technologically advanced company underpinned by decades of worldwide knowledge and experience of this specialist work. In our first year, we started our own design and engineering department. We build and design a lot of our own equipment, so we are not reliant on suppliers, but rather we can design and engineer our own kit when it is needed. This has made us a popular choice with our customers, as our strong marketing effort has promoted these strengths throughout the sector.
"In addition, we also provide related services, such as subsea piling frames and various handling and lifting tools for piles," he continues. "We also carried out a project where we faced an environmental challenge, with the heave of the vessel craning the drill rig on and off a jacket. To tackle this, we designed and built a 60-tonne lift compensator, which allowed us to lift the drill rig, and put in and withdraw the in-hole drill string elements in and out of the pile. This minimised shock loading and snatching, so it allowed us to carry out that operation much more safely and expand the operational window. This one project alone is an excellent example of our innovative approach to technical challenges."
In terms of current projects, LDD is working on developing its range of subsea piling frames and handling tools for 2009. Alongside this the business is looking at possible activities in conductor installations. Jason elaborates: "We are aiming to expand the business through the new projects. We want to market globally and have a solid five-year plan to expand the business, increase our equipment base and our capabilities across those industries worldwide. Our vision is simply to be the world leader in specialist pile and tubular installation solutions."
Despite the current market conditions, there is much confidence that the business is on track for its ambitious growth plan: "From our perspective, as a specialist service provider, the market is still reasonably buoyant," says Jason. "There is concern over projects, however, I think as long as we continue with business as usual and we are sensible and prudent in the choices we make, our work will continue and the business will be sustained. It's also advantageous that we work in various markets around the world – as we work wherever companies need tubes in the ground. In this way we can operate with the main drivers in the industry, China and India, whose economies have slowed slightly, but are continuing to grow. Importantly there is still a lot of work in these areas.
"Our aim now is to develop the company and market around the world. There is plenty of scope for expansion and to further develop our individual business areas. We are becoming known for our speciality in pile and tube installations, and now one of the areas we want to make sure we develop is the installation of conductors. We are looking at the systems and methods of doing that. In the next five years, we want to establish a core position in the global market and to be the absolute world leader in our industry, and be recognised as the total service solutions provider for pile and tubular installations," Jason concludes.
Large Diameter Drilling Ltd
Services Large Diameter Drilling and tubular installation solutions