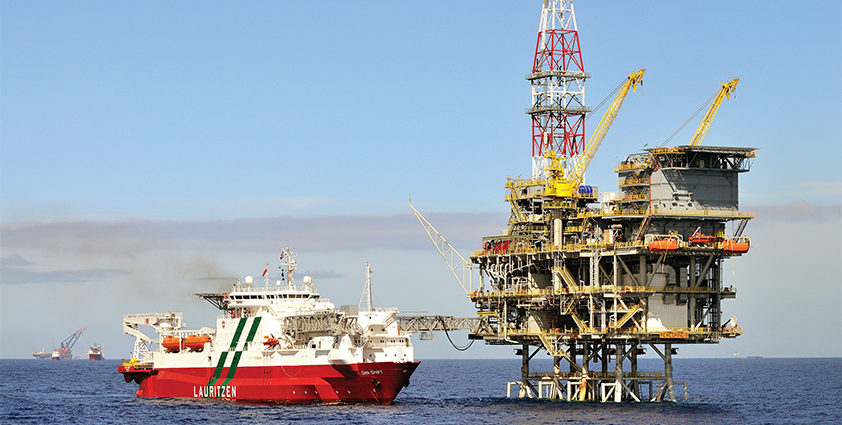 Lauritzen Offshore Services AS
Recognised quality
Lauritzen Offshore Services operates as a subsidiary of J. Lauritzen, which has been a leading supplier of ocean transport systems since 1884.
This is alongside J.Lauritzen's other subsidiary businesses – Lauritzen Bulkers providing dry bulk cargo transport, Lauritzen Kosan for the transport of liquefied gases and Lauritzen Tankers, which provides transport services for oil products and chemicals. Formed in 2008 from Lauritzen Tankers, Lauritzen Offshore's fleet of advanced dynamically positioned (DP2) vessels provides support services to the rapidly growing offshore oil exploration and production market.
"Initially the company began with one vessel – the Dan Eagle," explains Erik Møller, sales and technical director, as way of an introduction. "A converted DP2 shuttle tanker, the Dan Eagle is designed to offload crude oil from platforms and floating installations such as floating production, storage and offloading (FPSO) vessels and then transport it to onshore terminals. Shortly after we acquired the Dan Eagle we began work on our accommodation and support vessel, the Dan Swift. This was purchased as an old ro-ro vessel, which was converted at the Blohm & Voss shipyard in Hamburg in 2009 into a sophisticated offshore accommodation and support vessel. Immediately after the conversion work was completed the Dan Swift entered a one year contract with Statoil in Brazil."
Following on from this Erik continues with the other typical customers Lauritzen Offshore works with: "Our clients include both the major and state oil companies. State oil companies normally operate within one area such as Petrobas in Brazil, so although they have a huge amount of production units the work is concentrated in one place. We also will try to work with the major oil companies such as Shell, Total and ExxonMobil, which operate across a greater geographical spread with work in areas such as West Africa and East Asia."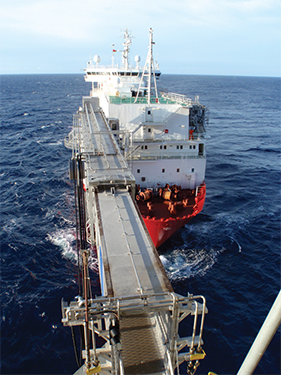 Lauritzen Offshore was amongst the pioneers in using monohull DP2 offshore vessels as high-end accommodation solutions. There is demand for offshore accommodation from across the industry, but particularly during the installation of offshore production facilities, maintenance and inspection purposes, and during the decommissioning process. Erik describes the services that Dan Swift provides to this market: "The basic requirements remain the same from client to client but there are also individual smaller needs on each contract such as communication and workshop facilities, which is where the versatility of the vessel comes into play. Currently the vessel can accommodate 256 passengers with a very high standard of accommodation including day rooms, conference rooms, internet café, coffee shops, restaurant, cafeteria, swimming pool and gymnasium. There is also a workshop and welding area, and storage for commissioning and maintenance equipment. The Dan Swift is DP2 class with right thrusters that produce an approximate total of 13,000 kW of thrust."
The Dan Swift's two offshore telescopic gangways provide safe passage between the vessel and fixed or floating offshore installations, and enable optimal positioning according to weather conditions. Other facilities include large cranes and a helideck to cater for a wide scope of applications. Naturally with such a high standard of finish, all equipment installed on the Dan Swift is state-of-the-art with regular updates scheduled. "The Dan Swift has a very high standard of communication equipment, which is something that is becoming increasingly important on vessels. These current facilities may change according to different contracts with some companies requiring a greater broadband capacity or more sophisticated equipment, so this is one area that we are particularly focused on updating and maintaining," comments Erik.
In fact the impressive capabilities of the Dan Swift have led to it being awarded runner up in the 'Ship of the Year' award at the Lloyds List Shipping Awards – the most prestigious awards in the industry. The 'Ship of the Year' award acknowledges outstanding technological approaches to shipbuilding and vessel operation such as operational efficiency, safety and innovation, so being named runner up is a real testament to the Dan Swift's total solution approach and forward thinking design.
Based on the success of Lauritzen Offshore's first two vessels, the company is currently investing in expanding its fleet: "We currently have two new shuttle tankers under construction in Nantong in China, which are well underway ukThe first is due to be delivered in June 2011 and the second six months later," highlights Erik. Like the company's current DP2 shuttle tankers, the Dan Eagle, the two new vessels will operate the latest station-keeping technology for deepwater production facilities in order to secure safe handling of crude oil from well to refinery.
As oil companies increasingly move into deepwater exploration the market for supporting these activities is continuing to grow. Reflecting on Lauritzen Offshore's extensive capabilities in this area, Erik concludes with the company's strategy for moving forwards: "We are currently bidding on a tender for a long term contract with Petrogas, as well as others in West Africa for Total and ExxonMobil. Certainly we are seeing growth in the market, although increasingly we are also witnessing new competitors entering the scene. Despite this we believe that our greater experience and demonstrated expertise puts us in a strong position in terms of securing work. As well as our two new shuttle tankers, over the next three years we are looking at further expanding our service provision with another PSV accommodation vessel."
Lauritzen Offshore Services AS
Services: Offshore support vessels