The big lift
LCS Cable Cranes, an innovative Austrian company, specialises in providing environmentally sound cable crane transport solutions to move heavy construction materials over inaccessible and difficult terrains.
It began at the end of the 80s when LCS, led by founder and managing director Christoph Ludescher operated in the Austrian timber-industry, using mobile ropeways as transport system for logging in steep areas. The activities of LCS quickly became more diverse, for example, the company utilised cable cranes on Alpine construction projects such as the erection of ski lifts and power stations.
In 1996 the business for the first time utilised new cable crane technologies in pipeline construction, proving itself on the Yadana gas pipeline from Myanmar to Thailand. "We used our experience of working with several construction companies in the high mountains, and it really benefitted the contract in Myanmar. From that year on we have been working continuously all over the world," says Christoph Ludescher, managing director. Working with customers that include many pipeline construction companies, the business is active across Asia in Thailand, Indonesia, and Myanmar, South America with pipelines crossing the Andes, and also now in Canada across the Rocky Mountains and Europe. "Our services are called upon by construction companies that require special solutions as they reach difficult areas such as steep mountains, narrow rights of way (ROW) or rocky areas."
As the most challenging obstacles can be overcome with solutions provided by LCS, pipelines can be constructed in difficult areas via direct routes. The cableway system, where a crane-unit is pulled by a haul winch to move loads exceeding 20 tons, is installed straight above the determined ROW. This allows loading and unloading of pipes, equipment, machinery and construction materials at any point of the track, which can reach lengths of more than 3000m. "The solutions that we provide are completely unique. We are able to transport pipes across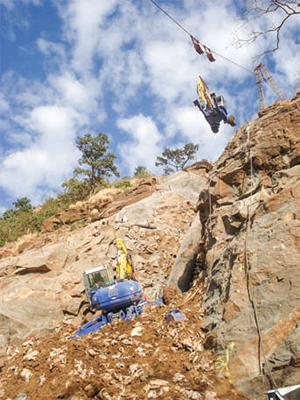 very demanding terrain, which is inaccessible to heavy machinery," explains Christoph. By utilising cable cranes, pipelines can be laid in steep slopes with over 70 degrees, as LCS did in India, for the East West Gas Pipeline constructed by Punj Lloyd.
With all equipment designed and built in-house, innovation plays an extremely important role. The company continuously seeks to develop new machines and systems using for example powerful electro-hydraulic engines with close consideration of the environmental requirements of the area in which it is employed. During the last 20 years, LCS has persistently worked on improvements, which in 2009 gained it the runners up innovation award of the IPLOCA sponsored by BP. LCS' cable crane systems are distinguished by their great versatility which is fully exploited for pipeline constructions. Separately controlled lifting systems of the crane unit not only allows pipes to be transported, but also to lay them in inclined positions, fit them in the greatest possible position to do the welding, sand-blasting and coating, and subsequently transport and unload sandbags and padding material easily with a special container.
"We developed a double-track curve system that is able to precisely follow the ROW and which is more efficient in varying conditions," adds Klemens Seyr, marketing and communication manager. "We have an ongoing contract in Mexico for GDI SICIM, where we have provided a cable crane to transport the pipes for the construction of a gas pipeline, as well as transport machinery and padding material over a very inclined and rocky section," informs Klemens. With challenging climatic conditions during construction and installation, the cable crane hauls the heavy loads over 750m steep (70 degrees) terrain, including a horizontal bend halfway up.
In 2001 LCS started a project in Ecuador for Techint Argentina, establishing 11 cable cranes in a row across a very narrow right of way. The construction site was 11 km long in the middle of the cloud forest in Ecuador, where the climatic conditions were not favorable. LCS' mobile ropeways are unaffected by climatic influences, says Christoph. "Our systems permit an extension of the working period – since we are transporting pending loads in mid-air, we can perform in winter or in rainy season in the tropics. The project in Ecuador posed challenging environmental issues such as working in a protected area of the country where the noise limit was extremely low. "We are able to install pipelines within just six to eight metres right of way as opposed to 30 metres for traditional methods. Furthermore, extensive constructions of roads to access demanding terrain can be avoided. Consequently it is a very environmentally friendly way of working." Facts that in addition to the ecological characteristics contribute to saving expenses – having less road construction and lower re-instatement costs.
Thanks to the special transport solutions the safety standards of the projects are augmented. "As heavy plants do not have to enter steep areas, operators and machinery are less exposed to dangerous situations," adds Christoph. At the moment the company is in the preparation stages of a large gas pipeline project in British Colombia, Canada. Prior to this contract, in 2012 the business completed the installation of a permanent cableway, including limited manpower transportation, in British Colombia, Canada, in an area where safety and environmental standards were of especially high importance. Even if the cable cranes are quickly available and simple to handle, an accurate project management is indispensable for the analysis, planning, installation, implementations and the operation of the systems.
In 2012-2013 LCS realised a large-scale project in Myanmar, in relation to a 5km section of the Zawtika pipeline project in the approach to the border of Thailand, faced with challenging slopes of up to 50 degrees over a very narrow right of way. In addition to the installation and operation of cable cranes, the scope of works included the complete construction of the pipeline at this special point including trenching with special equipment, transport of pipes and fitting them into welding position, welding, transport of sandbags, blasting and coating, padding, backfilling and re-instatement works.
With most pipe laying activities in flat areas already complete, construction companies are often operating across more difficult terrain in search of oil and gas, in areas such as Northern Canada and Alaska, as Klemens points out: "We see a great future in our system and we are regularly receiving new enquiries from customers, especially from the US market, where working within narrow passages is deemed to be of high interest. We are able to demonstrate that our systems can assist their projects by entering significantly less space for constructions than traditional methods, and that is very interesting for the client."
Through a global presence with offices in Austria, Canada, India, Argentina and Indonesia the company is able to successfully penetrate new markets, as Klemens concludes: "We are continuously searching for new markets and contracts as several large projects come to fruition in South America, adding to the numerous enquiries for pipeline projects within Canada, and we have an ongoing focus on the growing Asian market. The ability to move pipes, construction materials and equipment to its designated point without any damage to natural habitats over normally inaccessible terrain is beneficial for both the contractor and the environment."
LCS Cable Cranes
Services: Innovative solutions to transport challenges