Built on excellence
Based at Pembroke Dock on the western coast of Wales, Ledwood has been an established name in engineering excellence for more than 30 years. Specialising in handling complex, large facilities such as oil, petrochemical and gas processing plants, Ledwood designs, procures, fabricates, protective coats, constructs, installs and project manages the delivery of these complex projects on an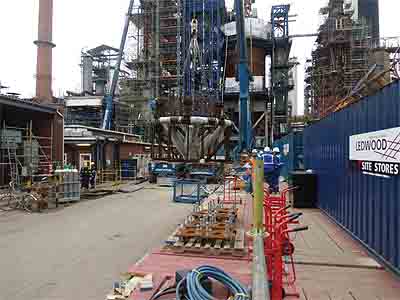 international basis.
The company's ten-acre dockside location puts it in an ideal position to supply major plant and equipment worldwide by sea. This has seen Ledwood supporting the offshore oil and gas exploration sector, providing equipment bound for oil rigs and similar installations, and enables modules to be shipped worldwide.
When Energy, Oil & Gas last spoke to Nick Revell, Managing Director at Ledwood, the company was gearing up for a busy 2018, and he was keen to update us on how the past 12 months have gone for the company. "At that time, some of the activities we were doing in the refining sector were on the planning and preparation of turnarounds. These turnarounds proved to be successful and on the back of that we have had some repeat business, which is great. We also did a lot of groundwork activities in 2018 and some of these have been converted into contracts, which means we can move into the fabrication and construction phase, again, on projects or turnarounds."
Diverse contracts
At the time we spoke, Nick also noted that Ledwood was very close to completing a significant waste-to-energy project in Leeds called Ferrybridge Phase 2. "We were working on that throughout last year, and we are hopeful that we will get repeat business in the waste-to-energy sector with a particular client we are involved with," he said, before adding: "We also secured some new work at the end of last year and the beginning of this year on a CHP project on a refinery, which we are very pleased with. We also converted a front-end engineering design study into an EPC contract for a new project in the UK. So, all-in-all it's a mixed bag of opportunities!"
Nick noted that Ledwood regards repeat business as a good criterion for measuring success, and he was pleased that new contracts have been signed with existing clients where there has been continuity for a few years. He gave an example: "For Total Oil in Antwerp, Belgium we successfully completed a shutdown event in 2018, and towards the end of last year we were then awarded another contract to do the planning and preparation phase for a 2020 shutdown on another component at the same site. We are currently working on the planning and preparation phase of this project, which is due to be completed this year.
"But we do have some brand-new clients as well, and clients that have returned to us, after a spell where we haven't worked with them for a few years. This is the case with Tata Steel, where we have recently secured some of the scope of a capital project.
"We have also gained some more work for Hinkley Point on the nuclear side. The first job we did there was supporting a company with the erection of a silo that we completed last year, and the new contract that we have been awarded is for utility pipework on a drainage system. Overall, we are working in some very diverse sectors and with numerous different clients."
Further capabilities
It is clear from talking to Nick that Ledwood has developed close working relationships with keys players in many industry sectors, and this process is continually evolving as the company adapts to new market demands. One such development follows the increasing need for the decommissioning of redundant oil platforms. This can be seen as a natural progression for the business, as the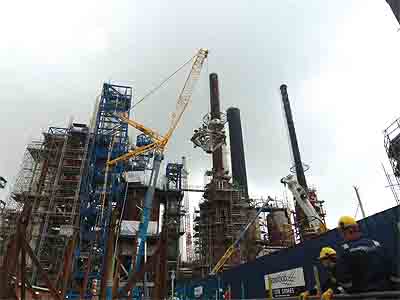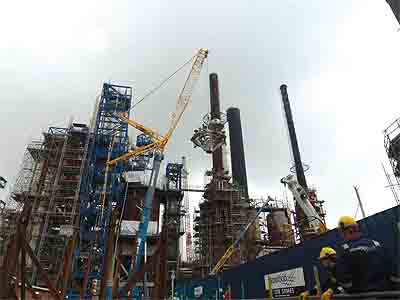 vast majority of its contracts over the last three decades have all had a greater or lesser element of decommissioning. As a result, Ledwood has built up quite a portfolio of experience and capability for complex decommissioning activities and disinvestment of redundant equipment. Nick confirmed this was an interesting area for the company: "We are exploring this sector and looking at strategic options for decommissioning top sides for oil platforms," he agreed.
The array of engineering services available from Ledwood is also supplemented by its own in-house coatings business, Ledwood Protective Coatings, or LPC. "We have made further investments in LPC as it is very complementary to the other activities we perform. That part of the business is able to provide various different total corrosion protection methods including the more traditional epoxy coating. We also have facilities for metallisation, which is known as TSA, and also different options for fireproofing, with Chartek being one of the applications we are capable of doing," Nick explained.
Honesty & openness
Given the scope of engineering services that are available from Ledwood, and the reputation for excellence it has built over the years, it is clear the company has to recruit and maintain a workforce that is able to not only fulfil its contracts but go above and beyond expectations at all levels. "We are very fortunate that we have got a highly skilled workforce and a very competent management team and that helps us differentiate the quality and processes we have," agreed Nick. "Our people are our main asset, and we are continuously maintaining and enhancing their skills. I think that our approach to HR reflects our key values of honesty and openness, and this is how we differentiate ourselves from the competition, along with our dedication to health and safety, and commitment to sustainability and how we consider the environment in all our projects."
Future plans
Nick's last point is also a factor in future projects for Ledwood, as the green agenda becomes not only more important to clients and end users, but is reflected in changing legislation designed to protect and uphold the highest operational standards. "In some sectors legislation changes will provide opportunities for us," Nick stated. "Some of it is related to emission controls, and if we look at the oil, gas and power generation sectors the legislation is becoming more onerous for operators and that provides a problem for us to solve."
As Ledwood proceeds further into 2019, Nick is confident there are more opportunities ahead: "As well as organic growth, which I am expecting, potentially we will also be looking at acquisitions and mergers to see if there are any prospects there." Add these developments to the potential expansion in decommissioning and waste-to-energy, and the business looks set to continue to deliver even more projects on time and on budget for both old and new clients alike.
Ledwood Engineering
Services: A leader in delivering complex projects, particularly in support of the energy and process sectors including heavy industry