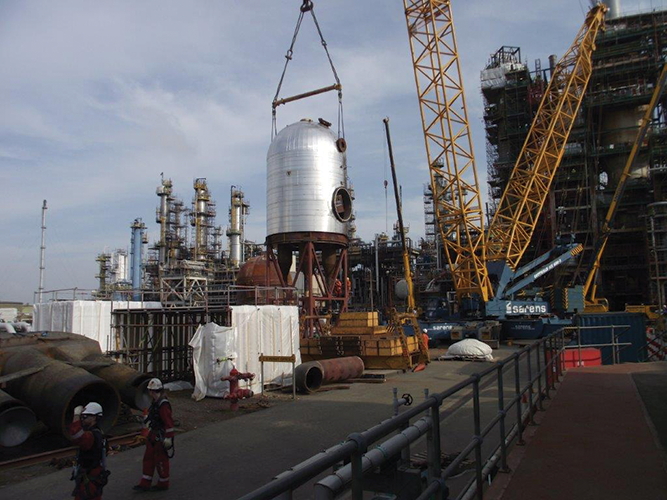 Ledwood Mechanical Engineering
Excellence as standard
Based at the Waterloo Industrial Estate in Pembroke Dock and Teesside the business Ledwood Mechanical Engineering (Ledwood) represents a market leader in delivering complex projects in support of the energy and process sectors. The company's competence is applied to a number of market sectors, including heavy industry, allowing Ledwood to design, procure,
fabricate, protective coat, construct, install, maintain and project manage the delivery of complex plant internationally. Specialising in handling complex, large facilities such as oil, petrochemical, gas processing and power generation, Ledwood also has an enviable track record for delivering quality projects on time, to budget and with an unbeaten safety record.
Originally established with the goal of servicing four large oil refineries that were in close proximity to its head quarters, Ledwood began providing engineering, fabrication, installation services alongside maintenance and operational support. However, over time the company realised that it also had the capabilities to service in other areas of the UK and throughout the world.
On top of this, the company made the strategic decision to enter new markets within its traditional business sectors as Managing Director Nick Revell discussed with Energy, Oil & Gas in March 2016: "Our skill sets and capabilities allow us to participate at the initial stages of a project lifecycle, which positions us for delivering the engineering, procurement and fabrication. We also have another business within the group, which is called Ledwood Protective Coatings (LPC), this business provides different types of protective coatings, including Thermal Spraying and Fireproof systems. LPC is complementary and vertically integrated in this respect and once we have completed the fabrication and coatings, we undertake the transportation wherever that may be prior to executing installation."
Since March 2016, the company has utilised its strengths to gain the attention and trust of companies tendering contracts and has thus grown significantly, as Nick comments: "2016 was very busy for us, it is forecasted that we will reach approximately £65 million. Key to this massive jump in growth is Ledwood securing three significant contracts, two of which were on the same site, a petrochemical complex in the North East. The project related to the client changing their feed stock, Ledwood were the main Mechanical, Electrical & Instrument contractor for one of the projects; we also worked as the main mechanical and piping contractor on another project on the same site. The other project was in Humberside in the refinery sector."
He continues: "Another reason for this growth is the fact we have not only maintained our headquarters but also expanded our operations with a quay side facility in Teesside. Here we can engineer, fabricate and ship internationally; this gives us strong flexibility when we manufacture to ship both in the UK and globally."
With 2016 being a hugely successful year for Ledwood, the company is currently focused on year on year growth, as Nick notes: "While last year was positive for us, the challenge for us is continuity of contracts as this is where most of our revenue comes from; currently the order book needs further development for the first quarter but we are addressing this by sourcing opportunities in the oil and gas, renewable and nuclear sectors."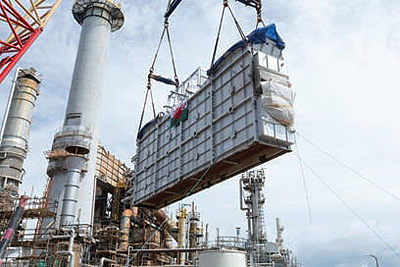 Indeed, thanks to its strong expertise in the stringent oil and gas market, Ledwood is benefiting from a growing nuclear industry by expanding into a market that similarly requires high standards when it comes to quality, environmental and health and safety. "The skill level is very similar between these two sectors, particularly when it comes to the quality and competency of our personnel; there are a few policies and procedures within the nuclear industry that we have had to train our people in, in order to meet them, but this development into the nuclear sector will only enhance our oganisation. Some of the knowledge and experience we have developed during our oil and gas experience is very much fit for purpose for sectors such as energy and renewables; as such, we are also hoping that any experience we develop in the nuclear sector can be implemented into the oil and gas part of our business, if appropriate."
Proud to maintain its values of delivering right first time, on-time, to world-class quality and environmental standards and with zero reportable safety incidents, Ledwood is certain to continue gaining notable contracts in the markets it operates in over the coming years. While it focuses on the oil and gas sector, tidal opportunities and the biomass and nuclear sectors, the company will be making use of its modern Teesside facility following solid investment in both personnel and machinery as it seeks out further improvements at both facilities.
"When it comes to contracts we have recently secured a significant manufacturing contract for an overseas job that will ship from our quay side in Pembroke. Following Brexit, we are seeing opportunities thanks to currency fluctuations in Europe; however, we have also faced the challenge of changes in currency, the difference in Forex and low labour and electricity costs in certain parts of Europe. Because of this, we need to look at smarter ways of operating so the disparity between the labour rate and energy costs can be narrowed. In response to this, we aim to get employees working smarter and more efficiently to reduce costs in electricity as we continue to explore methods of saving energy costs," Nick concludes.
Ledwood Mechanical Engineering
Services: Turnkey engineering, procurement, fabrication, protective coatings, construction and maintenance