Ledwood Mechanical Engineering
First choice
Based at the Waterloo Industrial Estate in Pembroke Dock, the Welsh business Ledwood Mechanical Engineering (Ledwood) represents a market leader in delivering complex projects in support of the energy and process sectors. The company's competence is applied to a number of market sectors, including heavy industry, allowing Ledwood to design, procure, fabricate, protective coat, construct, install and project manage the delivery of complex plant internationally. Ledwood specialises in handling complex, large facilities such as oil, petrochemical, gas processing and power generation, with an enviable track record of delivering quality projects on time, to budget and with an unbeaten safety record.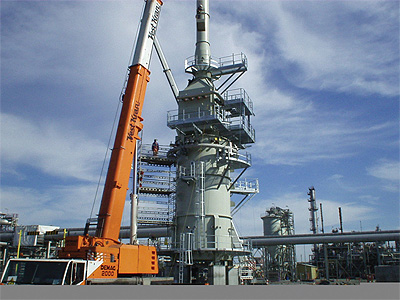 "One of the main reasons behind the foundation of the company was to service four large oil refineries that existed within its locality with engineering, fabrication, installation services, as well as maintenance and operational support. These refineries were all major facilities owned by international oil companies and it was later realised that we could further service refineries throughout the UK and indeed the world," explains Managing Director, Nick Revell. "Ledwood has continued to gain market share while entering into new markets within its traditional business sectors. Our skill sets and capabilities allow us to participate at the initial stages of a project lifecycle, which positions us for delivering the engineering, procurement and fabrication. We also have another business within the group, which is called Ledwood Protective Coatings (LPC), this business provides different types of protective coatings, including Thermal Spraying and Fireproof systems. LPC is complementary and vertically integrated in this respect and once we have completed the fabrication and coatings, we undertake the transportation wherever that may be prior to executing installation."
Ledwood has represented a trusted name in engineering excellence for more than three decades, but it was during 2000 the company reformed under the name Ledwood Mechanical Engineering, supported by investment from the external shareholders. With this backing the business has continued to thrive and has become involved in a range of major engineering projects globally in recent years. Its ten-acre dockside location puts Ledwood in an ideal position to supply vital plant and equipment to clients worldwide via marine transport. This has allowed clients within the offshore oil and gas exploration sector to take advantage of the company's strategic location and core competence, through the delivery of equipment bound for oil rigs and similar installations and the shipment of modules globally.
During 2010 Ledwood was restructured under new ownership, with the business maintaining its independence by becoming owned by its management team. Today Ledwood continues to operate from its substantial engineering facilities in Pembroke Dock that incorporate workshops and paint facilities designed to accommodate major module production. Just adjacent to Ledwood is the Cleddau estuary, which offers quayside facilities with an 11-metre water depth for shipping. "The ownership of the business is all within the management team. Prior to 2010 there were some external investors in the company and to further the focus of the business we have reorganised so that there are no longer any external investors involved. We also have zero debts meaning that we are not leveraged at all, which is a great position to be in," Nick says. "Over the years we have also brought a lot of new skills into the business, because at the end of 2010 there were a lot of personnel within the company who were reaching the end of their careers. We have now brought in the 'next generation' to a certain extent. This didn't happen overnight, it has been a gradual process and we have continued to grow organically at the same time."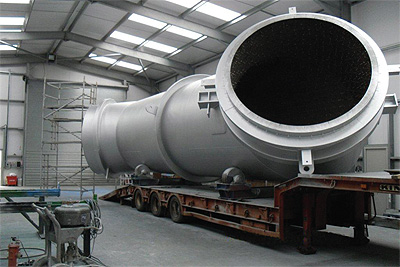 As the company has continued to grow and diversify into new market sectors, Ledwood has make several investments into new equipment and facilities to ensure that it is able to offer best-in-class solutions to its new and existing clients. Recently the decision was taken to invest £1.5 million into the business for new coating equipment to expand the company's overall service portfolio. "The decision to make this investment was primarily driven by wanting to change our profile and level of accreditation. One aspect of our accreditation was focused on health and safety and environmental concerns and at the time we did have existing painting and coating facilities on site that were operated by another company owned by Ledwood, but the facility would not have met new legislative requirements. We decided that we would make an investment in new equipment to be self-sufficient, rather than having our own fabricated items coated by another company. As result of this we have been able to secure further work from other clients. It is again very complementary to our overall skill set and helps us to deliver an extensive and more comprehensive service portfolio with vertical integration," Nick elaborates.
"We have also opened up a new facility located in Teesside, which provides very much the same services that we have in our head office in Pembroke. This has given us greater geographic representation and has opened up our client base," he adds. "The new site also improves our expertise and capability and we have certainly secured more market share in the petrochemical sector as a result of having a presence in the Teesside area. Furthermore we have also won additional work in onshore gas reception facilities that are operated by international offshore gas companies."
Although the company's traditional markets in the on shore oil and gas sectors are currently depressed owing to the low cost of oil, Ledwood has remained buoyant due to its broad customer base and diversification into the steel and renewable energy sectors. Moving forward Nick is presently on the Advisory Board for the planned Tidal Bay project in Swansea and believes that Ledwood is in an excellent position to supply this and other projects over the coming three to five years. "Around three years ago I had an introduction to the Tidal Bay project's owners, Tidal Lagoon Power and the company asked me to assist on a steering committee, which I am today part of. Our facilities in Pembroke are on the quayside and some of the items that we have tendered are not road transportable and need to be fabricated and assembled near the quayside to be shipped to the final destination," he concludes. "Over the next 12 months we have a very good order book and our revenue is set to be up on 2015. We are focused on sustainability and underpin this with the competence of our personnel and the services that we provide in a cost-effective manner. We have an exemplary safety record, which is vital in the market sectors in which we are active and believe that we represent the company of choice for our clients."
Ledwood Mechanical Engineering
Services: Turnkey engineering, procurement, fabrication, protective coatings and construction