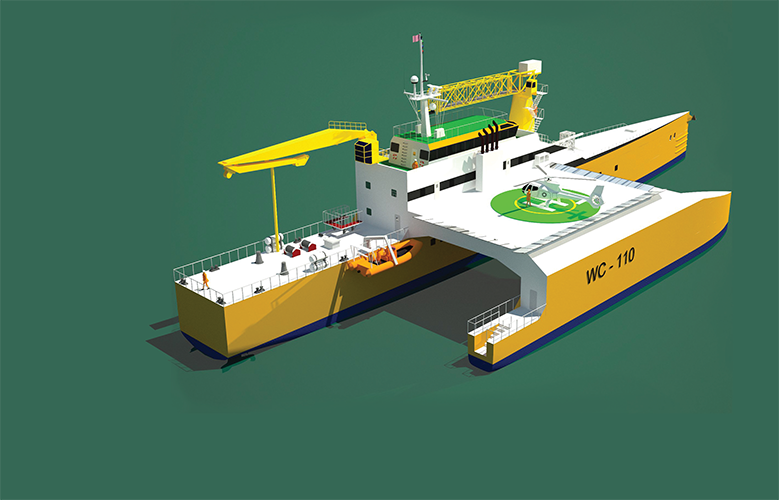 Leenaars Marine & Offshore Design BV
Cutting-edge design
Leenaars Marine & Offshore Design BV provides creative and innovative solutions for the maritime industry, specialising in the design of ships, offshore platforms and equipment.
The company has over 30 years of experience in this sector, playing a leading role in the introduction of several new technologies – a position it continues in today by initiating several research projects with international partners.
At the heart of Leenaars' service offering is the basic and detailed design of monohull vessels, outriggers, horseshoe semi-submersibles, and offshore platforms. This includes creating lines plans, trim and stability calculations, structural design, propulsion, classification drawings, ballast systems, and engine room layouts. In the past the company has delivered cable-lay vessels, double or quadruple joint pipe-lay vessels, heavy-lift vessels, FSO and FPSO ships, and wind farm installation and maintenance vessels. Furthermore, Leenaars has experience in various vessel alternations such as ice class structural reinforcements for specialist transport, as well as general vessel conversions.
The company's design expertise has also extended into offshore and maritime equipment. Here it utilises its in-house knowledge and software to create designs specifically suited to the production requirements of the client, for everything from winches and skid systems to mast and knuckleboom cranes, and even wind turbine foundations. All of these activities are backed by feasibility and feed studies, and analysis of workability, structure, and hydrodynamics to ensure they are fit for purpose in the field. Rounding off Leenaars' portfolio are additional services in business and transport engineering, tender documentation and marine warranty surveys.
As a vessel and equipment designer, Leenaars develops new solutions according to client requests, but at the same time also works to anticipate what future requirements may be and to create products accordingly. The company's capabilities fit well together meaning that when a customer is looking for a vessel design, a crane or offshore equipment is often also required.
Leenaars' move into the renewable energy market was sparked by an extension of this thinking as having been asked to design an installation vessel for wind farm turbines, the company felt that the turbine foundations themselves could be improved upon. As such, Leenaars has engineered various wind turbine foundation jackets, including a standardised series for use in a large range of sizes and water depths, which can substantially lower the cost of large wind farm developments.
"In recent years we have put a lot of effort into not only developing wind turbine installation vessels, but in fact the whole package from installation to the foundation systems, the vessels to maintain them, and the vessels to eventually remove them," describes Cees Leenaars, managing director. "Our latest development has been for a wind farm maintenance vessel, which can work more efficiently offshore. Generally such vessels have a workability of 20 per cent in the key wind farm region of 150 to 200 kilometres offshore, whereas our new vessel offers a workability of up to 95 per cent."
Making use of the same standardised series model as its wind turbine foundations, Leenaars has also developed a range of mast and knuckleboom cranes. The modular nature of the system makes it easier for the company's manufacturing partners in Europe, China, and the US to produce, and offers clients a bigger selection of possible solutions for their needs.
"The difference between these mast cranes and products that are already on the market is that our system can be stored with the boom in the vertical position to save space, and the use of maintenance free sliding bearings in the crown and slewing platform. These are much more forgiving and can go to higher loads than the standard rolling bearings. The standard nature of the series makes mass production of sheaves, winches, and bearings possible, which offers big cost savings and shorter delivery times. Furthermore, the high-speed series of the cranes has deepwater capabilities of up to 3000 metres, whilst the large base of the boom gives a high side lead capacity. Similar principles also apply to our systematic series of knuckleboom cranes," explains Cees.
In offshore construction the cost of a project largely depends on the number of days for the operation multiplied by the price of the unit and its workability. Based upon this simple principle, Leenaars has concentrated its research into vessel design on creating ships with high workability that can be built at a lower cost compared to current market offerings.
One area where Leenaars has become regarded as a specialist is in the use of ultra-wide monohulls for various vessel applications including heavy lift, crane and pipelay. These designs have a remarkably low rate of motion in wave conditions of up to 2.5 metres height and 20 to 25 mile per hour winds, which helps to significantly increase their workability. "We are also very proud of the new asymmetric semi-submersible crane vessel which is now being mobilised from China to the Gulf of Mexico to for PEMEX," describes Cees.
Leenaars first proposed the concept of a semi-submersible crane vessel that lifts over the side in 2002. This design has several advantages over traditional crane semi-submersibles that lift over the stern. "In particular we found that it was unnecessary to have two pontoons of equal size," continues Cees. "The basic theory behind the design is that the movements required to counter ballast the lift are much easier to accommodate over the side, which means that the pontoon furthest away from the lift can be substantially smaller. This led us to create the asymmetric system. The other innovative aspect of this vessel is that there are no bracings which helps deliver high transit speed, and removes a lot of maintenance and inspection requirements. We achieved this by increasing the height of the deck box, and placing the accommodation inside it instead of on top of the deck box. I believe that this design will be a great solution for accommodation, well stimulation, and crane semi-submersibles in the future."
Whilst Leenaars' innovative designs continue to offer significant benefits to its clients, both in terms of costs and workability, the downturn in the market has meant many are being more conservative in their investment plans. "Whilst on the one hand this gives us an opportunity to invest in ourselves and to develop new things, we are hoping to see this bear fruit in the near future as the market begins to pick up," describes Cees. "Our strategy for the next few years is to partner up with some of the manufacturers and shipyards that we currently work with, which will enable us to take the next step in our growth as a company," he concludes.
Leenaars Marine & Offshore Design BV
Services: Design