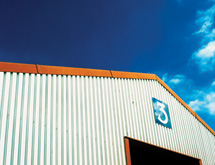 For more than 40 years, Legacy Steel Buildings has been offering 100 percent made-in-America products – durable, high-quality, pre-engineered rigid-frame steel buildings for the industrial, commercial, residential, agricultural, government and military markets. With its dedication to "superior quality, service and durability at the most competitive prices," the company not only has built a diverse and extensive client base, but it also has established a pattern of growing into new markets.
"Thousands of customers choose Legacy Steel Buildings every year because of how affordable and versatile our buildings are," the company says. "We are able to design any floor plan that customers can envision. We can also design a building to include custom glasswork, brick or masonry, even storefront facades. Our open clear span means our clients will have much more floor space available for their products, offices and/or customers as well. The length of the buildings is unlimited and is designed to allow for future expansion as a customer's business grows."
Based in Fargo, N.D., Legacy Steel Buildings ships to customers throughout the United States and North America, as well as to 60 countries around the world. For the past several years, the company has been active in the Bakken Shale, but it has continued to maintain a healthy business in other domestic markets, as well as internationally. In February, Legacy Steel was named the North Dakota Exporter of the Year, an award that was presented by Gov. Jack Dalrymple.
To win the award, the business had to expand to a new international market in the previous year, increase its export sales and support the statewide effort to expand North Dakota's global reach. In 2012, Legacy Steel increased its exports by 70 percent and expanded into Colombia, Bolivia and Australia.
"Exports are an important part of our state's economy, and we should recognize business leaders who play a major role in bringing our high-quality North Dakota products to consumers throughout the world," Dalrymple said in a statement.
Durable and Secure
Legacy Steel believes it attracts a global customer base because of the quality and durability of its products, as well as the support the company provides. Each building is made of Galvalume steel, the "highest-quality, heaviest-gauge commercial U.S. steel available on the market today," the company says. The buildings are backed by a 30-year rust-through warranty from the steel mill, and they are engineered to comply with regional building codes, wind load, snow load and seismic requirements.
The buildings' framing remains secure because it is fastened together with bolts and screws, and little movement in the frame keeps them secure. "Nailed together connections in traditional construction become loose due to shrinkage and warping of the wooden frame," Legacy says. "Steel does not warp, shrink or change with time so the connections remain secure. Since steel framing cannot burn like wood framing can, customers may also benefit from lower costs for insurance."
The walls and trim are painted with a long-lasting factory-applied paint manufactured by AkzoNobel, which Legacy says is "the leading manufacturer of heavy-duty, high-performance protective coatings for steel." Legacy's paint comes in 14 environmentally friendly colors and has a 40-year warranty against chipping, peeling and blistering, as well as a 30-year warranty against chalking. The company notes these coatings are classified as "cool paints" because they reflect up to 70 percent of the sun's rays. "The factory design and detailed engineering of each building ensures that it will last a lifetime," the company says.