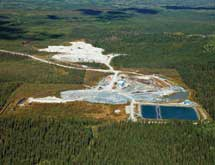 Specializing in the exploration, development and production of nickel and related base metals, Toronto-based Liberty Mines Inc. has a distinct advantage over other junior companies positioned in the Shaw Dome nickel belt, located approximately 25 kilometers southeast of Timmins, Ontario. The company owns and operates the only nickel mill and concentrator in the area, according to President and CEO Chris Stewart. Additionally, Liberty Mines has 100 percent interest in 12,000 hectares of land within the Shaw Dome, which is "substantial" compared to other junior miners, he says.
"There are a number of junior companies in the Shaw Dome that have found nickel resources, but they have no way of taking advantage of that because they don't have a mill and their deposits aren't large enough to put the capital in to build a mill," Stewart says. "Basically, if they want to do something with it, they have to come to us, which puts us in a very good position strategically."
In 2006, Liberty completed construction on the Redstone Mill & Nickel Concentrator, which has a capacity of 2,000 tonnes per day but currently is permitted to produce up to 1,500 tonnes per day. In 2007, Liberty moved into commercial production on nickel sourced from its Redstone Mine. Liberty produced out of Redstone Mine until late 2009 and then placed it on a "care and maintenance" period.
"We do have 750,000 tonnes graded at about 1.6 percent nickel sitting at the Redstone in our resources in the inferred category," Stewart says. "The big focus of our exploration program for 2012 is to drill the lower part of the Redstone Mine and come up with a plan to move it from the inferred category to the indicated category, which will then give us the confidence to go in and develop and mine the other source of high-grade nickel ore we have there."
A Temporary Glitch
Liberty's McWatters Mine is located about 14 kilometers away from the Redstone Mill. Although it has a lower grade than the Redstone Mine, its prime advantage is that it is a near-surface resource and therefore more cost-efficient to operate. During January and February of 2011, the company broke 123,643 tonnes and hauled 38,412 tonnes graded at 0.45 percent nickel. However, it had to shut down its operations in March because the tailings pond at the Redstone Mill had reached its capacity.
Stewart was brought on board as president and CEO of Liberty in May to resolve the issue. Before he came to Liberty Mines, he worked for BHP Billiton on the Jansen Potash project in Saskatoon, Saskatchewan. Prior to that, he was vice president of TESC Mining and vice president of operations of Lake Shore Gold Corp. However, the majority of his career was spent in the contracting industry, particularly in the construction of mine facilities, which made him uniquely suited to solve the tailings problem at Redstone Mill.
Key Advantages
Aside from having its own mill and concentrator, a key advantage for Liberty Mines is the fact that it has strong financial backing from Jilin Jien Nickel Industry Co., a Chinese company that owns 60 percent majority interest in Liberty Mines. "Having their financial support has been critical here as we turn the company around, repair the tailings facility and get ourselves back into production," Stewart says.
"The third advantage is having an experienced management team and a really solid operations and mining team," he continues. "A lot of them are from the Timmins area, so they know the key players and are well-respected within the community."
From Liberty's perspective, the nickel market is "heading in the right direction," Stewart says. "All indicators are positive. Nickel has taken a good run since December, having gone from $8 to $8.50 just shy of $10 in January. One of the things happening with all the laterite nickel deposits is that, yes, it's cheap nickel, but the capital cost to do all these projects seems to be skyrocketing. A lot of projects might not move ahead, and that will put more pressure on the nickel prices going forward. So, we think nickel is a good place to be right now."