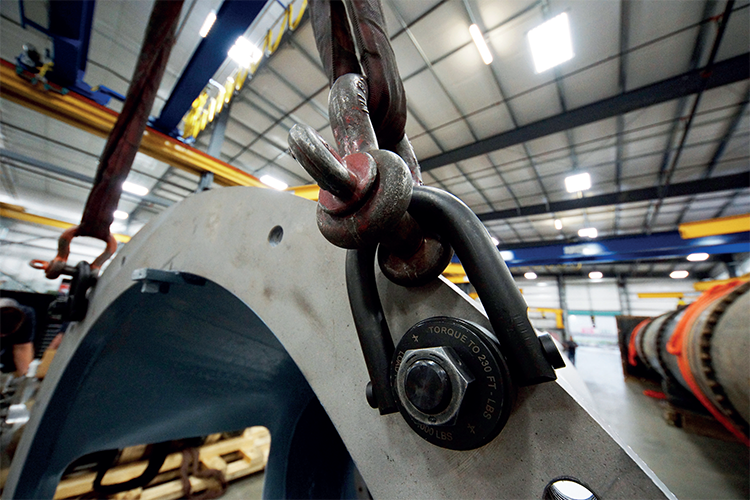 Lifting Equipment Engineers Association
The gold standard
A name synonymous with quality, the Lifting Equipment Engineers Association (LEEA) is now looking to expand its digital offering, as it strives to continue driving up standards within the sector
The Lifting Equipment Engineers Association (LEEA) began life in 1944, as the Chain Testing Association. Originally based in London, the association expanded across Great Britain less than two years later, arriving at its current name in 1988 to reflect the broader range of activities of its expanding membership base. The goal of the association is a straightforward one: to eliminate accidents, injuries, and fatalities within the lifting and height safety industries.
Today, LEEA has gone global, with 1200 members in approximately 80 countries worldwide. "We estimate that our members are present in about 20 supply chains, from entertainment, to oil and gas, offshore, and many more," says Ross Moloney, CEO at LEEA. "We have hot spots of membership in the Middle East, West Africa, Aberdeen, and Southeast Asia, with yet more growth wherever energy is being created."
LEEA members work in every aspect of the lifting industry, from design, manufacture, refurbishment, and repair, through to the hire, maintenance, and use of equipment. To join, members must pass a stringent technical audit, certifying their adherence to gold standards of legislation and best practice. "LEEA membership is an immediate sign of adherence to quality, and commitment to standards," Ross confirms. "People buying our members' services want to see the LEEA badge."
The association's primary function is the provision of advice surrounding global best practice, the cornerstone of which is its Code of Practice for the Safe Use of Lifting Equipment (COPSULE), available to download for all LEEA members. "The COPSULE enables all those who use and buy lifting equipment services to become informed consumers for free, instantaneously," Ross tells us. "As a non-profit association, success isn't calculated by the size of our membership base, or the amount of money we have in the bank. It's how much we're positively affecting the industry."
To realize its goals, LEEA works in partnership with like-minded trade associations across the world. "Where there are organizations that share our values, it's our preference to work with them to drive up global standards," Ross indicates. "In April, we'll be launching an initiative in partnership with the Houston-based Associated Wire Rope Fabricators (AWRF), and we have similar relationships with bodies across the world."
The gains of such partnerships are borne out in LEEA's busy events calendar, including its upcoming webinar, geared towards companies within the oil and gas and offshore industries.
"We want to educate non-specialists about what's expected of them, and empower them to make purchasing decisions on good grounds," Ross reflects. "It follows a similar webinar focusing on port logistics, and we'll be following that up with more throughout the year."
One such event falls on 7th July, 2022, when LEEA and its members across the industry will be celebrating Global Lifting Awareness Day. "It's the third iteration of the event, and it will see LEEA partner with 15 trade associations, including the Association of British Mining Equipment Companies (ABMEC) and the UK Warehousing Association (UKWA)," Ross states. "It's really important to us that we support other trade associations, because at the end of the day, their members are our customers."
Recent years have not been without turbulence for the lifting and associated industries, with the UK's exit from the EU followed closely by the onset of the Covid-19 pandemic. Nevertheless, having successfully kept its members informed about everything from checks on goods to social distancing best-practice, LEEA is now turning its attention towards a new challenge: sustainability.
"At LEEA, we look at sustainability in two ways," Ross explains. "Many of our members work in industries associated with energy creation. We know they're looking to manage their impact, and we're supporting them to achieve that. At the same time, we're an engineering sector, and therefore one of our major objectives must be: where is the next generation going to come from?
"We've been active in future-proofing our industry in terms of pathways into our sector, through lifting programs aimed at pre-option students in secondary school, or via Think Lifting, an engagement project with local schools and youth groups," he adds. "In England, we run an apprenticeship, and we're now pushing for a pathway in Scotland. We have similar plans for Australia, the Middle East, and Southeast Asia as they come online."
Tying in with its annual LiftEx event, due to be held in Aberdeen this October, LEEA is placing a strong emphasis on communication throughout 2022. "Digital and distance underpin everything we do," Ross comments. "Already, our LEEA Connect app provides immediate access to our webinars, to the films that we are making, and to the guidance documents that we have, directly through our members' devices. Likewise, our best-in-class training is now moving online, and is set to be officially launched this coming July.
"At the same time, we're looking at how we can use technology to make sure that our audit is even more impactful," Ross insists. "We're developing a better view of what goes on in a warehouse or a factory, and we're rolling out a new web chat bot, to help provide our members with advice on-demand, wherever they are in the world."
Nevertheless, the association remains heavily focused on its core mission: to educate, influence, and enable best practice. "Our members are committed to the upmost standards, ongoing CPD, and technical rigor," Ross concludes. "If you want quality assured, third-party validated, technical advice on-hand, with trained and audited professionals, then you need a LEEA member."
Lifting Equipment Engineers Association
https://leeaint.com
Services: Lifting industry trade organization