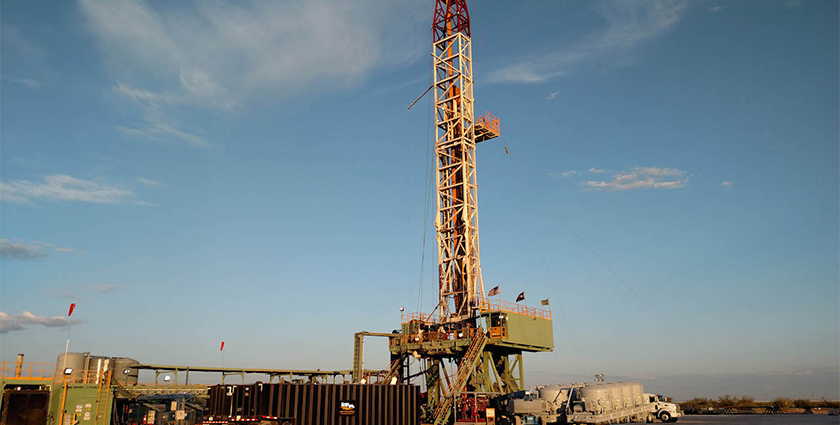 Light Tower Rentals not only plans to expand its products and reach this year, but also continue training employees to offer the best service to customers.
John Avary and Ted Hogan started Light Tower Rentals (LTR) Inc. in 1994 as a diversified specialty equipment rental company focused on oil and gas operations in the Permian Basin area. Today, the Permian-based company services more than 500 companies in the energy and construction markets.
"We mostly service the energy market," founder Ted Hogan explains. "We have expanded our products to offer power equipment, which is the biggest arm of our business. We also offer fluid control, well-site heating and other ancillary equipment. With LTR, we started with something the customer needed and as we grew we worked with our customers and tried to become more of a one-stop shop for them. That's why we add the best products on the market and supply the best service and equipment to go along with it."
With its 23-year anniversary approaching in November, Hogan notes that LTR prides itself on service. "We work not only here, but throughout the nation for our customers," he says proudly. "Although we're not always the lowest priced on what we offer, we feel like we offer the best in service and equipment and give customers the best value. We've built a great customer base and have extended our national footprint to cover 13 states."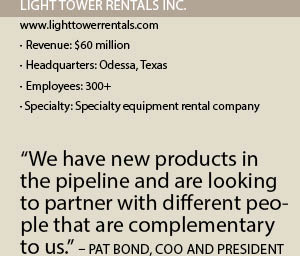 In addition, LTR has built a great executive team over the years, according to Hogan. "We realized our limitations and hired some quality people," he says. "Our COO and president, Pat Bond, is a really strong leader. Keith Muncy, our chief financial officer, has extensive knowledge of big companies, mergers and acquisitions. Under him, our vice president of finance, Nina Valles, has extensive experience in building and strengthening company processes. Then our vice president of human resources, Mark Beckstrom, is fabulous in not only HR, but also organizational development. Finally, Vice President of Sales Mike Sledge is a Midland-native who is well-connected in the oil field and has really beefed up our sales programs, rounding out a fantastic executive team."
Poised for Growth
LTR is constantly looking to grow and expand with new products, Bond says. "We have new products in the pipeline and are looking to partner with different people that are complementary to us in diversified markets, such as geo-markets," he says. "We're looking at how we might participate in places like Mexico or Canada, in addition to other basins in the United States. Selected technology partners will also help us differentiate our equipment and serve as a complement to our power generation."
Ultimately, it's the company's growth over the years that Bond is most proud of. "We were able to take our company and grow it substantially through 2014, and then through the downturn in the energy market we were able to adjust," he says. "We have such a good core set of values and staff that we were able to navigate our way during the downturn and stay relevant through it. A lot of companies really struggled not only to stay relevant, but also stay financially solvent. Now, we hope we are in a bit of an upswing here because we are positioned very well to take advantage of the return of the oil and gas business. So the new year holds a lot of promise and increased optimism for us as we are much stronger and poised for the growth spurt."
Always Improving
For the past few years, LTR has followed a growth plan in various capacities. For instance, 2014 was a year of building its safety culture and 2015 was geared towards refining the company, which included enhancing several processes, such as its supply chain and sales management. In addition, in 2016, LTR focused on building a sales culture, Beckstrom says.
"We implemented an account management program, preferred partner program and executed a lot of sales training for our sales team on products and sales skills," he explains.
For 2017, the company is focused on building a learning organization. "We have realized that as things change it's important for us to learn, unlearn and re-learn to keep our skills and knowledge current," Beckstrom explains. "So the faster we can change, the better we're going to be not only as individuals, but competitively, too. That is why we'll be providing training to all of our mechanics on a rotating basis at LTR Technical Academy, our central repair facility in Cleburne, Texas. The goal is to help them efficiently complete more complex maintenance work and we will share with them – throughout the year – what we can do to improve equipment."
LTR has also invested in online learning tools and will offer a series of web-based learning courses for all of its staff, including sales, advanced sales, leadership, advanced leadership, time management, sales management and project management. "Helping our people become smarter doesn't mean they are not going to work harder, but it does mean they are going to work smarter," Beckstrom says.
In addition, as members of the board of the Petroleum Equipment Suppliers Association (PESA), Bond was instrumental in its developing a leadership development program. "This year, we're doubling down on making our people smarter, better leaders and giving them better skills throughout the year. This will not only help our employees and the company itself, but it will also help our customers. We're trying to provide staff that can give better service because they are smarter, work safely and understand not only our products and equipment, but also the customers' needs."
It's that personalized attention given to customers that sets LTR apart from its competitors, Hogan concludes. "Our people make a big difference in the attitude and service that they bring, amongst other things," he says. "Also, our service model makes a difference as well. When someone calls LTR they speak with a person. We have people on-call 24/7 year-round, while some of our competitors are only open during regular business hours. Our model is that we will dispatch people and guarantee we'll be at a customers' site in two hours, plus whatever travel time is involved."