Linde Arabian Contracting Co. Ltd
Prime position
The Linde Group is a world leading supplier of industrial, process and speciality gases as well as one of the most profitable engineering companies in its class.
The Group's penetration is hard to deny with Linde products and services found in nearly every industry, throughout more than 100 countries worldwide. Linde comprises of three divisions; its core activities in Gases and Engineering, and Gist, which offers supply chain solutions.
The Gases division is home to a wide range of compressed and liquefied gases, as well as the ability to design and build petrochemicals plants for Poly Ethylene, Poly Propylene, Olefins and others, which produce these petrochemicals for customers in a huge number of industries. The Group's engineering division has also seen success across the globe, focusing on promising market segments such as olefin plants, natural gas plants, and air separation plants, as well as hydrogen and synthesis gas plants. These plants are utilised in a wide variety of fields including the petrochemical, chemical, and pharmaceutical industries.
A fully owned subsidiary of the Linde Group since 2006, Linde Arabian Contracting Co. Ltd acts as the local representative of the Group for Saudi Arabia. The company itself was first established in 1984, but under the Linde name forms the contracting arm for all lines of business within the region. Previously Linde Arabian Contracting operated two offices, but has since merged these into its current base in Alkhober to the east of Saudi Arabia, which positions it closest to customers in the oil and gas, and petrochemical sectors.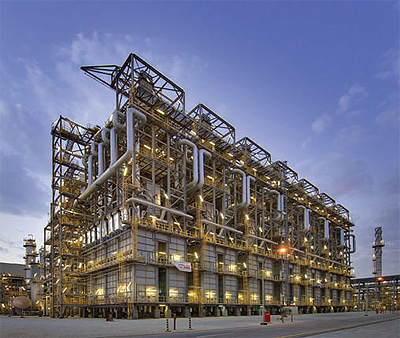 "Our most important capability is our proximity to our customers," notes Ahmed Alghamdi, global market development manager for the Middle East. "It enables us to enhance communications on a local level, but also to report back to the main Linde office in Germany in detail with advice on the market situation, development and changes to this market, and the feedback of customers. Having an office located in Saudi Arabia makes the delivery of some items easier, such as the direct supervision of project management, and in that sense we can meet the requirements of any contract in a prompt and professional manner. Likewise, we have additional security in the support and capabilities of the Linde head office, and our associates in the group."
In connection with the Linde Group's Gases subsidiary in Saudi Arabia, Linde Arabian Contracting recently succeeded in supporting the Linde Gas Division to secure a $380 million long-term contract with the Sadara Chemical Company. A joint venture between Saudi Aramco, one of the world's leading energy suppliers, and The Dow Chemical Company, which is a forefront science and technology company, Sadara is constructing a world-scale integrated chemicals complex in Jubail, Saudi Arabia. Once completed, this will represent the largest petrochemical facility ever built in a single phase.
The Linde Gas Division is tasked with designing, delivering, and constructing new turnkey gas facilities for the production of carbon monoxide, hydrogen and ammonia at the Sadara site. These units are scheduled for completion in 2015, at which point the Gases division will take over operation as part of its on-site gases supply contract.
Jubail is also the site of major internal development for Linde Arabian Contracting, as it plans to establish an engineering nucleus office in the city. "The creation of this office will allow us to hire local citizens, who on appointment will be sent for extensive training at Linde's head office in Germany. On their return the engineers will be supervised by experts from Germany at our base in Alkhober, before going out into the market to deliver engineering services to the customer. In comparison to the past, where there was a lot of long-distance travel involved, this will be a valuable service to the customer, which will shorten timeframes and increase satisfaction. This proposal is being carried out in partnership with a local qualified and licensed engineer as according to Saudi law. Local content is a major ambition for the Saudi government, and this development will enhance and implement that," describes Ahmed.
In terms of the importance of the Saudi Arabia region to the Linde Group's global strategy, Ahmed explains how the investment into Linde Arabian Contracting is closely aligned to the enormous potential the market possesses: "The Arabian Gulf is a real hub for the petrochemical, and oil and gas sectors, which poses huge opportunities. The market itself is very strong, with cyclic booms in activity such as in 2004 to 2007. The majority of projects initiated at that time are now coming to a finish and therefore we forecast another period of major growth with mega projects coming onboard in the coming years.
"Saudi Arabia is blessed with a prime location between the east and west, with access to all sorts of world markets from the US and Europe to India and the Far East, and good shipping connections. Likewise, the region benefits from the low cost of manpower, and some materials, so we see the petrochemical, and oil and gas industries prospering very competitively for the coming decades. Within this, Linde Arabian Contracting has a very good opportunity to gain a large segment of the market, by drawing on its assets of over 28 years operating in Saudi Arabia, and the 133 years of experience within Linde as a whole," he concludes.
Linde Arabian Contracting Co. Ltd
Services: Contracting for plant engineering and construction