A rich heritage
Linde-KCA–Dresden GmbH (LKCA) is one of the leading companies worldwide in the design, delivery and construction of chemical, gas, biotechnology and pharmaceutical plants.
It is one of the biggest sites run by Linde Engineering, itself part of The Linde Group, a world leading gases and engineering company, and is based in the East German city of Dresden. Having expanded the scope of its abilities massively throughout its history, from basic air separation units to complete petrochemical plants, Linde-KCA is once again looking at new sectors such as carbon capture and storage (CCS) to expand into.
The roots of Linde KCA stretch back to 1945 when the post-war period saw a regeneration of industry and a group of engineers came together to produce air separation units before moving into chemical plants. In 1974 they formalised the company under the name Komplette Chemieanlagen (KCA) and became the largest engineering and contracting company in East Germany. Decades before, Carl von Linde founded the 'Gesellschaft für Linde's Eismaschinen' in 1879, initially producing refrigeration units but eventually expanding into air liquefaction and engineering.
The two companies came together in 1990 after the re-unification of Germany, when the already hugely successful Linde AG took over KCA first as a joint venture then as a fully owned subsidiary; the company was renamed Linde-KCA-Dresden GmbH and is now one of Linde Engineering's most important companies.
One of the managing directors, Joerg Linsenmaier explains more about what the company does today: "The company here in Dresden has 500 employees and is a member of the Linde Engineering Division within the Linde Group. Most of our employees are engineers. Our company objective is to serve our clients with engineering, procurement and construction of complete turnkey plants worldwide. We specialise in two different product lines: chemical and gas plants, and biotechnology plants."
Its line of chemical and gas plants largely falls into three major areas: polymer plants, which process petrochemicals into base materials for plastics, air separation plants, focussing on the Russian and CIS markets, and carbon capture and storage (CCS) plants that reduce the carbon pollution of manufacturing sites. The line of biotechnology plants includes 'white biotechnology' such as bio-refineries involved with biomass gasification and green ethylene, as well as 'red biotechnology' such as pharmaceutical facilities.
Joerg continues: "In terms of services we cover everything from feasibility studies, basic engineering packages, materials procurement, all types of plant components and whatever else the customer needs. We can carry out permitting, carry out complete construction projects and after sales service. Essentially we cover every stage of a project – from beginning to end."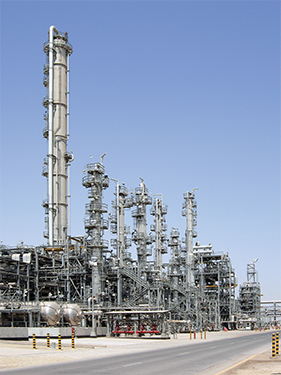 Given the company's size and reputation, it is no surprise that Linde-KCA has been involved with a variety of major international projects. The Linde Group has offices in over 100 countries that enable it to bid and secure contracts locally before undertaking the job back at its Dresden and Munich facilities. The city of Jubail, Saudi Arabia, has in recent years been one of the company's most frequently operated locations, with several plants and factoriesdelivered here.
For example, in 2006 a turnkey petrochemical plant was delivered for SABIC subsidiary Jubail United Petrochemical Company. The scope of this work included detail engineering, procurement, construction, precommissioning, commissioning support (delivery and start-up preparation) for a facility that today produces 150,000 tonnes per year of ethylene-derived linear alpha olefins (LAOs). In the same region, Linde-KCA just completed a polyethylene facility for another SABIC subsidiary, Eastern Petrochemical Company. With a production capacity of 800,000 tonnes per year of HDPE and LLDPE, this has been up to now the largest project in Linde's history.
Another of the company's major markets is Russia; due to the historically good connection of LKCA and Russia, and employing over 100 Russian-speaking employees, this seems a logical outcome. "An ongoing project we carry out is a polypropylene plant in Tobolsk, Western Siberia," Joerg highlights. "The client is Tobolsk-Polymer LLC, a 100 per cent subsidiary of JSC Sibur Holding and the contract is worth almost half a billion euros. The plant is currently under construction and expected to start-up in 2012, but when opened will produce 500,000 tonnes of polypropylene per year. So far we have done a lot of piling, and are currently working on the foundations. It is the biggest petrochemical project in Russia right now and a highly important contract for us."
As illustrated by these examples many of Linde-KCA's undertakings are huge, multi-million euro projects that can take years to plan and execute – lead times alone can run up to three years. The sheer scale can often present a number of challenges, particularly with regards to sourcing enough materials at an acceptable price and in the running of the construction site itself; operating a construction site in, for example, Russia or Egypt from Dresden can be a challenging proposition.
Joerg explains how the company is pro-active in tackling such obstacles: "This is why Linde Engineering is now engaging in new initiatives like Global Construction where we will set up construction centres throughout the world. These will, project wise, manage construction sites, whether small or large, enabling us to give better service wherever the contract takes the company."
The company's research and development (R&D) is also crucial to improving its capabilities, and to do this it makes use of its Linde Engineering membership to collaborate with its headquarters located in Munich. The R&D department, located in Munich, invests into improving the capabilities of the company; an R&D initiative just launched, called the Clean Energy Group, an investment into the future of environmentally friendly technology.
The market has become increasingly difficult in recent years, even for a company as successful as Linde Engineering. Perhaps the most prominent factor is the increasing competition from Asian companies, which are able to offer their services at a noticeably lower price. Added to this is the increasing price of locally sourced materials, forcing the company to look further afield to remain competitive.
Of course the company has a number of projects and strategies in the pipeline as well. CCS might become a major upcoming sector for Linde-KCA; it is currently collaborating with Mitsubishi Heavy Industries on the bidding for a plant in Rotterdam, the Netherlands. This facility will be the largest CCS plant ever built in Europe and capable of 4100 tonnes of carbon dioxide reduction daily. It will serve as a demonstration of CCS technology, and Linde-KCA's involvement represents an exciting opportunity to support eco-friendly technologies whilst also playing to its strengths.
Joerg explains the company's strategy for the future: "Most of the market activity for CCS is in Europe and the US, where many facilities depend on grants from the EU. The polymer markets will largely remain throughout Russia and the CIS, as well as the Middle East, North Africa and India. Russia and the CIS also remain large regions for air separation units such as oxygen plants for steel mills."
He concludes with confident prospects on the future: "We want to grow a very talented and internationally thinking workforce whilst also increasing our global sales significantly compared to today. By improving global procurement and international engineering, we look to cement our position in the markets that we are already established in, as well as become a stronger player in the emerging fields such as CCS and white biotechnology."
Linde-KCA–Dresden GmbH
Services EPC contracts for plants