Cool runnings
"Linde Kryotechnik is a member of the Engineering Division of The Linde Group, a global company that employs approximately 50,000 people," explains Klaus Ohlig, managing director of Linde Kryotechnik.
"Our company was originally established in 1972 as a cryogenic department within Sulzer Chemtech and formally became a part of Linde in 1992. Today it has 75 employees working in Switzerland with an average annual turnover of 30 to 40 million Euros."
Being a part of The Linde Group has inevitably led to working relationships between its various entities and offers particular benefits, as Klaus highlights. "The company isthe partner for Linde Gas in the field of helium and hydrogen liquefaction, hence focusing on low temperature cryogenics with applications at minus 250 degrees Celsius and below." However, Linde Kryotechnik also serves industrial gas companies outside the Linde Group for helium liquefaction from natural gasresources and hydrogen liquefaction for use in the semi-conductor industry, as well as for automotive applications.
Aside from the gas industry, a number of the company's key clients are universities and research and development facilities looking to acquire helium refrigeration and liquefaction systems for use in fundamental research and high energy physics: "Customers come from all over the world asking for Linde Kryotechnik's technology and services, particularly from the US, Europe, Japan, China and India," says Klaus.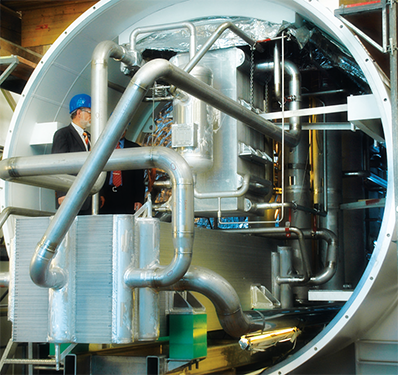 Research and development activities play an important part in Linde Kryotechnik's business: "They are key drivers that ensure the business remains competitive," Klaus comments. "The company is constantly striving to standardise its plants, reduce their power consumption, and develop new and advanced technological concepts for complex applications in fundamental research and high energy physics.
"There are several other aspects that set the company apart. First and foremost it has very close relationships with its customers and is known for providing constant, detailed, competent, and quick support from the initial project idea through to project execution. Even after the plants are delivered to the customer and have successfully commenced operation, Linde Kryotechnik knows it still has a big role in serving the customer in the time that follows. Another selling point of the company is its set up with strategic partners, particularly in the US and Japan, specially tailored to the demands of these markets."
In recent years the company successfully developed plants to be used in the purification and liquefaction of neon. There are also plans in place to extend the company's technology to incorporate other rare gas applications. Linde Kryotechnik aims to get into position to head in this direction and be a global leader whenever respective project opportunities arise.
Linde Kryotechnik has been awarded a series of prestigious contracts in the last six months. In January 2011 it was tasked with the delivery of a helium refrigeration system to the Fermi National Accelerator Laboratory in Batavia, Illinois. The main purpose of this facility is to test cryomodules, however scientists from around the world can also use it to conduct a number of other superconducting radio frequency (SRF) research projects including the testing of controls, diagnostics and instrumentation.
"In the coming weeks, Linde Kryotechnik further expects to receive an order from a German research facility to undertake the upgrade of an existing helium refrigeration plant to serve a new fundamental research programme. This would be a particularly big, and technically interesting, project for Linde Kryotechnik," says Klaus.
"The market has always been challenging," he continues, "Switzerland presently has a very strong currency, which puts the company in a demanding position in relation to pricing. Supported by its technological excellence and through a continuous drive to optimised work flows, it has succeeded in even increasing its competitiveness despite of the strong Swiss Franc.
"Linde Kryotechnik is working in a very specific industrial field which expects to see a steady increase in projects over the next years, focusing on the company's strengths in deep temperature cryogenics. Demand from all over the world will continue with a number of big, exciting projects on the horizon."
Linde Kryotechnik AG
Products: Cryogenic equipment