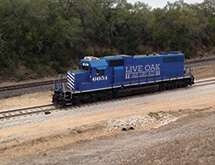 Thanks to Live Oak Railroad's state-of the-art facilities and strategic location, both industrial and oil and gas interests in South Texas and in the Eagle Ford Shale play now have a transportation solution partner to help them.
"We have about $110 million in committed capital with different projects going on in and around the rail yard," Managing Partner Greg Seay says.
"We can do simple land sale or lease agreements, or we can provide infrastructure financing for people interested in the facility," Managing Partner Barton Simpson adds.
Location, Location
Located in the heart of the Eagle Ford Shale, about 2.5 miles south of Three Rivers, at mile marker 81 on the Union Pacific line between San Antonio and Corpus Christi, Live Oak Railroad is well positioned to serve customers along Interstate 35 from Laredo to San Antonio and Interstate 69 from Corpus Christi to the Rio Grande Valley.
"Having access to the Union Pacific line allows us to reach a global audience with inbound and outbound freight," Seay says.
Live Oak Railroad's proximity to production fields and easy access to nearby highways and major ports make the rail yard a strategic and convenient location for the petroleum, industrial, logistical, and support industries.
"The efficiency of rail transport has opened up this opportunity," Simpson says. "The area is awash in crude, and we are getting calls all the time from someone who wants to move crude into or out of our facility."
"As soon as pipes are built they are at capacity, and there is a big reliance on truck transportation," Seay adds. "Rail usage helps with pipe capacity issues and reduces truck usage, making roads safer."
Live Oak Railroad's ability to interchange multiple unit trains and provide tailored manifest services without crossing either the main line or development tracks is one of the unique features of this park. Live Oak Railroad's access to multiple interchange points in North America and the Port of Corpus Christi is another feature that will help contribute to helping area businesses become more competitive in both domestic and global markets.
"We also have two switches, a northbound and a southbound switch, that come into our interchange yard with 28,000 feet of track," Seay says. "We have ladder track-designed layouts with parcels available of up to 5,000 feet long for multiple unit train landing. We have manifest service available and a community manifest dock for those that just want a one-off load or [to] unload."
In addition to accepting both unit and manifest trains, Live Oak Railroad staff can also customize a layout for tenants that allows for the landing of a unit train on their property. Live Oak Railroad also has a strong portfolio of industrial utilities on site and available, which include processed natural gas and three-phase power.
"We have a lot of amenities that are difficult to find in this shale play," Simpson says. "It is the unusual collection of assets such as utilities, pipe and location that makes this facility shine."
Plenty of Capacity
Live Oak Railroad is always looking for new ways to service its industries. It will provide transloading for clients, for example. The company has an entrepreneurial spirit thanks to the experience of its developers, who have completed projects around the country and have deep knowledge about south Texas construction.
Over the next year, providing exceptional service to clients and getting their facilities built out will be Live Oak Railroad's focus, it says. It will be working closely with partners such as Howard Energy, a company that is developing six bays on the site to handle or store crude and other fluids. Live Oak Railroad and Howard Energy will also be going live on the Howard Energy stabilizer project, which will make it safer to place condensate into rail cars.
"Our main focus is getting our tenants and owners everything they need to succeed," Simpson says.
In the future, Live Oak Railroad has a lot of room for growth. The site's initial development has taken place on a 300-acre parcel, but the company has another 400 acres that it can choose to bring online at any time. Live Oak Railroad's main challenge is the fact that it has a lot of business opportunities, and it must seek those opportunities while still serving current customers at the highest level possible.
"Fortunately, we have a lot of resources for customers and are located on a rail line that has a lot of capacity," Simpson says. "As we grow, we will work hard to meet our customers' needs."