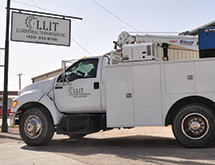 LL Industrial Transmission Inc.
Although LL Industrial Transmission Inc. has been in business only since 2009, the company has a long legacy thanks to the experience of founder and President Leroy Law and the team he has assembled. Law has been involved with building Allison transmissions for well-servicing and drilling rigs for decades, and LL Industrial Transmission has gotten off to a strong start serving Permian Basin operators.
"We provide parts, service and complete overhauls for Allison transmissions for oilfield equipment such as well servicing units, mud pumps, drilling rigs, frack pumps and cement pumps," Law says.
Core Skills
When Law started the company, he was the sole employee and began working out of a 2,400-square-foot facility. Now, the company is up to 11 employees and is moving into a new $1 million, 12,000-square-foot facility.
"The new facility shows customers that we are here to stay, and it means our people will have a place to come to work that they can be proud to call home," Law says.
"We see ourselves expanding up to 20 people over the next two years," he adds.
The core competency of LL Industrial Transmission is its ability to build transmissions, with its biggest customer base coming from the well-servicing industry. Law has worked to grow the company through the relationships he has built over the last few decades in the market and his time with Stewart & Stevenson, as well as through networking with industry associations.
LL Industrial Transmission purchases transmission cores, mainly from overseas, bringing them into its facility and rebuilding them so they can be used by oilfield equipment. Currently, the company builds around 125 units annually.
"We also currently work with most major manufacturers of well-servicing units," Law says. "We work with them and sell a lot of our transmissions for use on their brand-new rigs."
The kind of service LL Industrial Transmission provides is critical to drilling rig or well-servicing rig operators, because failed transmissions lead to costly downtime. For rig operators dealing with transmission failure, LL Industrial Transmission can provide service in the field, even in remote locations, rebuilding or repairing the unit right away. In addition, it can provide an exchange unit from its stock of transmissions prior to rebuilding the customer's faulty transmission and bringing it back to them.
Set Apart
Although the company builds Allison transmissions for well-servicing rigs and drilling rigs, one aspect that sets LL Industrial Transmission apart from the competition is the fact that it offers aftermarket parts and isn't limited to using only Allison replacement parts. The company uses several machine shops that manufacture parts for LL Industrial Transmission, helping the company offer cost-effective options to its customers.
"We use genuine Allison parts when needed, but we use a lot of aftermarket parts from proven vendors that have been building parts for decades," Law says. "That gives us a leading-edge against the distributors and dealers that have their hands tied by only getting parts through one source."
This aspect of the company's operations allows it to shop the market for the right alternative for its customers. It also allows the company to offer better lead and repair times.
LL Industrial Transmission is still a small company, but it is a small company that has demonstrated its ability to offer exceptional products and services at cost-effective prices in its first five years. Thanks to his many years in the business, Law understands that vendors are as critical as customers. He and his team have gone to great lengths to show the company's customers that it is a reliable vendor capable of providing high-quality workmanship on multimillion-dollar pieces of equipment. In addition, the move into the new facility sends a message to the market that LL Industrial Transmission is growing and in business for the long haul.
Law believes there will be ample opportunity for the company in the future. He sees the industry moving into a period where older equipment is being retired and newer equipment is coming online. He also expects opportunities related to refurbishing the older units that remain online, as well as providing service on newer equipment and their expanded electronic capabilities.
"Our biggest challenges are continuing to find the right employees and not growing too fast," Law says. "We must take care of the customers we have and be sure that we can serve them properly."