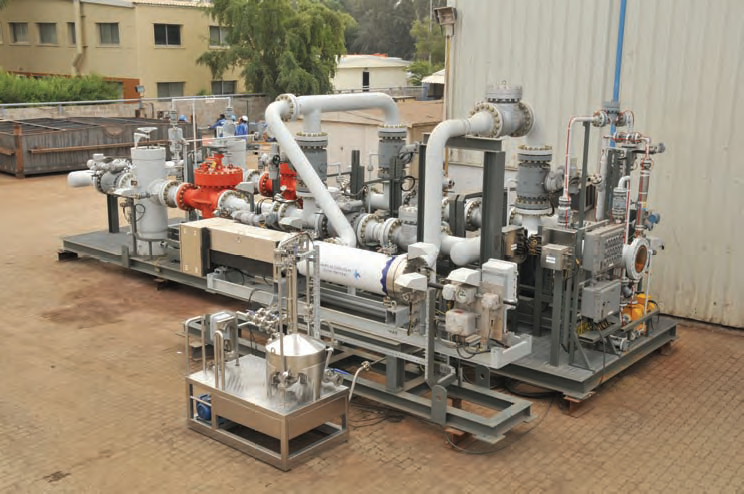 In the loop
Loops Automation is a system integration and engineering company with a focus on general process automation.
This covers a comprehensive range of solutions from measurement to process control and manufacturing information systems. The company's field of expertise covers various industrial sectors including upstream and downstream oil and gas, chemical and petrochemical, power and utilities.
Since 2000 Loops Automation has been working in Iraq, where it built up a solid reputation early through the execution of control and instrumentation projects directly alongside Iraqi oil and gas companies and refineries as part of the United Nations Oil for Food Programme. From 2005 to 2009, the company also established itself as a reliable partner of the
Coalition Provisional Authority. Whilst Iraq remains its largest market at present, Loops Automation has gained footholds in other countries such as the United Arab Emirates (UAE), Saudi Arabia, Oman, Sudan, North Africa and Egypt. This has seen the company build up a good network of contacts including international contractors and developers, and end users.
The company offers an extensive range of solutions for Process Automation including engineering, control & instrumentation system integration, automation product sales, electrical product sales, mechanical products sales, system implementation and field services. Key to the company's product portfolio are its integrated process control and safety systems (ICSS),industrial control and SCADA systems, field instrumentation and flow metering systems. The company also provides a one-stop control solution for turbo machinery.
Understanding a client's needs is critical in ensuring that the correct solutions are provided in every situation. This is especially true where safety and process control systems are concerned and Loops Automation analyses every customer's functional requirements to provide the most appropriate critical hardware devices and software packages. The company incorporates these packages into a total solution, which is integrated at every stage along the line and at every phase. This includes system and process engineering, design, selection, quality control and purchasing of products, hardware and software configuration, testing, installation, start-up, maintenance and spare parts, after-sales service and training of customer personnel. Thissupport is complimented by Loops Automation's provision of integrated DCS/PCS and ESD and F&G systems and all related interfaces at its own workshop. Work is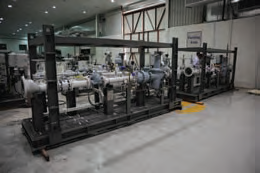 verified during FAT (Factory Acceptance Test) witnessed by clientseliminating the needs to hire separate vendors. The company offers process control and safety systems to both offshore and onshore facilities including field production facilities, degassing stations, NGL and natural gas processing plants,compressor stations and bulk storage terminalsand tank farms.
This type of technology has been the driver for a number of Loops Automation projects, including a more recent contract in Iraq. This saw the company refurbish a gas turbine control system with a modern, updated set-up on a turnkey basis. Loops Automation is able to deliver extensive knowledge of industrial control and SCADA systems meaning that it is able to offer cost effective and tailored turnkey control and monitoring systems ranging from locally operated PLCs and HMIs to remote operated RTUs and SCADA systems using stateof- the-art communications.
The company is also an independent system integrator for flow metering solutions and is able to provide custody transfer metering packages for liquid and gas applications. Because the company operates as a fully independent system integration company it is able to comply with its customers preferred brands and models when building systems. It is also highly focused on providing world-class quality and service, which is an approach the company takes across all of its product portfolio.
Loops Automation's specialist staff numbers around 65 engineers, technicians and support personnel. As such the company is able to bring together the necessary expertise to meet its customer's needs, whatever their industrial field. Since the end of 2011, Loops Automation has operated out of new larger premises, which has enabled it to increase the number of projects it undertakes, and therefore the requirement for such resources in turn.
Speaking previously to European Oil and Gas magazine sales director Hachem Kaddoura describes the aspects that distinguish Loops Automation from its competition: "By employing a diverse and highly proficient team of professionals the business is able to deliver quality solutions that are developed and made under one roof. Further to this, Loops Automation has always endeavored to establish long-term relationships with its customers where trust is cultivated by providing continuous, strong support and ensuring timely delivery of first-class solutions.
"Being able to solidify such relationships is something Loops Automation is extremely proud of. The company believes in giving top priority to its customer's best interests and in doing so it tailors its services to meet each individual need and expectation. This is a company that goes out of its way to accommodate customer's requirements, which is something that will always be the case."
Essentially, Loops Automation is able to deliver a carefully designed and tailored package for almost any process control or automation requirement. The company's understanding of these individual fields, as well as ability to choose equipment and software that meet customer specific needs, means that its solutions are as effective as possible. Its control of the complete process also gives Loops Automation's customers confidence that their purchased systems will leave them firmly in control at the end.
Loops Automation
Services: Integration and engineering services