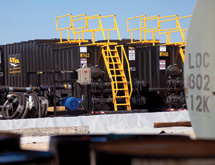 Founded as Light Tower Rentals in 1994, Texas-based LTR began as a small company, providing eight separate light towers. Co-founders John Avary and Ted Hogan supported the young venture with their own money in the hope that LTR could provide lighting to multiple oil sites.
In 2008, the company entered a new phase of its existence. LTR partnered with the private equity company Clairvest Group Inc. This partnership has helped LTR continue to grow.
Since that time, LTR has seen significant expansion. In fact, the company's operations now encompass more than 20 locations, and its footprint stretches all the way from Texas to Pennsylvania.
Meeting Expectations
LTR's products and services include generators, light towers, supervacs, mud tanks, trucking, multi-purpose safe rooms and more. The company works to ensure that the equipment it brings in from suppliers is as modern and diverse as can be, and it strives to provide the best training possible to its technicians.
"The best compliment we receive is when a client doesn't have to give us a second thought," COO Pat Bond says. "We never want our customers to worry about anything regarding LTR."
LTR's field technicians are trained to set everything up on site and make sure that any job flows right from start to finish. Although it will always be a challenge to train and retain good-quality people, the company's compensation and benefit packages help it stay competitive with bigger companies.
In fact, Bond feels the company can offers its people packages "that are as good as any other in the industry," especially based on LTR's size.
For LTR to stay ahead of other rental companies, supplier relationships must stay strong. One of the founders, John Avary, has taken on the role of supplier facilitator and has built a strong relationship with all vendors and suppliers. This helps LTR to fulfill all needs in the fastest and most efficient ways possible, as well as keeping a steady stream of products coming in.
With the additional help of LTR's product line managers, the company can properly train all of its employees on all products that make their way through the door.
Over the past year, LTR has directed resources toward internal improvements of everything from HR systems to IT systems to financial systems. LTR has also brought in resources such as outside experts to train employees in the use of natural gas generators, which are different than the more traditional diesel generators.
"We will never be done improving, because growth is part of our DNA," Bond says.
Deep Understanding
It is not surprising that finding and keeping the best and most qualified employees is an ongoing challenge for LTR. But it is not the company's only concern. In addition, LTR is constantly monitoring job sites and maintaining and supporting its rental fleet.
LTR must also fully understand the different markets it serves. The company has expanded well beyond its Texas and New Mexico roots and now has a presence in other major shale plays in North Dakota, Pennsylvania, Oklahoma and Ohio.
Operating throughout the United States brings many challenges for LTR. For instance, the company understands that some of the markets it serves are susceptible to natural disasters like tornados, which is why it supplies a shelter that can withstand winds of more than 350 mph.
LTR also supplies flameless heaters for locations in northern states that can provide clean and dry heat of temperatures up to 180 F.
"Companies everywhere have been flaring gas," Bond explains. "As an alternative, clients can choose to use a generator powered by natural gas as a smarter and easier way to save operational costs."
Water is also vital in the oil and gas industry, and water management is an arena LTR has stepped into in order to expand its service capabilities. There is a need for sourcing, storing, prepping, transporting and treating water as producers get the oil out of the ground. LTR's expansion to its fluid handling product line includes things such as large modular above-ground storage reservoirs, water transfer and water management.
By understanding that each market requires overlapping yet different sets of equipment, LTR has been nimble enough to spread its reach to multiple parts of the country.
As operators follow and chase plays and respond to market demands, LTR has set up satellite branches and brought its service-focused mentality to new regions. The company has been able to do that because it has low overhead and strong capital support.
Bond believes the future for LTR is most definitely a bright one. Expansion has been a major part of the company's recent years, and LTR will always continue to look for opportunities to add to its portfolio.
However, the company will also be careful to remain true to its core ideals and make sure that it has the right employees and managers to help drive the company forward.
"We are constantly looking for growth and for strategic partnerships, but we are also challenged to live within the structure we've created and make sure we can find the right kind of people," Bond says.
"We will continue to look for new revenue streams that may comply with the natural gas generation line," he adds. "And within the next few years, we expect that emerging product lines will be growing exponentially and help us look for new places to expand."