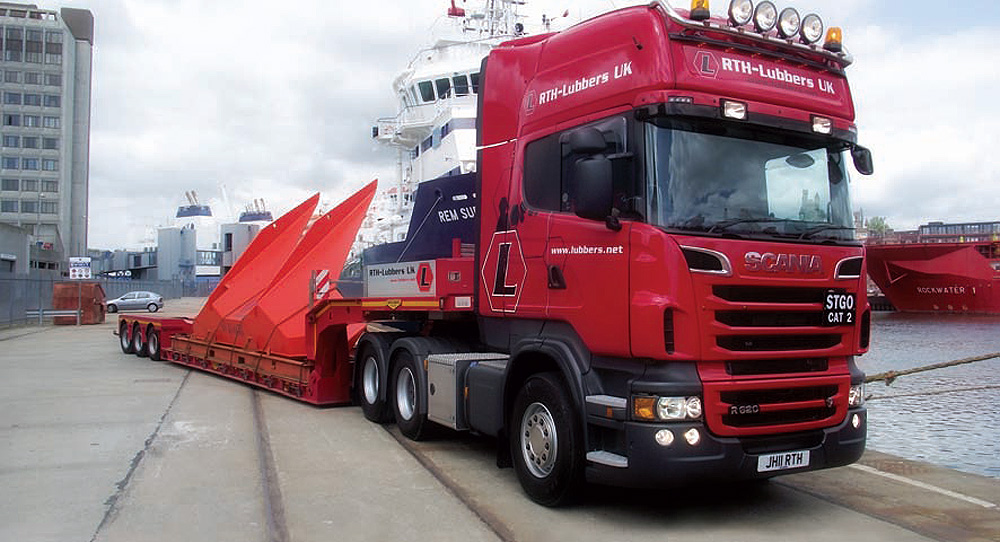 Logistic efficiency
Lubbers Logistics B.V. was founded in 1929 in Schoonebeek, the Netherlands, as a livestock transport company with just three trucks.
More than six decades of success have, however, transformed the company into an international organisation with a presence throughout Europe and beyond. Open flatbed trailers (13.6 metres length), taut liners, low-loaders, pick-ups, and small trucks engage in road transport between the group's various international depots in the Netherlands (Schoonebeek, Velsen-Noord, and Den
Helder), Germany (Celle), Denmark (Esbjerg), Italy (Ravenna), Poland (Kutno), and the UK (Aberdeen, Newcastle, and Great Yarmouth). A Romanian depot, located in Ploiesti, is the latest addition to what is collectively known today as Lubbers Transport Group.
Managing director Ger Engelsman talks more about the group and its international presence: "At this moment we have about 120 trucks and close to 300 trailers in different configurations, all fully geared to the requirements of the oil and gas industry. Our trucks basically operate in all European countries and we are very flexible in shifting capacity from one country to the other, following our customers' business developments. We are working very closely with a selected number of vehicle manufacturers such as Scania, DAF, and Volvo to continuously develop and improve equipment based on our own specifications."
The organisation uses a number of different brandings across its various national markets. In the UK, for example, it is known as RTH-Lubbers – a name resulting from a merger with RTH Haulage to enter the country's market – whereas on the European mainland it operates as Lubbers Logistics. Work in Scandinavia is carried out under the banner of DanCarrier. These three divisions operate in concert to provide daily road shipments between the 11 bases, providing customers with swift transport solutions that have fixed throughput durations and thereby improve client comfort. Depots in each of the seven countries also act as distribution hubs for destinations within a certain catchment area – Ploiesti, for example, distributing to the Black Sea region. The group is networked by a common Mandata software platform.
Across its organisation, Lubbers Transport Group works with a wide range of clients ranging from suppliers such as Vallourec & Mannesmann to upstream majors such as NAM and Total E&P. With this latter organisation, for example, Lubbers Logistics carried out a two-year contract transporting, storing, and delivering offshore container and basket rental packages to Total E&P's clients. A total of 300 units were handled between 2009 and 2011, and Lubbers Logistics' task also involved the repair, inspection and testing of the units, executed via a partner company.
Apart from simple transport solutions, the company also works with its clients to evolve logistic efficiency. "Another very recent project (still running) is that we do a transport optimisation pilot project for Baker Hughes in the Netherlands, Germany, and Denmark," illustrates Ger. "The goal of this project is to optimise the planning and supply chain process within Baker Hughes and reduce the total transportation costs in the countries mentioned. This requires close co-ordination together with the customer and out-of-the-box thinking with respect to re-engineering the planning process and combining cargo flows as much as possible."
Lubbers Transport Group is also part of a tri-party alliance known as KLP Rigmoves, alongside other oil and gas service sector companies Kielstra Cranes and the Pax Group. Together the alliance brings diverse expertise to design and deliver turnkey onshore rig move projects. Past clients that have benefitted from KLP's services include NAM/Drilltec, KCA Deutag,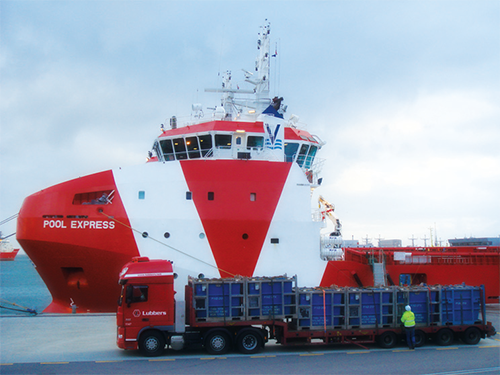 Northern Petroleum, EEW, and Interwell. The past 12 months have seen the alliance's first contracts in Romania, and it is now reinforcing its market position within its core geographic regions of the Netherlands and Germany.
The complexity and extent of these various projects underlines the huge degree of skill possessed by Lubbers Transport Group. A generous investment programme by its two shareholders, which pushes fleet development and equipment innovation, promotes the group's expertise. In November 2012, for example, RTH-Lubbers announced that it was beginning a £2.8 million programme to improve its truck fleet in line with increased business from customers. This includes replacing older assets to meet new CO2 emissions standards as well as new environmentally friendly vehicles. By 2013, the entire RTH-Lubbers fleet will be Euro 5/6 compliant. Similar investments will be carried out across Lubbers Logistics and DanCarrier.
Ger highlights the good business the group has managed in the face of market challenges: "Despite the economic downturn, Lubbers Transport Group was able to achieve significant growth figures in all its core geographical markets during the last two years. Especially in countries such as Romania and Italy we have seen double-digit growth, which led to a situation where our stations in these respective countries actually became too small.
"For that reason we have invested in newly built state-of-the-art facilities in Ravenna and Ploiesti this year. Both bases now offer storage facilities to our customers and the larger yards (greater than 6000 square metres) enable us to increase our fleet numbers as well over the coming years. Due to the current high oil price, which is expected to stay at a high level, and new drilling techniques, we believe the upstream oil and gas market will show positive development in the coming years."
A new facility will be developed in Den Helder throughout 2013 in order to meet such increased capacity within the North Sea market, whilst ongoing development in Aberdeen will see the establishing of new facilities there as well. Elsewhere, consolidated volumes from long-term contracts such as a recent tender with Schlumberger – for rig site pick-ups and deliveries – offer competitive service/price ratios and will increase the group's prospects in areas where it has lower volumes of business, such as Norway. An existing customer track-and-trace system is being expanded to incorporate all products carried by Lubbers Transport Group so that clients will be able to monitor all shipments online.
Commenting on the future, Ger says: "The Lubbers Transport Group aims to be the leading company for integrated transport and logistics services for the upstream oil and gas industry in Europe and dedicated countries. In order to reach this goal we will further invest in our people, fleet, IT, base facilities, and of course relationships with our customers. Our track record shows that we were able to expand our activities and volumes through autonomous growth but in the coming years we will also consider acquisitions in specific areas to facilitate these strategic goals."
Lubbers Transport Group
Services: Upstream logistics solutions