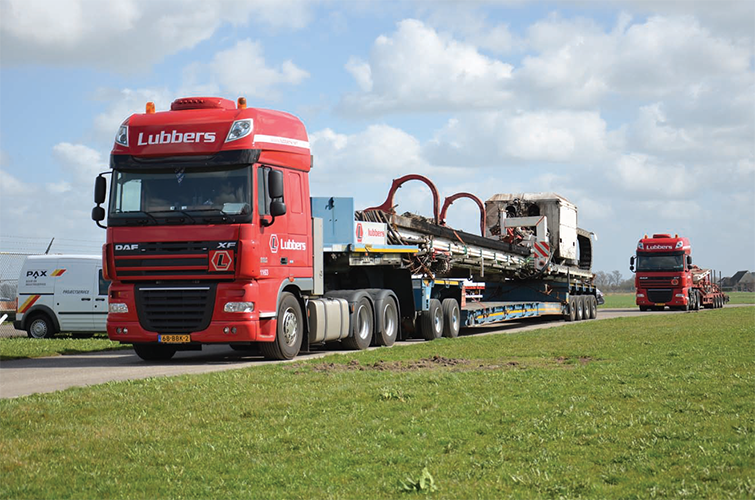 A logical investment
Lubbers Transport Group (LTG) has a long history that dates back as far as 1929, when the company was first founded as a livestock transport business in Schoonebeek, the Netherlands.
The company began with a small fleet of only three trucks, however during the course of over six decades it has diversified into new markets and swelled to include a fleet of around 120 trucks and 300 trailers.
Today LTG provides international transport services throughout Europe, geared to meet the requirements of the region's oil and gas industry. The organisation currently maintains several brands including RTH Lubbers within the United Kingdom, following a merger with RTH Haulage during 2002. Inside of Europe, the company operates under the name Lubbers Logistics. Until January 2014 its operations within Scandinavia were conducted under the name Dan Carrier, however the business has now been incorporated into the Lubbers brand and is now known as Lubbers Denmark. Commenting on the change Steffan Christensen, sales director Nordic says: "We believe now is the right time to integrate our businesses under the Lubbers name. We are presenting our Esbjerg operations with a clear profile that ties strongly to the rest of the expanding European network of the Lubbers Transport Group.
"Dan Carrier has a proud heritage and loyal customer base built over many years. We want to retain and build upon a hard won reputation for outstanding service and focus on strengthening our relationships with our customers, as Lubbers Denmark."
LTG also passed an important milestone during the final months of 2013 when AAC Capital (ACC), a leading mid-market buyout firm announced the acquisition of a majority steak in the group. AAC operates within Benelux and to date has completed 26 management buyouts, 20 of which are now fully realised. The firm has an established track record of investing in profitable, cash-generative companies headquartered in the Benelux region and enabling them to further develop with a strong financial backing. Regarding the sale Ger Engelsman, CEO of LTG remarked: "Our ambition is to further establish our market leading position in upstream oil and gas transport and logistics services. Our strategy is to accelerate international growth by following our customers to emerging oil and gas regions and opening up new bases, whilst we will continue to strive for the highest service levels and QHSE standards. We have been looking for a professional partner to help us realise this strategy and have chosen AAC. They have a wealth of experience in helping management teams in realising their international growth ambitions."
The attraction of AAC to LTG was in the company's strong performance and continued growth as Marc Staal, managing partner at AAC ebaborates: "Lubbers is a highly successful and well positioned business in the attractively growing oil and gas services sector. We have been impressed by its unique business culture, which stands for a true partnership with its customers, outstanding service levels and compliance to the highest QHSE requirements. Building upon this strong foundation, we look forward to be a trusted and reliable partner to management and the current shareholders in supporting the international growth ambitions of LTG."
The impressive performance of LTG was highlighted prior to the AAC investment into the company, when it received a Golden Gazelle Award from the Dutch national financial newspaper Financieel Dagblad. The esteemed publication handed out Gazelle Awards to the fastest growing companies in the Netherlands for the tenth time in its existence, focusing on three categories; small companies 100,000 euros to two million euros, middle sized companies ranging from two million to 30 million euros and finally large companies valued at over 30 million euros. In total, 395 companies were awarded FD Gazelle recognition and additionally the companies to achieve the highest turnover growth per province and category were given the Golden Gazelle Award. LTG won the Golden Gazelle in the large company category for its strong performance for the financial years 2010, 2011 and 2012, marking its increasing strength and know-how within Europe's transport market.
When it comes to servicing the European logistics market, LTG offers a turnkey package of solutions to meet the varied needs of its clients. Whether transporting standard, exceptional or dangerous goods, the group can rely on over 80 years of experience and a vast equipment portfolio to tackle the job. The group maintains a fleet of trucks ranging from open flatbed trailers (13.6 metres length), taut liners, low-loaders, pick-ups, and small trucks that engage in road transport between the group's various international depots in the Netherlands (Schoonebeek, Velsen-Noord, and Den Helder), Germany (Celle), Denmark (Esbjerg), Italy (Ravenna), Poland (Kutno), and the UK (Aberdeen, Newcastle, and Great Yarmouth) and Romania (Poliesti). The company's latest addition is the opening of a sales office in Stavanger, Norway in August 2013.
With a new partner in ACC and an expanding network of bases from which to conduct its operations, LTG is poised to realise its ambition to continue to grow well into 2014 and beyond. As well as new investment into the company, acclaimed industry recognition and an expanding equipment portfolio, LTG has benefitted from internal development including a 1.2million euros investment in its Aberdeen facility. This will allow the firm to increase its cargo input within the United Kingdom, offering yet further signs that LTG is set to be a very fast moving provider indeed.
Lubbers Transport Group
Services: Upstream logistics solution