Ambitious exploration
With over 25 years of proven operational history, LUKOIL is major international oil company that today operates within more than 30 countries around the world. LUKOIL is a leading business that performs within the full energy cycle of the oil and gas market by performing exploration, production, refining, trading and sales activities as well as undertaking power generation services. Although the main operations of the business are situated within Russia, LUKOIL also maintains a significant downstream presence within Europe, where it manages four refineries and a vast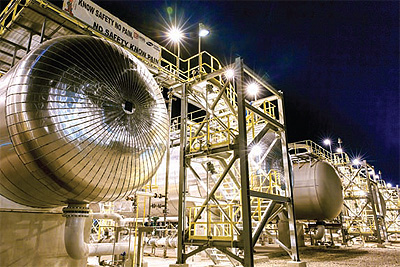 chain of petrol stations. In terms of its upstream business outside of Russia, the company is presently engaged in several exciting exploration and production projects across the Middle East and Central Asia.
"LUKOIL started its global expansion during 1995 when the company made its first acquisitions in Egypt and Kazakhstan. In 1996 the business began operations within Azerbaijan and in 2004 LUKOIL further entered into Saudi Arabia. In 2010 the company entered into Iraq, which is a region that today represents the cornerstone of its Middle Eastern operations. In 2012 LUKOIL expanded its presence in Iraq through the development of Block 10 and the business recently announced very positive findings as a result of these exploration operations," reveals Gati Al-Jebouri, VP of LUKOIL & Head of Upstream Middle East. "Today the company is divided into hubs that are situated across three different regions. A regional office in Dubai looks after the Middle East and North Africa, whereas its Houston office oversees projects in West Africa, North and South America and Europe. The European and West African operations are all focused on offshore exploration activities, which is why these concerns are managed from the company's Houston office. Inside of West Africa LUKOIL undertakes projects in Nigeria, Cameroon and Ghana in addition to wider activities in Romania and Norway within Europe and Mexico in the Americas. The company's third regional office manages operations within central Asia, with projects in Kazakhstan, Uzbekistan and Azerbaijan. These combined holdings have allowed LUKOIL to emerge as a truly global international oil company."
Within the Middle East LUKOIL is presently the largest investor into the oil and gas market in Iraq, where the company manages several on-going projects in addition to dedicated activities to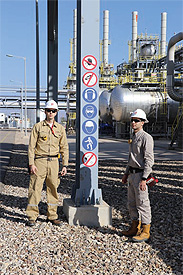 identify further potentially commercial ventures. "LUKOIL has invested more than $7.5 billion into Iraq during the past seven years, which has allowed the company to achieve its current production level of circa 400,000 barrels of oil per day (BOPD). This impressive retrieval is achieved from a single field and represents only slightly less than the total daily production of the entire nation of Libya. West Qurna-2 alone produces more oil than 85 per cent of the world's private oil companies are able to extract individually, with 100 per cent of this oil coming from the Mishrif reservoir. LUKOIL is today preparing to realise the second phase of this project, which will enable the company to increase production from the Mishrif reservoir to 550,000 barrels of oil. This will involve the drilling of new production wells, increasing the generation capacity of the company's power station and the building of additional pipelines. Block 10 in Southern Iraq is the other project that LUKOIL manages within the country and the company has just announced the potential commerciality of this operation. During February 2017 LUKOIL and its partner INPEX successfully completed the testing of the site's first exploratory well. Eridu 1 recorded a daily flow rate of more than 1000 cubic metres of sweet oil from Mishrif horizon, confirming geological expectations of a large hydrocarbon field presence within the Block 10 contract area. LUKOIL and its partners plan to drill an additional two wells to enable further appraisal work and to determine the reservoir's reserves ahead of finally creating a development plan," Al-Jebouri says.
"Of course the 'jewel in the LUKOIL crown' within Iraq is the West Qurna-2 project. The company completed an Independent Project Analysis (IPA) review of the project, which marked it as one of the top ten projects in the world in terms of its execution and results. The IPA also noted that West Qurna-2 is a relatively risky project and that LUKOIL has been aggressive in how it has executed its operations," he adds. "To bring about 400,000 barrels of oil, which added to overall production represents much more of an achievement than simply maintaining existing brownfield projects. The development of West Qurna-2 was executed on budget and nearly on time – just three months ahead of schedule. This has given LUKOIL the ability to show host governments that the company has the technical expertise and financial capability to execute complex and financially intensive projects. This would not be possible without the company's trusted partners, which include state oil companies such as Iraqi North and South Oil Companies and contractors including Siemens, Samsung, Technip, Weir Group, Baker Huges, Bonatti and many more."
With the relative stability of the price of oil when compared to previous years, LUKOIL is confident that it will be able to secure additional backing to enter into new projects and further expand its BOPD throughout the Middle East during the coming months. "The current oil price is close to the levels that are acceptable to consumers and also sufficient for backers to invest. Higher prices would naturally be preferable in the near future but it is important that prices rise in a way that would enable the stable development of the oil and gas industry, while also promoting strong economic growth," Al-Jebouri concludes. "During the coming 12 months the main objective of LUKOIL is to develop its Iraqi projects to set the stage for the next phase of increased production on the West Qurna-2 oilfield and to also undertake appraisal drilling at Block 10. The company is also keen to negotiate of new contracts within both Iran and UAE, while it continues to search for the new investment opportunities in the Middle East. This is core to an overall ambition to increase the Middle Eastern share in LUKOIL hydrocarbon production from five per cent to 20 per cent and to double the company's reserves from 20 per cent to 40 per cent."
LUKOIL
Services: Vertically integrated oil and gas company