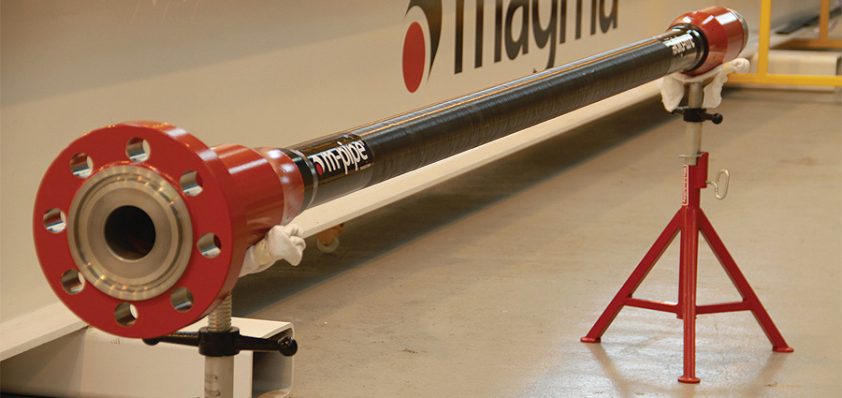 A strong pipeline
Back in 2009, Martin Jones established Magma Global to provide highly reliable subsea pipes to the international offshore oil and gas market. When Energy, Oil & Gas last spoke with the company back in March 2015, Technical Director Steve Hatton reported on Magma's growing success in the light well intervention (LWI) market with the innovative m-pipe. Made from a composite of carbon fibre and PEEK polymer materials, the m-pipe displays superior performance qualities thanks to its lightweight and high strength resulting in unrivalled resistance to fatigue, chemical degradation and temperatures up to 140ºC. A year on we speak to Steve again to see how business throughout 2015 continued and what the company is looking to achieve in the new year.


"The last year has been interesting for us," he begins. "We have continued our focus on the LWI side of the business as we have always believed this is a good area to target during a downturn. We are finding that people are still putting these wells to use, stimulating them and increasing their productivity, so this fits well with our business strategy and with our current production capability." Keen to enhance its offering to the LWI market Magma has also dedicated much of its time over the last year into developing its new m-IDP handling package alongside back deck equipment supplier MDL.
"When we first started looking at handling equipment we were under the assumption that we would use existing equipment in the market, but it became clear very quickly that this wasn't going to be cost effective in terms of equipment cost, time spent on operation, and deck space," continues Steve. "We started speaking with customers to understand what they wanted and we have subsequently developed a dedicated handling package that puts speed, ease and efficiency of use at the forefront of its proposal."
Designed in co-operation with MDL and Magma's customer-base the m-IDP is a well optimised piece of kit, built specifically to handle up to 3000 metres of 15ksi m-pipe in the Gulf of Mexico market where high flow rate and high pressures stimulation operations demand high performance. "In developing the package we were keen to meet our customer requests of a small footprint, low weight, easily-mobilised system and we believe we have done this with a product that can be installed on smaller vessels and deployed over the side, through the moonpool or even over the stern of a ship," adds Steve.
Developing this LWI market is the first stage of Magma's three-part business strategy, which will see the company hopefully penetrating the larger riser market over the coming years. The second area of focus, and which is already creating some positive opportunities for Magma is in the jumper market. "These are nice products because every field needs them – sometimes over a hundred – and currently they have some installation and reliability issues," says Steve. "Whilst the LWI applications are proving our product's robustness and ease of use – being lifted in and out of the water all the time – the jumper applications are showing their ability to operate reliably in subsea conditions for longer periods of time. We hope that going forward these will form the building blocks of confidence to tackle the bigger riser market where we are capable of producing deep-water six to eight inch diameter piping systems to bring hydrocarbons back from the seabed and to inject fluids back down to the well."
Steve goes on to note that there is strong interest in the market for Magma's m-pipe systems being developed into riser applications but highlights the challenge of demonstrating not only the performance of its products, which it is able to do with its LWI and jumper experience, but also its cost effectiveness. To address this the company is implementing an on-going qualification system to demonstrate cost advantages as well as its ability to meet DNV-code requirements. "We have obviously done a lot of internal work to assess this but what was really key for us was getting a third party involved to do an independent review," he explains. "Last year we employed Calash to go through a field development scenario and look at the price of a Magma system verses a conventional system.
"It is very difficult to be definitive because every field development is different and if depends on where, how and by whom the system is being deployed. However the conclusion of the report suggested that there are significant installation cost savings when using Magma products that offset the higher cost of the pipe when used in connection with the appropriate installation systems. For example, the lower weight and smaller footprint of Magma solutions means that smaller vessels can be used and work can be carried out quicker and hence cheaper."
Whilst it is still finding good opportunities with the currently depressed offshore industry, Magma is looking at the end of 2016 before some of the delayed projects come back onto the market. However, despite the challenges Steve is confident about the future and the company's focus over the next year very much reflects this. "The next few months will be about generating revenue from LWI lines and selling sub-sea jumpers to both new and existing field developments where we see there is quite a bit of business," he concludes. "By the end of the year our third production line should be fully operational as well, which uses all the same technology and equipment that we already have on the other lines, but will allow us to increase our current volumes but also set us up for the riser market which is where we have our sights set in the future."
Magma Global Ltd
Services: Manufacture composite pipes for the offshore industry