Making waves
Headquartered in Oslo, Norway, and with offices in Sweden, the UK, the United States, Brazil and Singapore, Magseis Fairfield is the industry leader in ocean-bottom node (OBN) technology. Delivering superior image quality and operational efficiency, it combines large node counts with automated node handling, scalable deployment/retrieval systems and tailored source solutions to provide the fullazimuth, 4D seismic data needed to make important decisions about ones' reservoir.
The company itself was first founded as Magseis ASA in 2009, with the vision of re-shaping the ocean bottom seismic (OBS) market, and in the decade since it grew rapidly. In December 2018,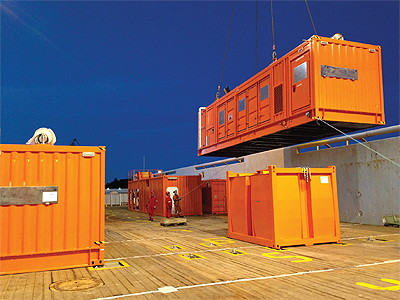 Magseis acquired Fairfield Geotechnologies Seismic Technology and WGP-Group, before formally adopting the name Magseis Fairfield, MSFF. In coming together, the aforementioned businesses have created a comprehensive OBS solutions provider, built on the foundation of the largest, most advanced node inventory in the industry. Boasting combined industry experience totally more than 40 years, the strengths and proprietary technology of these legacy companies give Magseis Fairfield's customers access to an immense pool of knowledge and a portfolio of innovative solutions. Carel Hooijkaas, CEO Magseis Fairfield comments: "The combination of Magseis, Fairfield and WGP allows us to offer truly differentiated solutions to our clients. Projects like Equinor's Johan Sverdrup, are good examples of how our people and technology contribute to the longterm reservoir management of our client's reservoirs. With the shift in the industry towards increasing recovery factors, Magseis Fairfield is excited about the future and being the trusted partner for our clients."
High quality solutions
Readers of Energy, Oil & Gas will likely be familiar with the name WGP-Group. Established in 1994, the marine geophysical services company spent the next 25 years building a strong track record of offering bespoke technical and operational solutions to meet the needs of clients in the upstream oil and gas industry. WGP-Group has become synonymous with the supply and operation of portable marine seismic sources, along with the RTQC systems required to deliver best-in-class performance. It also provides cost effective geophysical imaging technologies that allow for the extended highresolution imaging of near surface, geohazard identification down to the reservoir, and the mapping of shallow oil and gas reservoirs.
Today, having had its experience brought into the wider Magseis Fairfield organisation, it represents Magseis Fairfield's marine seismic source specialist arm. MSFF UK's Sales Director, Paul West, describes some of the benefits that coming under one groupwide umbrella have already started to bring to fruition. "By bringing together the immense array of skills and experience that come from the amalgamation of the two largest node companies in the world and at the same time adding in a leading source expert, it allows Magseis Fairfield to approach projects from a very strong position," he states. "We have the experience and resources to offer best in class, highly repeatable, de-risked solutions. Further, our unparalleled experience and flexible resources, allow us to provide more acquisition options to our clients enabling us to identify different ways of designing surveys and services that meet the needs of the industry."
Magseis Fairfield UK's advances within the field of marine seismic sources include its work with repeat permanent reservoir monitoring (PRM) 4D seismic processing. "The regular delivery of high quality sources into the PRM market has been a strong area of success for us in recent times," explains Terry Hibben, MSFF VP PRM & Source. "We have learnt first-hand that the use of 4D in PRM is far more demanding and tightly specified than, say, towed streamers, but understanding what makes a difference in the repeatability of the source during 17 or 18 surveys over the same asset where the receivers do not move delivers fantastic, reliable data and information that ultimately helps to improve our clients' own work."
Consistent data
MSFF UK's Sales Director, Paul West adds that: "We are also looking at a number of other technologies that we could bring to market. These include solutions that revolve around uplifting existing nodes, carrying out more detailed ocean bottom surveys, and extending the capability of high resolution surveys using mini towed streamers in order to provide ultra-high quality data that can be used for drilling, de-risking or even facilitating the growth of offshore windfarms."
Paul goes on to add, that there have also been strong steps taken in improving source quality control within the business. "Once the nodes themselves are placed on the sea floor and begin recording data there is little you can do in the way of improving the quality of the results that they deliver," he says. "The one area where you can have an impact on the quality of a survey once your nodes are on the sea floor is the way you monitor your source. The closer your ability to monitor your source, the better you can optimise your solution. What we look to deliver is real time, shock-to-shock correlation, and this helps to pick up any issues at the earliest possible stage."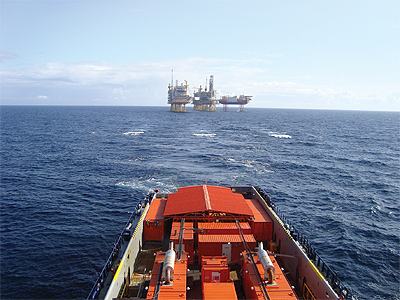 Terry continues: "It also means you have a greater chance of successfully repeating your surveys over time, which ultimately means that what you are left with is strong, reliable and consistent data, that is delivered quicker than the industry average. When it comes to typical towed streamers, the data can take a number of months to come back to the client. With PRM 4D surveys, we can provide information in a matter of weeks, meaning clients have access to fresher, better quality data allowing them to make efficient, real time decisions."
Factors such as those mentioned above have been major contributors to some of the industry's leading players signing contracts with the business in the last several years. One example would be Equinor, which awarded WGP-Group in 2018 with the permanent reservoir monitoring acquisition contract for its Johan Sverdrup Field – one of the five largest oil fields on the Norwegian Continental Shelf. The two-part contract includes the design, build and commission of a containerised source system, and the contract to operate and support it. The system can be configured for dual- or triple-source operations and features swift mobilisation and demobilisation to accommodate the demands in timing and scope of a developing oilfield.
For Terry, Paul and their peers, 2019 was also a year defined by the development of new applications to complement its PRM 4D seismic technology, as well as the aforementioned refining of source quality controls. As we move full steam into 2020, it is the business' intention to get said applications into the marketplace. In the meantime, Paul concludes by highlighting an area of increasing interest that has the potential to bring with it significant growth.
"We fully anticipate our solutions to be picked up increasingly by players within the offshore gas arena. Our ability to put together portable sources for vessels of opportunity is a trait that is ideally suited to that market, and we are confident that our ability to offer a containerised source of such a high standard stands us in very good stead."
Magseis Fairfield
Services: Ocean bottom seismic solutions