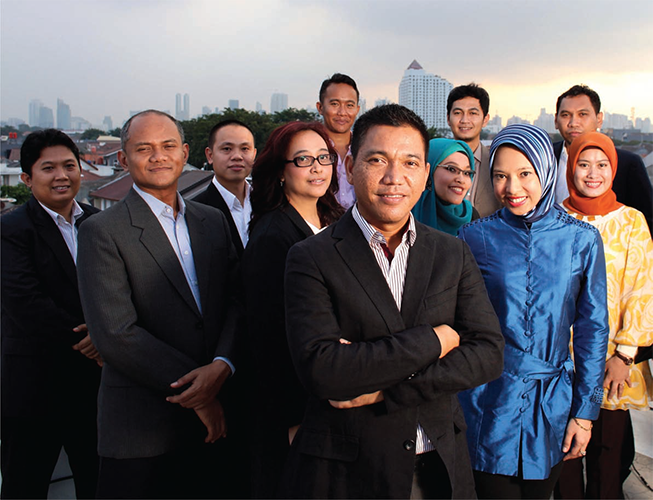 The bigger picture
Mahakarya Geo Survey (MGS) was established in 2005 with initial focus on small-scale hydrographic surveying, started its activities in non-oil and gas industry projects such as port development.
During the first year, the business operated as a subcontractor for several projects before its development into a complete offshore survey provider for pipeline route and site survey. The first significant project undertaken by the business was surveying for the pipeline route survey of South Sumatera to West Java (SSWJ) Phase 2 project in Indonesia.
Upon successful completion, several other surveying contracts followed, cementing MGS' transition into an integrated survey solution provider with offshore surveying as its main scope of work. "Commitment and quality are mandatory in our business. Throughout our operations we have proven that we are capable and qualified, gaining trust and growing a positive reputation. As opportunities widen we continue to grow," says company director Henky Suharto.
During the initial stages of the business growth, MGS' focus was on investing in human resources development, investing in assets of survey equipment and building up the system to strengthen its capabilities. At this early stage, the company spot chartered the vessels for all of its operations. The services support pre-drilling operations, pre-engineering design for platforms and pipeline development, post pipe lay survey and inspection and offshore construction works. Since 2006 MGS has conducted these services fully under its own team of skilled personnel, before deepening its interests as Henky points out: "In 2010 we began to perform our services with our own vessel, including dedicated onboard digital equipment. Our survey vessel MV. MGS Geosurvey was first launched and operated by MGS in May 2010 as the first private Indonesian Flag vessel performing the majority of operations within Indonesian waters.
The company's main services today are providing 2D high-resolution geophysical survey, soil investigation, and navigation services for construction support, hydrographic survey, metocean and geodetic survey. With numerous geophysical and geotechnical survey and consultancy projects, MGS is committed to becoming the industry's leading company through a
series of ongoing investments in the latest technology applications and service quality improvements. Further focus is directed at continuous personnel development, infrastructure and facility expansion and generating a wider network of partners and clients. Through understanding the importance of its quality and improvement being recognised, in 2009 it began the certification process and now holds ISO 9001, ISO 14001 and OHSAS 18001.
"Our vision is to be the Asia Pacific's major player and we aim to strengthen the market within South East Asia. In 2009 we started the regional survey project for India, Turkmenistan, Malaysia, Timor Leste and Vietnam," notes Henky. The client base for the business encompasses major companies such as TOTAL E&P Indonesie, Chevron, INPEX, ENI, Pertamina, Petronas, AWE, Mitra Energy, Kris Energy, Genting Oil and many more. Its entire customer base is drawn to MGS for its punctuality, accuracy, quality, coverage and provision of reliable information.
In July 2013, the company launched its second vessel, MV BNI Geomariner for the purpose of conducting shallow water 2D seismic surveys. Henky explains the importance of having a twin fleet: "As part of our commitment to strengthen our performance and lead in 2D seismic projects, we worked on extending the 2D seismic capability for the deeper coverage as well as offshore geotechnical survey."
Another strength of MGS is its position as a local entity with the international standard of quality recognition. Its customers benefit from an integrated solution with accuracy, efficiency and flexibility. Its attributes have positioned MGS as one of the top market leaders in Indonesia. The constant growth of the business is achieved with strong commitment and effort to accomplish the company's objectives, fully satisfying its customers with no accidents in operations or pollution to the environment.
To attain its goals, MGS implements its Quality, Health, Safety and Environmental Management System (QHSE-MS). The structured system is integrated into managing the business and QHSE performance is regulated, ensuring the satisfaction of the purpose, vision, mission and values. Driven to maintain the skill levels of its employees, MGS provides training across several topics ranging from basic first aid training up to the many and varied advanced training programmes that are required by the industry.
With the aim to become a market leader for Indonesian territory, MGS is seeking to extend to the South East Asia region as well as South Asia region. "We are always looking to improve the quality in all aspects of our activities to reach the vision of becoming a leader in the Asia-Pacific region. Client satisfaction and the welfare of our own personnel, in particular their health and safety, are the primary goals of our activities. We also focus on our people development to enhance their expertise by promoting them with new technology and on duty training from around the world," concludes Henky.
Mahakarya Geo Survey
Services: Hydrographic survey services as an integrated survey solution