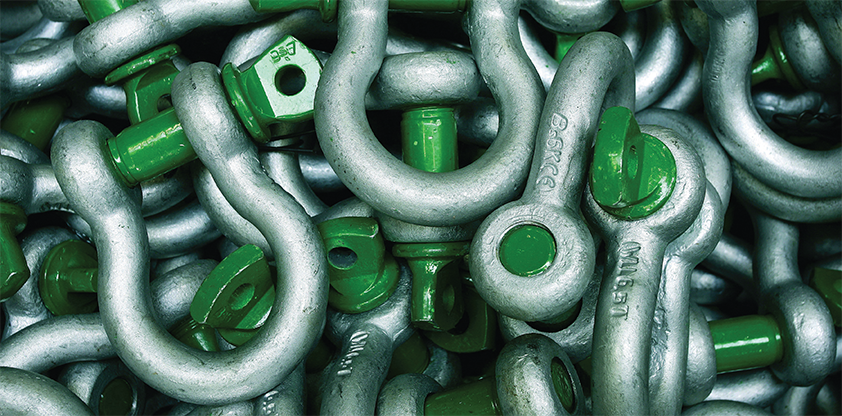 Mak Kee International H.K. Limited
Making a change
Established in 1957, Mak Kee International H.K. Limited is a market leader in lifting equipment throughout China and the Far East.
Throughout its history of over half a century, the company has continuously evolved from its original business as a ship chandler to include many other aspects such as transportation, engineering, construction, manufacturing and oilfield supplies.
It remains however a specialist in lifting gears, wire rope, and all related equipment including lifting chains and components, rigging hardware, synthetic webbings, and lifting blocks. "We are diversified in many different fields but in the same business," describes Alfred Lam, managing director of Mak Kee. "We are investing heavilyin lifting slings, wire rope, and accessories for the offshore market where we work with several Chinese companies, and overseas manufacturers. We are equipped with two 4000mts press machines for making wire rope slings up to 150mm diam in steel sleeve and 128mm diamin aluminium sleeve. Also, we are keeping wire rope stock of 3000mts for our customers immediate requirements.
"On top of this we are heavily involved inelevator ropes and supply all the major worldwidebrand names such as Hitachi, Mitsubishi, and Toshiba. Another aspect of our offering is construction support in the marine and offshore business where we work with the shipyards on projects such as new oil rigs," he continues.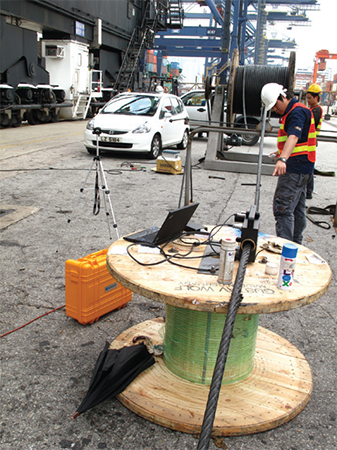 Part of Mak Kee's ability to work across these different areas is its series of branch offices and workshops throughout China including key locations such as Beijing, Shanghai, Shenzhen,and Macau, which all have a connection withthe offshore lifting sector. "There are fewcompetitors who have such a network and assuch we can make use of the relatively low land and labour costs in China to compete with some imports," agrees Alfred.
"On the other hand we are well supportedby many world famous brands as an authoriseddistributor, which opens up the market to highperformance and technically leading equipment.In general we concentrate on quality much morethan price because as a provider of certain criticalproducts, safety is our first priority," he adds.
Given its many years of experience inwire rope, and as a representative of manymajor manufacturers, Mak Kee is able tooffer professional advice in the selection of appropriate products. Its range is accordinglydetailed containing everything from general compacted and cross lay ropes through to special functions such as rotation resistance.The company is the sole agent for its regionfor brands such as Tesac Rope, Young Heung,Teufelberger, and Diepa, but also maintainsstocks of other manufacturers ropes in itswarehouse including Shinko, Tokyo rope, Fasten, and Kiswire.
These are complimented by a series of accessories for use in various applications. Typical components include shackles, clips, sockets, ferrules, turnbuckles, cargo hooks, and thimbles. Mak Kee doesn't only deal in wire rope though, with a large variety of fibre ropes also available in materials from polypropylene to nylon.
A key focus area at the moment is the SLINGMAX twin path high performance sling, which Mak Kee is the sole fabricator in China under license of Slingmax USA. In comparison the steel wire rope sling is ten times lighter and often less expensive than the chain version, but suitable for extremely heavy loads. The single vertical lift capacity of a Twin Path Sling can be up to 600mts and can be supplied with full range of cut protection products such as Cornermax, Covermax etc.
In addition the company offers additional services which are focused around inspection and testing, but also the construction of wire rope slings where necessary.
As Alfred alludes though Mak Kee is very much looking to move beyond purely the supply of products: "For the future we will concentrate more on the engineering side, as we understand that it's not just about selling a product but more the solution behind it. This is our main ambition, and also challenge. We have already launched a new product for non-destructive testing of wire rope, which has been quite successful over the last two to three years: "Our product range is from 6mm diam rope to 180mm diam rope, it can be used in all kind of applications in the offshore industries as well as in elevators, mining, construction, manufacturing," he notes.
Although Mak Kee is concentrated on the domestic China and Far East Asia market, the company sees scope to expand the use of this product worldwide as these services can be handled through its head office without the need to establish local branch sites. This regional focus is at the forefront of its forward proposals, which are intended to turn Mak Kee into an even more formidable entity in lifting gear, wire rope, and other specialist equipment. "Over the next five years we plan to consolidate all of our existing offices in China to form a holding company. This will enable us to align all our capabilities in order to be even more successful," concludes Alfred.
Mak Kee International H.K. Limited
Products: Wire ropes and lifting equipment