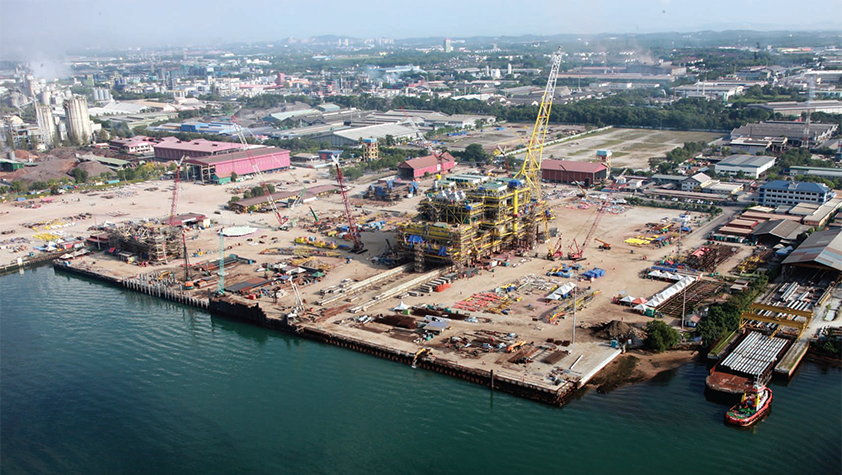 Malaysia Marine and Heavy Engineering Sdn Bhd
Loyalty and integrity
Malaysia Marine and Heavy Engineering Sdn Bhd (MMHE) is focused on the provision of oil and gas engineering and construction works and marine conversion and repair services.
These extensive services are offered from two yards – MMHE West Yard and MMHE East Yard, both of which are able to handle complex heavy engineering works for offshore and marine projects.
Over 40 years of experience it has successfully expanded organically, improving its capabilities and offering by entering strategic partnerships with leading companies such as Technip, Samsung Heavy Industries and ATB Riva.
The business was incorporated in Malaysia in 1989 as a private company, and today it has built a credible reputation for its ability to deliver integrated and complex services, including deepwater oil and gas support services and projects for international clients. In a further expansion of its capabilities it has more recently developed its expertise in LNG ship repair and dry-docking activities, thus making it a one-stop-shop for marine conversion operations.
During its recent history, MMHE's yards have delivered a number of key milestones and major projects. For example, in late 2006 Malaysia's first deepwater project was completed at the site when the FPSO Kikeh and the Kikeh dry tree unit truss SPAR were delivered by MMHE. Not only was this the first deepwater FPSO in Malaysia, it was the first SPAR platform to be installed outside of the Gulf of Mexico. MMHE has also constructed the Gumusut Kakap semi-floating production system, the largest of this type of facility in the world to have been fully built and integrated on land.
Today the business is globally recognised as a regional heavy engineering and deepwater support services provider for the oil and gas deepwater industry, as well as a major player in the LNG ship repair sector. The range of services provided by MMHE is vast, covering engineering and construction, marine conversion, repairs and associated services.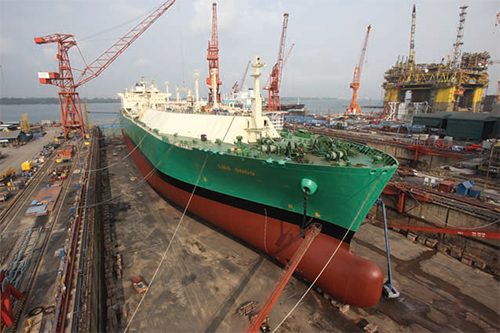 When it comes to offshore construction, MMHE's yard in Pasir Gudang, Johor, is the only yard in Malaysia that has constructed deepwater oil and gas structures, giving it a considerable advantage over its competitors. For oil and gas clients the company offers the full range of construction services, from detailed engineering, design and procurement through to construction, installation, hook-up and commissioning (EPCIC).
Typical projects include construction of various offshore equipment such as deepwater facilities like SPAR and semi-submersible structures, integrated platforms, wellhead platforms, compression, dehydration and water injection modules, jackets, living quarters, turret and mooring buoys, and topsides. MMHE's capabilities do not just extend to offshore construction, as the business regularly manufactures process skids and modules, steel tubular and piles, and process equipment.
Alongside construction services MMHE provides offshore conversion projects, and is the only of its kind in Malaysia to have completed FPSO and FSO conversion projects. In this field the company represents a one-stop solution for the conversion of a broad range of vessels, such as VLCCs, Aframax tankers, and offshore oil rigs and LNG carriers, into floating structures like FPSOs and FSOs.
In order to provide the high levels of service it is renowned for MMHE ensures that both yards are equipped with the latest technology. For example, in April 2012 the business implemented a comprehensive yard optimisation initiative to both expand yard size and capacity through the acquisition of new land and updating existing equipment. The acquisition of additional land was made to enable the fabrication of offshore oil and gas related structures by being able to cater to the increased engineering, procurement, construction, installation, hook-up and commissioning work. This has increased overall capacity from 69,700MT to 129,700MT, making the business the largest fabricator in Malaysia. It was during this optimisation programme that the yards were renamed MMHE West Yard and MMHE East Yard.
Alongside its work in the oil and gas industry MMHE provides its expertise to marine repair projects, carrying out work such as general vessel repairs as well as more focused repair and refurbishment programmes. While this work extends to a wide range of marine clients and operational areas, it is primarily aimed at energy-related vessels such as ULCCs, VLCCs, petroleum tankers, chemical tankers, oil rigs and gas carriers.
During their operational lifetime MMHE's yards have developed a strong reputation for their services in the offshore and marine industries. The business has continued to provide clients with the highest levels of services based around its core values of loyalty, integrity, professionalism and cohesiveness. The market continues to look favourable for the foreseeable future, with the company continuing to gain impressive contracts, such as the recently awarded TLP Malikai deepwater project for Shell Petroleum. With the major names in the oil and gas industry continuing to chose MMHE, it appears that the future looks to be successful for the business into the long-term.
Malaysia Marine and Heavy Engineering Sdn Bhd
Services: Marine and heavy engineering services