Constructing success
Austrian-based Mali GmbH is a producer and constructor of high-technology machines.
Founded shortly after the Second World War, the company has, since 1995, been owned by Maschinenfabrik Liezen (MFL), and has a range of customers across the oil and gas industries. Martin Weinhappel, managing director, outlines the company's leading designs: "The main products that we offer are heavy equipment and machines for the stranding and armouring process. These are broadly split into the planetary strander, the rigid strander, and the drum twister. They are available for all different strand sizes, and with very many individual specifications built to request."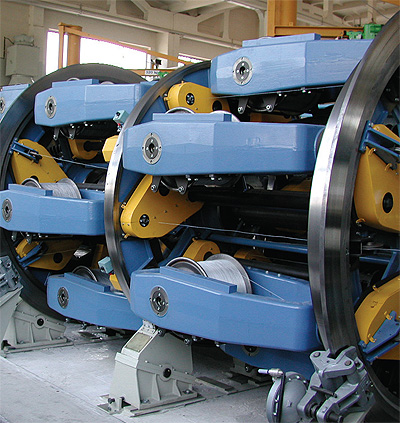 The rigid strander boasts an array of applications. It can be used in the stranding of aluminium and copper wires, round wire and flat wire armouring, and stranding of insulated conductors. It is a rigid cage stranding machine, available in a variety of construction types, with many different spool brake and loading systems. Furthermore, it offers a pay-off compactor for round and sector shaped conductors, tapelapping head, haul off and take-up units, and an electrical system with plc- or pc control. It is available for a flange diameter of between 400 millimetres and 800 millimetres, and is most commonly used in various applications for power transmission lines and ground cables.
As with each of Mali's products, the rigid strander offers a number of optional specifications. These include a spool brake with AC motor, expanding pintles, the ability to input production parameters via screen or keyboard, automatic acceleration for optimum machine performance, and a spool change robot for the collection and return of spools.
Mali places great emphasis on customer care, and nowhere is this more evident than in the design of its products. "Our strength is in supplying 100 per cent customer- orientated and tailor-made equipment," says Martin. "We have to play close attention to our clients' needs, and as far as I can remember, we have never provided two machines that have exactly the same design. This requires real expertise and experience."
This is among a multitude of benefits that Mali's products offer. The company employs the most modern design techniques, and offers a user-friendly installation process to its customers. The machines are quiet to run, and the production costs during their operation is low. Furthermore, the machines are reliable and endurable, and where spare parts are required these are of a low cost.
Another of the company's major products is the planetary strander. This can, amongst other tasks, be used for the stranding of glass fibres and telephone cables, the armouring of glass fibre submarine cables, and the production of metal umbilicals. It, too, is available in a number of construction types, with multiple spool drives and brakes systems. It is for a flange diameter of between 400 millimetres and 3500 millimetres, and has a carriage speed of up to 200 revs per minute, dependent upon spool dimension and the nature of the cage construction.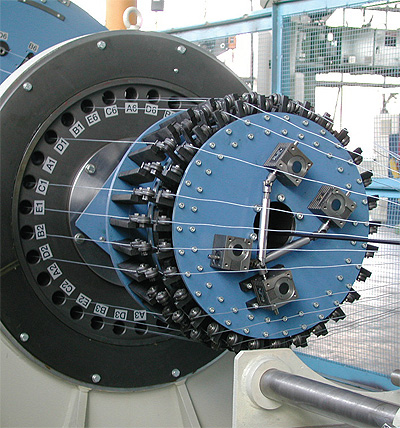 The planetary strander machine can be fitted with strand tension monitoring and a spool brake motor to ensure constant strand tension. Furthermore, it offers adjustable electromagnetic, pneumatic and mechanical brakes, and variable back-twist with individual drive or PIV gearing. As with the rigid strander, there is also the possibility of automated acceleration for maximum machine performance.
Mali's profile has recently been advanced by its presence as an exhibitor at the Wire exhibition, in Dusseldorf, during March and April. The event attracted over 40,000 visitors, and is seen as a key platform for companies in the industry. In addition, for the first time later this year, executives from Mali will visit the ONS, taking place in Stavanger in August. "On this occasion we are going to be taking part as visitors rather than exhibitors," explains Martin. "It is definitely possible that in the future though we could have our own booth, and it would certainly be a very good way to raise business."
Mali's third major product, the drum twister, is used in telephone wire stranding for the production of sub units and main units, stranding of round cables and sector cables, and as an armouring and screening machine. Depending on the nature of the installation, it uses stationary or rotating pay-offs, a stranding unit with automatic sector position correction, rotating belt type or chain type caterpillar haul off unit, and an electrical system with multiple control offerings. It is to suit a flange diameter of between 800 millimetres and 4000 millimetres.
The machine's maximum speed, dependent upon drum size and material, is up to 200 revs per minute. It is possible to fit the drum twister to possess a pay-off with a strand monitoring unit, and a drum drive motor, which allows for electronic control of strand tension. There is also the possibility of TV monitoring of the traverse unit, and electronic or mechanical adjustment of the brakes, to allow for balanced strand tension.
"Current activities are mostly for the oil and gas industries," reveals Martin. "We work with many clients, such as Scanrope, and Technip; specifically, we were a supplier to their Angola factory. At the moment we are doing many armouring machines for flat wire armouring of flexible steel pipes, up to a tube diameter of 650 millimetres, and a flat wire size of up to eight millimetres by 20 millimetres. On the other hand, we are doing special armouring machines for round wire, with up to 84 wires in one layer, and a single wire diameter of up to ten millimetres. This is for sub-sea remotely operated vehicles (ROVs)."
Martin is very optimistic about the future of Mali, and the possibilities that are developing for the company, but stresses that growth will be based on continued attention to customers' needs. "We have to work together with our customers," he says. "We must take care of their enquiries, and work hard to find the best technical solutions for their problems. If we have success with our technical solutions, then the market will simply grow automatically.
"The future is certainly looking good, and I'm confident we can support our continued success. Our business comes from many different places; from Scandinavia, North America, and other areas will soon be of interest. Our objective is to be the leading supplier for the oil and gas industry," he concludes.
Mali GmbH
Products: High-technology machines