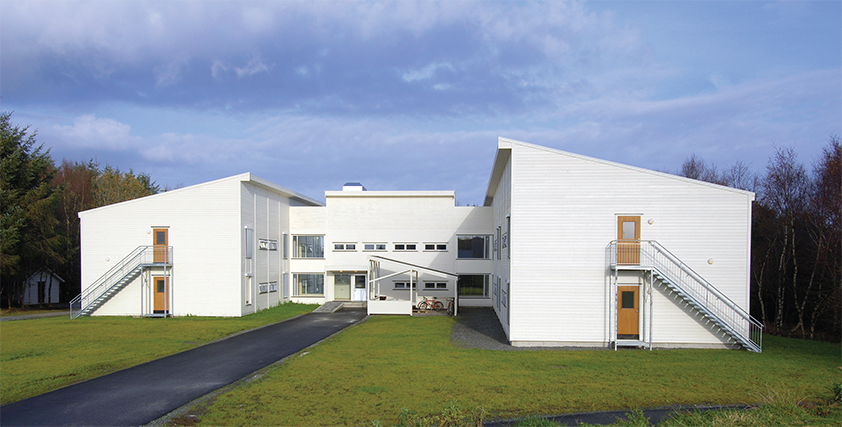 Providing comfort
Over the course of almost 40 years Malthus AS has grown from being a local Norwegian business to a national, and later, multi-national company.
The business has always had a large operational footprint starting off with services in building equipment, lift and machines, rub-halls, and production of formwork and industrial PVC covers, but in recent years has focused increasingly heavily on its range of modular buildings.
Today, Malthus is Norway's largest provider of temporary modular buildings and other solutions related to tailored and functional structures, with the northern hemisphere making up its main marketplace. CEO Espen Ingebretsen expands on this role: "Malthus is not just a provider of modular buildings; we are a 'one-stop-shop' for large projects taking responsibility for planning, engineering, production management, logistics, construction, and operation. Our key strength is our flexibility and ability to design and provide suitable solutions that are faster and more cost efficient compared to a conventional 'stick build'. There are many different needs and requirements to cater to, and whilst we ensure our products always remain code compliant, we work closely in conjunction with our clients to design a tailored solution."
With Malthus' focus lying in modular buildings supported by building equipment sales, its key customers are mainly government/state, public services, military, private businesses, and oil and gas companies. One of the company's most widely recognised solutions is its Camp Hotel, which meets the need for high quality accommodation, along with kitchens, diners and offices, at remote sites such as those operated by the mining, and oil and gas industries.
"As a Norwegian company we have been privileged to serve the demanding oil and gas sector for almost 40 years, and have developed a unique competence in that respect. Modular buildings have a reputation for being square, simple and low quality structures, but this a clear misconception. Malthus has the ingenuity and creativity to make high-qualitymodular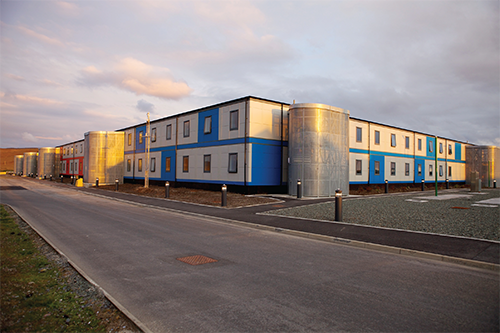 buildings aesthetical and operational in compliance with client requirements and to code. In fact, the majority of project leaders around the world have at some stage, somewhere, lived in a Malthus Camp Hotel solution so the concept is well proven," highlights Espen.
Malthus' main application in this market iscurrently related to onshore projects such as the construction, operation and maintenance of oil and gas terminals, refineries, production plants, mining sites, and shipyards. However, the company is also looking into a new concept related to offshore accommodation, which could open up a whole new market segment for it in the future. "In order to maintain a competitive edge we are always researching and considering new solutions and technology. One aspect of constructing buildings consisting of pre-fabricated modules is rigging and de-rigging costs. To neutralise this aspect we have recently developed a modular design employing quick connect and plug 'n' play solutions, which also helps reduce the time required to get the building up and running," elaborates Espen.
With Norway still remaining Malthus' core market, the company is currently engaged in several significant projects within the private, public, health, military, and oil and gas sectors. This includes the recent delivery of a new hotel building with 42 modern high-quality rooms to Bryne Kro & Hotel outside Stavanger. Canada is also a growth area for the business, with Malthus currently transporting a large number of modules to Newfoundland to deliver a remote site Camp Hotel for Kiewit-Kvaerner Contractors, which are managing the construction of ExxonMobil's Hebron stand-alone CGB platform. This marks the company's second large construction project in the area. Furthermore, Malthus is looking to 'new frontier' regions such as Australia as viable markets for its solutions in the coming years.
"Despite a volatile economic situation in the Euro zone, and the US still in recovery, the oil and gas market and general energy sector is very strong thus fuelling new developments and projects," describes Espen. "This makes for a great arena for Malthus to operate within, and we see clear and present opportunities to develop new concepts in new markets. In particular the number of new significant oil discoveries, which have resulted in large field developments, will also in turn require onshore terminals. These assets are very demanding and labour-intensive to construct and therefore drive a continuing need for the remote site facilities that Malthus provides."
In light of this, Malthus plans to ultimately continue to follow the same path in developing and refining the modular technology, whilst growing its market footprint both at home and abroad. "Coming from the oil and gas industry myself, it has been very exciting to join Malthus, as a thriving and motivated organisation, in the quest for operational excellence, continuous improvement, and growth," enthuses Espen. "Arthur C. Clarke once said 'Any sufficiently advanced technology is indistinguishable from magic,' and I believe that to be true of any business like Malthus that has a product and service that can make a difference," he concludes.
Camp Hotel is a trademark of Malthus AS
Malthus AS
Products: Modular buildings