A mammoth opertion
When it comes to any heavy lifting or transportation challenge, the name Mammoet has been suggested as a solutions provider for well over a century. With a core purpose to lift, transport, install and decommission big objects, Mammoet can draw on the expertise of a unique global network and an unparalleled fleet of equipment in the execution of extraordinary feats of heavy lifting – some of them breaking world records in the process.
It is also worth noting here, that while known for its legendary lifting and transport capabilities, Mammoet also offers a variety of other services, including plant turnaround/shutdown management, site-wide construction services, modular construction, factory-to-foundation/logistics, rapid response, relocation and decommissioning and it also trades in new and used equipment worldwide.
Michel Bunnik, Commercial Director Mammoet Middle East and Africa (MEA), gives some more details about Mammoet, with an overview of the company's operations: "Thanks to its staff members and their deep and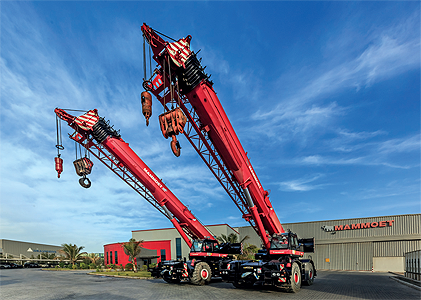 longstanding engineering expertise and the highest quality and safety standards, Mammoet can bring an intelligent and flexible approach to projects across a wide breadth of industry sectors, including petrochemical industry, the energy sector, offshore and civil construction," he began. "Globally, approximately 7000 people work for the company, in about 140 offices and branches. The head office of the holding company is located in The Netherlands, and there are offices in North America, South America, the Middle East, Africa and Asia Pacific. Mammoet is part of the SHV group, one of the largest privately-owned companies in the world. It is a family business with an impressive portfolio of companies: Eriks, Makro, NPM Capital, Nutreco, One Dyas, and SHV Energy."
Already possessing a sterling reputation and amazing range of capabilities, in January 2020 Mammoet embarked on a new chapter of evolution, when the company revealed the acquisition of ALE – the third largest heavy lift company in the world. The transaction created the world's largest team of dedicated professionals and an astonishing fleet of heavy equipment.
The deal significantly enhanced Mammoet's scalability, innovation capabilities and efficient mobilization, and created an entity that is not like any other in the industry. Six months after the transaction was announced Michel noted the process of integrating the two businesses has gone extremely well: "From the very start of the integration in early January Mammoet felt that both previous companies share the same culture and values," he agreed. "Because of that the amalgamation process has been very smooth and the business has finalized the layout of the new organization. It is combining the best of both worlds now; structured and organized with quick decision making, and creating the 'new' Mammoet, with colleagues across the business working hard to bring people together and build one strong team."
Prestigious projects
Michel had referred to Mammoet's various locations around the globe, and as Commercial Director of Mammoet MEA, he has hands-on experience of the challenging and fascinating work that the business undertakes in this diverse and dynamic region. "Mammoet has been present in the MEA for over 45 years, with its first projects carried out in the early 1970s," he pointed out. "Since then, it has handled a wide range of prestigious projects in the region, providing transport and lifting services for clients in the power, petrochemical, civil and infrastructure sectors."
In fact, Mammoet MEA has ten operational branches spread over the entire geographical area and owns and operates all of the Mammoet MEA major equipment. For transport, this varies from lowbed trailers and conventional platform trailers to a large fleet of self-propelled modular transporter (SPMT) trailers. For lifting, it goes from hydraulic gantry systems to hydraulic cranes and crawler cranes up to 1600t capacity. "Like all other Mammoet regions we are self-supporting in our engineering and project management services," Michel added.
The MEA region is no stranger to some very significant development projects and Mammoet MEA has participated in many of the largest and most complicated schemes that have been undertaken, including the Dangote Refinery – a 650,000 barrels per day (bpd) integrated refinery and petrochemical project under construction near Lagos, Nigeria. It is expected to be Africa's biggest oil refinery and the world's biggest single-train facility.
"The refinery complex is being developed on a 2635ha site on the Lekki Free Zone, along the coast of the Atlantic Ocean. A jetty was specifically built for this project to receive heavy equipment for the refinery construction," Michel explained, giving an insight into the many intricacies of such a massive undertaking. "Mammoet's scope consists of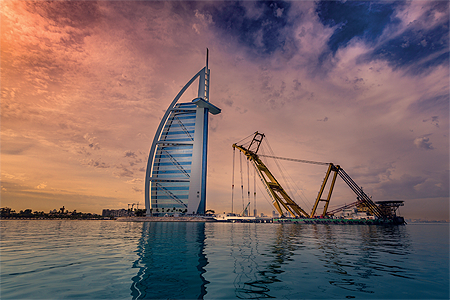 transport and installation of 133 refinery components and 50,000t of other project cargo from jetty to the site. They were then transported, over a ten-kilometer route. Once on site the components are placed into storage on freshly paved Enviro-Mat, Mammoet's innovative and sustainable solution for ground reinforcement, which was deployed to provide the main crane hard stands.
"To optimize the construction process and schedule, Mammoet has drawn on its diverse fleet of equipment. This includes SPMTs and mobile and crawler cranes ranging in capacity from 250t to 1600t. Mammoet also brought its largest super heavy lift ring cranes with lifting capacities up to 5000t – the PTC 200 DS and PT 50 – to bring maximum efficiencies to the execution of the project."
Record breakers
The components transported by Mammoet included a 3000 metric ton regenerator, which is the heaviest item ever transported over a public road in Africa and a 2000t crude column – the largest crude column in the world. Both modules were installed using Mammoet's PTC200 DS ring crane.
It is clear that clients place enormous trust in Mammoet to help them achieve feats that comwere once considered impossible, and as Michel went on to explain, the business has often broken records in doing so. "Mammoet was involved in the construction of the Ain-Dubai Ferris wheel in Dubai, which, with a diameter of 215 meters, is the largest in the world.
"Initially Mammoet mobilized a 3200 metric ton ring crane and 3000 metric ton crawler cranes to install the four legs (120m length/890 tons) and the spindle. With a lifting weight of 1840 metric tons to a height of 140 meters, the spindle lift set a new world record for the highest and heaviest tandem lift ever. Afterwards the crawler crane remained on Bluewaters Island to install the eight rim segments."
Further iconic projects upon which Mammoet has worked include the Burj Al Arab and its expansion, the Dubai Metro, the Shaybah Petrochemical plant, involving a 1000-kilometer journey through desert, and another record breaker – transporting the world's heaviest evaporator, weighing 5134t, in Saudi Arabia
What unites these projects is the high degree of innovation that Mammoet MEA is able to offer each and every customer and as Michel agreed, innovation has always been the driving force behind its work, and will become even more important going forward. Crucially, Mammoet is the only global heavy lifting and transport business with a large R&D facility run independently from its operational activities, allowing it to innovate for the long-term in close collaboration with customers.
Michel continued with an example of a new crane project underway from Mammoet, which is quite revolutionary. He began with some background to explain the origins of the new system. "As populations grow, demand for energy and infrastructure increases. Large industrial facilities become more complex and crowded. Cities expand and become congested. At the same time, development work must continue. So, Mammoet has developed the Focus 30, to address these needs.
"The Focus 30 offers a variety of advantages, including vertical assembly, which ensures erection does not overhang buildings, plant and people, and a small footprint, allowing more work to take place alongside heavy lifting. Its lifting capacity of 1000t allows more lifts to be performed with a single crane, and it has a large and variable operational window, with fast setup to accommodate time-critical projects. Finally, it offers low ground bearing pressure, to protect surrounding infrastructure and softer terrain.
Game-changing solutions
"The fabrication of the erection frame started in November 2019, and that is now complete. Work on the crane is continuing to schedule in advance of its first deployment, which is expected later this year."
The Focus 30 was designed in direct response to client demand, and this sort of innovation is a feature of the company's history – in the 1980s, along with Scheuerle, the company developed and introduced the SPMT, and the large ring cranes made their debut in the late 1990s. "Furthermore, high capacity jacking systems have been designed, allowing offshore structures to be raised to heights of over 40 meters," added Michel, highlighting another game-changer from Mammoet. Other innovations to date include the PTC and SK crane ranges and the Mega Jack, which have all lead the industry – shortening countless project schedules in the process and redefining industry practices.
As we move forward into the second half of 2020, Mammoet MEA has an exciting few months ahead. Michel noted that while Covid-19 has caused some delays in projects shifting out, Mammoet implemented safety precautions from the start and it has been able to continue with most of its work without too many problems.
Additionally, prior to the ALE integration, the MEA business had started a program to have a more adaptable equipment fleet in the region allowing it to differentiate into new markets, and it invested in a fleet of hydraulic- and crawler cranes. "By becoming more versatile and moving into alternative market segments Mammoet is able to serve not only the project market, but also the day market for standard crane hire or smaller transportation jobs," explained Michel, correcting the misconception that Mammoet is only interested in big projects. "Although Mammoet is a large company with a big fleet of cranes, and it is known for the unique size and capacity of its state-of-the-art equipment, it believes that every client is important, whether it is a large project or a two-hour crane rental job. Mammoet always wants to understand its clients' business and challenges better than anyone else, regardless of their size, industry or location. It is the trust of our clients that enables around 7000 Mammoet professiona
ls to give their best every day and truly make a difference in projects all over the world."
To ensure that it maintains the strong legacy that has been built over the past two centuries, Mammoet will keep improving its services and support its customers, so it can continue to build smarter, safer and stronger across the world.
Mammoet MEA
www.mammoet.com
Services: Heavy lifting and transportation specialist