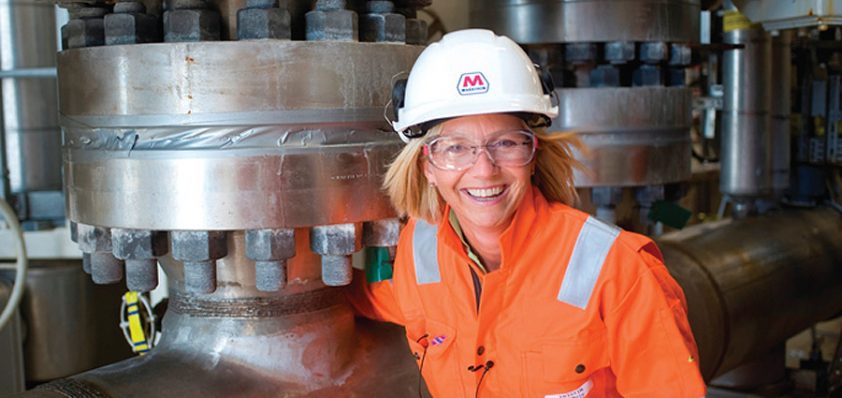 Ahead of the field
Based in Houston, Texas and with operations in countries around the world, including the US, Canada, Indonesia, Ireland, Norway and the UK, Marathon Oil is among the world's leading integrated energy companies.
It applies innovative technologies to discover and develop valuable energy resources in order to provide high-quality products to the marketplace, while delivering value to all the company's
stakeholders. Marathon's exploration work aims to add profitable production to existing core areas – the US, Equatorial Guinea, Libya and the North Sea – and to develop potential new markets, such as Angola and Indonesia.
With a vision of being recognised as a leader in the energy industry, creating sustainable value growth through innovative energy solutions and unique partnerships, Marathon serves as an integrated international energy company engaged in exploration and production, oil sands mining, integrated gas and refining, marketing and transportation. It aims to realise its vision by applying a differentiated business model that takes it beyond the work of a conventional integrated oil and gas business.
In 2002 Marathon Petroleum Norge AS was approved for its first operatorship on the Norwegian continental shelf (NCS), marking a growing core region for the company. Marathon's managing director, Kristin Færøvik outlines some of the company's Norwegian developments: "In 2002 we came back as an active player on the Norwegian shelf and we went on to appraise the Alvheim area in 2003; we submitted our plan for development and operation in 2004, and now we are producing a lot through the Alvheim facility."
In June 2008 production started from the Alvheim FPSO. Kristin elaborates: "Alvheim is now in the top ten producing oilfields on the NCS, so that's made a significant difference to both Marathon and Norway in terms of production. The vessel, which processes crude and natural gas from both the Alvheim and Vilje fields, has periodically exceeded its design capacity of 120,000 bbls/day and has reached above 140 000 bbls/day. This has provided a very strong basis for continuing to develop our Norwegian business."
Six miles south of the Alvheim area lies the Volund field, in which Marathon has a 65 per cent working interest and serves as operator. It will be put into production in the second half of 2009 subject to available capacity on the Alvheim FPSO. Having put in place most of the necessary subsea infrastructure on the seabed, Marathon is now in the middle of its drilling programme at the site. It will drill two initial wells – one a water injector and one a producing well. Crude oil from the Volund field will be incorporated into the Alvheim blend and exported in shuttle tankers, while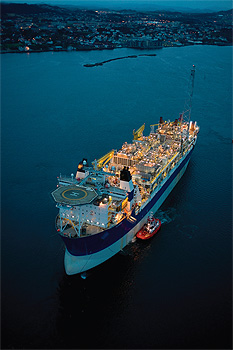 associated gas will be exported through the Alvheim-to-SAGE pipeline.
The organisation is also working on other exploration and production projects on the NCS. Kristin describes them: "We will be drilling a very interesting exploration well in the Alvheim area in the second half of 2009, which if successful could potentially be a tie-back to Alvheim. We also see some other exploration potential in this area and so we will continue to exploit the Alvheim area in the short-term. We are also participating in the development of the Gudrun discovery, which is operated by StatoilHydro, and for Marathon this is our next development project on the NCS. The field is located near the median line between UK and Norwegian waters. The Gudrun gas condensate discovery made quite a few years ago went through concept selection at the start of 2009 and the plan is to install a processing platform at the Gudrun location. The hydrocarbons from the site will then be transported for further processing at Sleipner, before being sent on to the markets."
She goes on to explain how the company will develop through these and other projects: "We are looking to build up a portfolio of options and are actively pursuing exploration opportunities. The backbone of our business is the Alvheim FPSO, and so to exploit this area to its full potential is crucial. We have invested a lot in the Alvheim infrastructure and want to keep the FPSO full for as long as possible. At the same time the exploration team is looking hard at all exploration opportunities that the NCS has to offer – both in the short-term and long-term. If we want to maintain a material business in Norway then that's how we need to do it – through exploration that will grow and develop our business."
In terms of future development, Kristin is aiming to ensure a continued high performance from the FPSO to secure the company's future on the NCS: "We aim to maintain a high hydrocarbon production through the FPSO for a long time to come. With regards to the global downturn, we will have to be as disciplined as we've always been with respect to costs and investments. For the future I would like us to have another leg to our business in Norway and we currently see that as being further north; we will be assessing areas already opened up for exploration as well as those that may be accessible for exploration in the future."
Marathon Oil
Services: Integrated energy