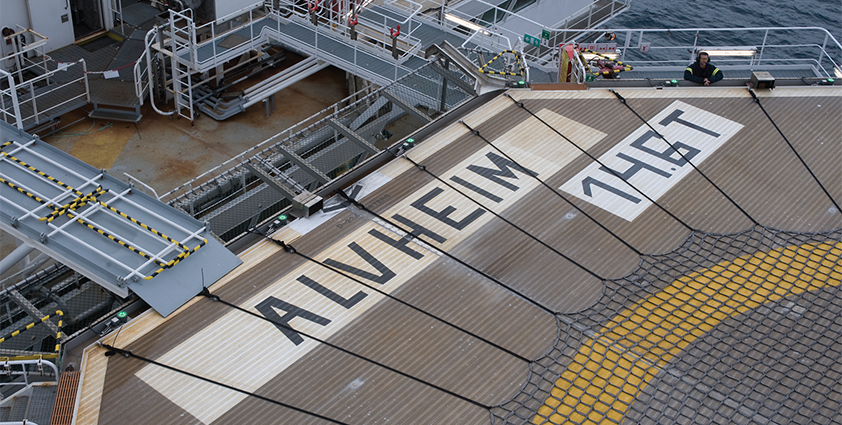 Marathon Petroleum
In 1976, Marathon Oil Corporation, established a presence in Norway through non-operated interest in the Heimdal field.
Over the years gas was discovered at the field and Marathon expanded its presence in the Norwegian part of the North Sea. The company's first operatorship on the Norwegian Continental Shelf (NCS) was approved in 2002. Today Marathon Petroleum Norge A/S operates ten licenses on the shelf.
Marathon's managing director in Norway, Mitch Little, describes the company's vision for the future of this area: "We are striving to be a leading operator in the discovery and development of resources across the NCS. The cornerstone of achieving that is to attain top quartile operational performance in health, safety and environment (HSE), reliability, and cost. We have a highly committed and energised team that is performing extremely well based on McKinsey & Company's 2009 North Sea Operations benchmarking studies. Our 2010 YTD regularity, which is above 92 per cent places us well within the top quartile."
Marathon serves as operator of Alvheim, holding a 65 per cent working interest in the field. Marathon's partners in Alvheim are Norske ConocoPhillips, with a 20 per cent working interest, and Lundin Norway, which holds he remaining 15 per cent working interest. Located approximately five miles south of the Alvheim area, the Volund field is also operated by Marathon, which holds a 65 per cent working interest in its activities; while Lundin Norway holds the remaining 35 per cent. Marathon also holds a 46.9 per cent working interest in the Vilje Field, with partners Statoil holding a 28.9 per cent working interest and Total E&P Norge with a 24.2 per cent working interest. Finally Marathon holds a 28.2 per cent working interest in the Gudrun Field, of which Statoil is the operator.
In terms of its ongoing exploration efforts, Marathon holds interests in more than 600,000 gross acres in offshore Norway. In the third quarter of 2009, Marathon and its partners announced the Marihøne (PL 340) discovery, the first of several prospects near the Alvheim floating, production, supply and offloading (FPSO) vessel with tieback potential. The recoverable net resources are estimated between 13 and 20 million barrels of oil equivalent (mmboe). The Viper oil discovery on PL 203, in the immediate vicinity of the Volund field, was also announced in November 2009, and has recoverable net resources estimated between 3 and 5 mmboe in the Hermod injection feature.
The major growth focus in 2010 will be to drill additional South Viking Graben core area prospects, as well as to evaluate existing acreage in the Barents Sea in the PL 531 and PL 438 licenses for future drilling.
Looking at recent developments, Mitch describes Marathon's expansion: "Our core business today is the Alvheim FPSO vessel and the surrounding fields. Over the past year the team has increased Alvheim production from 120,000 to 142,000 barrels of oil per day and we are continuing to expand our efforts in this field. Most recently we've completed the development-drilling phase on our Volund development, which is a tieback to the Alvheim FPSO. Initial production from the first well took place in September 2009, but due to the sustained performance of the Alvheim fields, Volund operated as a swing producer until recently. From April 15, 2010 we've sustained continuous production from the field and we're planning to tie in two additional wells in the third quarter of this year, at which time we would expect around 25,000 barrels a day.
"The other notable development is the growth in the Gudrun field. It's an important asset for our portfolio and we are pleased to see it progressing. The project will develop critical infrastructure in this area of the South Viking Graben, where other companies have made several recent discoveries and where we have an active exploration campaign that is both partner operated and company operated."
Looking to the future, Mitch elaborates on the potential for further development on the NCS: "It's still an important market in the oil and gas industry – the official numbers from the Norwegian Petroleum Directorate (NPD) are that 25 per cent of the resources of the NCS are yet to be discovered. We are looking at areas including the South Viking Graben and the Barents Sea that have tremendous potential going forward. We'll have our first exploration activity in the Barents next year, following with an operated exploration test in 2012 or 2013."
Having established a good core business in Norway through the Alvheim development, Marathon has upstream corporate wide objectives to grow the business. Mitch comments: "We are aiming to expand the upstream business and increase production throughout the Corporation by between three to five per cent on an annual basis. As an important part of that effort, Norway holds tremendous upstream potential, and we've expanded our portfolio quite a bit over the past year. We now have interests in over 15 licences, ten of which we operate. We have an active exploration programme and ultimately we're trying to build on the core business that we have here. We made two discoveries in 2009, and we have an active exploration campaign this year, extending out from Alvheim and looking to establish additional core areas in the South Viking Graben, where we have three exploration tests this year. We've expanded our portfolio and we'll continue to invest in both development and exploration."
Finally Mitch outlines the company's prospects in a challenging marketplace, and how he sees Marathon developing in the future: "Even through the financial crisis, we are seeing a lot of opportunities in regular licence rounds, and we continue to seek new opportunities that strengthen our portfolio. As with any business in this area, we are working hard to maintain the levels we produce today. We have line of sight opportunities to help stabilise the ultimate decline that will come from Alvheim, and Norway is an area that we're committed to as a company. I'm confident that there are lots of opportunities to allow us to continue to expand our position here."
Marathon Petroleum
Services: Oil and exploration