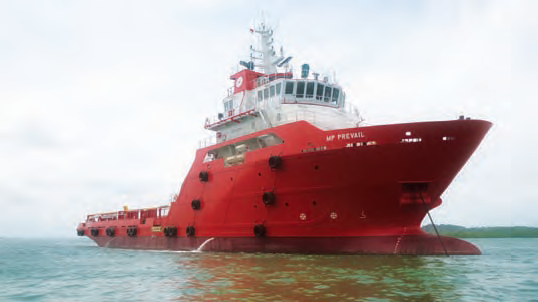 Excellent dedicated service
Listed on SGX-ST since 2007, Marco Polo Marine Ltd is a growing integrated marine logistic firm, which over time has expanded to become a reputable player in the marine industry especially in the South-East Asian region including Australia.
With more than a decade of experience in ship chartering, the group provides offshore support vessels (OSVs), tugboats and barges to be deployed in regional waters to its customers in the oil and gas, mining, construction, commodities and infrastructure industries.
Currently operating about half of its fleet in Indonesia, Marco Polo Marine's other ships are located in Australian and Malaysian waters, and the Gulf of Thailand; with a strong eye for opportunity, the group is consistently expanding its geographical coverage while exploring potential energy developments in the region. On top of ship owning and chartering, the group also offers shipyard services at its wholly owned subsidiary PT Marcopolo Shipyard in Batam, Indonesia; occupying more than 34 hectares of building berth, three units of graving docks up to 190 metres in length and 45 metres in width and 650 metres of waterfront for a range of assets such as commercial ships, supply vessels, anchor handling and offshore fabrication works. Furthermore, the shipyard boasts a land area of up to 17,000 square metres of sheltered modern machine shop and fabrication facilities. The shipyard also offers a range of capabilities, which includes shipbuilding, ship repair, ship conversion and overhaul works for commercial and offshore vessels as well as offshore fabrication and installation works.
Since it was established in 2005, Marco Polo Marine's shipyard has delivered at least 100 tugs and barges and anchor handling tug supply vessels (AHTS); over the coming years the group anticipates to be mainly building to fulfil its own strong demand for vessels as it has been the case historically, with a particular focus on Anchor Handling Tug Supply vessels (AHTSs). Benefiting from being one of the largest shipyards in Batam, PT Marcopolo Shipyard can accommodate up to eight vessels at the same time and can serve vessels of varying lengths for ship repairs.
Marco Polo Marine Ltd has developed an excellent reputation for its dedication to providing a high quality services and timely deliveries to its customers, many of which are repeat customers or through word-of-mouth marketing. In February 2009 the group was awarded the ISO 9001:2008 certificate for its ship chartering business; this was followed by the ISO 9001:2008 certification for the group's commitment to quality for its shipyard operations and the Singapore 50 Fastest Growing award for its outstanding progress and performance.
The group's offshore division was established in December 2010 with a firm objective for venturing the offshore oil and gas sector. Over the next 30 months the group's offshore division expanded its fleet of vessels to nine which are mainly AHTS (including one via a 30 per cent JV), with an expected three more OSVs due for delivery in 2014. Focused on establishing a modern fleet of young offshore vessels, customised and engineered for cost-effective and efficient operations, the offshore division is prepared to successfully meet the stringent demands of the oil and gas industry. With a presence in Asia and Australasia, the group intends to penetrate the growing Indonesian offshore market with the successful listing of its subsidiary, PT BBR TbK, on the Indonesian Stock Exchange (IDX) on 9th January 2013.
Aware that the offshore oil and gas sector in Indonesia is in the robust yet nascent stage of its development and that demand for chartering services through the operation of AHTS vessels is anticipated to grow quickly in the region, Marco Polo Marine acquired a new build 9000 BHP AHTS vessel via its 49.6 per cent owned subsidiary, PT BBR TbK, in June 2013. In line with the group's plans to expand and develop a stronger foothold in the fleet management of OSVs in Indonesia, the acquisition from a third party shipbuilder also comes at a time of strong demand for AHTS vessels in the area. Named MP Prevail, as there are very few AHTS vessels operating in Indonesian water due to the strict enforcement of the country's Cabotage Principle. Equipped with Dynamic Positioning Two (DP2) and possessing a bollard pull of approximately 120.4 metric tonnes, it is expected to be chartered to a leading oil company in the region shortly.
In August 2013, the Singapore-listed group registered a decrease in its third quarter net profit to 52 per cent year-on-year to SGD4.28 million, which is mainly due to less ship repair contracts and newbuild orders. Meanwhile, revenue grew strongly by 98 per cent year-on-year to SGD28.59 million, which was mainly due to accounting consolidation of PT BBR TbK financial results since its listing on IDX as well as the strong chartering revenue from OSVs in the region. These results have further cemented expectations that the offshore division of Marco Polo Marine's ship chartering operations will continue to lead group growth over the coming years.
Marco Polo Marine Ltd
Services Own and manage offshore support vessels as well as tugs and barges with own shipyard for newbuildings and providing ship maintenance, repair and overhaul services