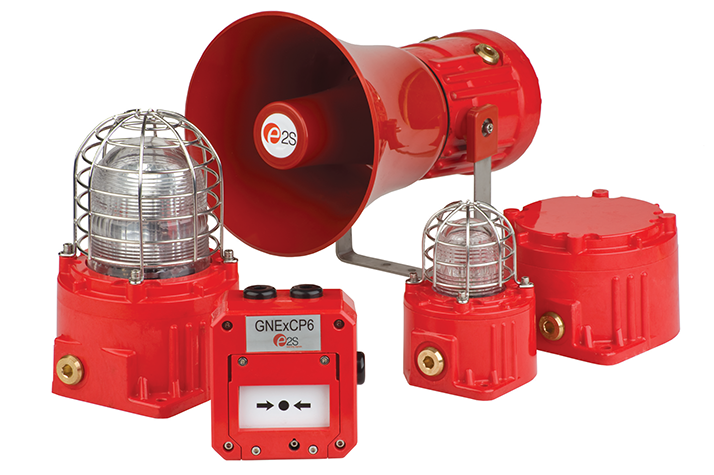 The right signals
Over the course of more than 35 years in the industry, Marin Supply AS has become known as Scandinavia's leading supplier of warning signals for the industrial, marine and offshore markets.
The company is based in the Horten Industrial Park (HIP) in Horten, Norway which centrally positions it in relation to the major cities of the eastern region.
Around 70 per cent of Marin Supply's turnover comes from its alarm systems, which span a complete range of audible and visual products from small buzzers and indicator lights to pneumatic horns and bright flashing lights for use inside, outside, and in hazardous areas. These systems have been proven reliable on numerous installations.
The company's other business lines consist of cable ties, bands and glands of various materials, and most recently, Abtech explosion proof junction boxes and Steute switchgear. For 50 years Steute has been developing and manufacturing high quality switchgear, sensors, and control units for industrial automation, medical equipment, and building automation applications. As such, Marin Supply is proud to introduce Abtech and Steute as its latest supplier and to launch its new switchgear product group.
"Within our part of the market we try to be a one-stop-shop supplier for everything related to warning and alarm equipment," describes Marin Supply's general manager Jan Heimstad. "We offer a very wide range of products within this sector enabling us to cater for different requirements, and if necessary deliver customised solutions. At this time we are primarily
concentrated on the Norwegian market for this equipment, which enables us to offer fast deliveries to clients thanks to our fairly large local equipment stocks. We do also export products as well, as many of our Norwegian customers are operating in a global market."
Marin Supply is also particularly proud of its long-term relationships with both customers and suppliers, some of which go right back to the company's foundation in the 1970s. This demonstrates how the business works to support and serve its partners and clients in a highly satisfactory manner. Yet, even with such a reputation behind it Marin Supply continues to refine and develop the services it offers today.
In this respect Marin Supply is looking to introduce new lines in explosion proof warning equipment from its partner E2S, which are built from glass-reinforced polyester. This will particularly have application in business sectors such as oil and gas, where warning equipment predominately has to be rated explosion proof and suitable for use in hazardous areas. Marin Supply has great expectations for the range as it sees a demand for GRP as a material in the market.
The company already offers a wide range of E2S audible and visual warning devices, and as such has welcomed the testing and approval of these products by the Marine Equipment Directive (MED). This guarantees the uniform application of standards within the international SOLAS code, and defines the design and test standards for the equipment. E2S MED approved products offered by Marin Supply include the A105N, A112, and BExS110 alarm sounders, which can be installed as part of a fire protection system in passenger ships, cargo vessels, and tankers.
"One of the biggest considerations in this market is reliability," notes Jan. "This type of equipment serves a critical purpose, and therefore clients need to know it will work in the event of an emergency. Another challenge at present are the requirements for price levels which are quite difficult. Despite this, we see a lot of opportunities in the market and expect relatively good growth within the next year or two.
"Firstly this is because the demand for and specification of different equipment is increasing, and secondly because the oil and gas sector in Norway is growing at the moment with a lot of projects upcoming in the future. Aside from this we are also trying to increase our existing market share as well," he adds.
With safety an ever-present concern, particularly in industries which deal in potentially dangerous materials, there is certainly a lot of scope for businesses such as Marin Supply. Effective and reliable warning systems play an important role in meeting regulations, and as these become stricter so the expertise of Marin Supply is of greater value. To this end, the company is continuing to pursue new certification and legislative requirements, and to deliver high quality products that its clients can rely on.
Marin Supply AS
Products: Warning equipment