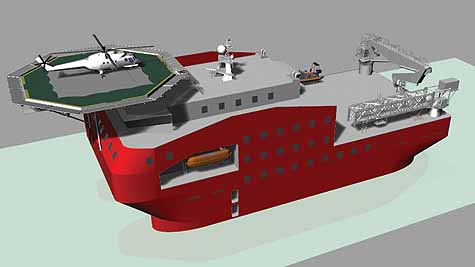 Marine Assets Corporation
A growing reputation
From its headquarters in the Jumeirah Lake Towers (JLT) free zone, Dubai, Marine Assets Corporation strives to operate as the leading provider of marine vessels and specialised equipment. The roots of the company date back to 2006, when it was founded as Minnow Marine Projects Ltd (MMPL). Marine Assets Corporation (MAC) was formed during 2009 when MMPL was sold to the Stanford Marine Group (SMG) in Dubai. During the sale SMG did not acquire the rights to the MAC niche compact semi sub design (CSS), which formed part of the initial MAC service offering and remains as part of its portfolio. Today MAC provides a comprehensive range of design and build, agency and offshore support services to clients throughout the marine industry, with an annual turnover of $100 million per annum. "MAC's core business is the design and construction of both standard and specialist vessels for the oil and gas, offshore and renewable industry," explains CEO, Robin Reeves. "MAC seeks to acquire the latest technology and incorporate it into modern sophisticated designs, with a view to what the market will require in 24-36 month time with a focus on industry requirements as opposed to minimum standards."
Incorporating close to a decade of industry experience and a tradition of providing innovative design options, MAC has a growing reputation for delivering market-leading and highly specialised vessels to the offshore industry. During November 2014 for example, it was announced that MAC had signed a contract with Nautilus Minerals Inc. for the build and delivery of a large offshore and construction vessel, which will be built at Fujian Mawei Shipbuilding – China's oldest shipyard, with a 150-year heritage. Commenting on the award of the contract Robin elaborates: "MAC was successful in securing a contract with Nautilus Minerals for the world's first vessel to be purpose built for subsea mining activities. The vessel is 227 metres in length and has a beam of 40 metres, it will have 32 Mw of installed power to support the vessel's power management for DP positioning and supply power to the deck mounted mining equipment. The vessel will also include 199 beds to accommodate marine crew, hotel staff and operators for the mining equipment."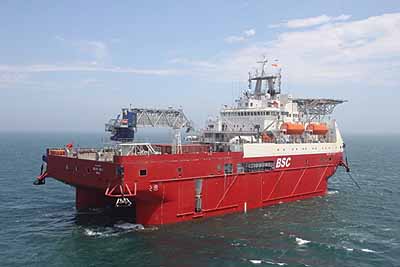 With its unique features and bespoke design to meet the requirements of subsea mining, the new vessel is anticipated to remain active for several years. Once completed the vessel will commence a five-year charter on delivery operating initially as part of the Solwara 1 Project in the waters off Papua New Guinea, with options to extend operations by a further five years. During the course of the project remotely operated seabed mining equipment will be launched from the vessel's deck and used to cut ore from the seabed and pump it in the form of slurry, some 1700 metres back to the surface. Once the ore is retrieved residual water will be removed and the ore stored for offloading to shuttled bulk carriers, which will tranship the cargo to consumers in China.
The diversification of the company into new sectors remains an important focus for MAC and one that it will continue to pursue in the future, as Robin reveals: "With the slump in the global oil price, this new contract for MAC within the sector of deep sea mining represents a balanced diversification. Activity in deep sea mining is on the increase and I think the market will see much more interest in this area in the coming years. Further to deep sea mining, we have also been in discussions within the renewable energy sector and have some designs of suitable vessels for deployment during various stages, including the long term maintenance and as a wind farm 'mother ship.' We have also opened a new division, which is focusing on waste management for both on and offshore environments. This division is currently developing the garbage converter vessel (GCV) a new concept to facilitate the handling of offshore waste disposal for common garbage."
While MAC continues to develop innovative, new vessel designs, its core business is still in the niche design of its CSS accommodation and maintenance vessels. These are also built at the Fujian Mawei shipyard, with seven units currently contracted – three of which have been delivered, while the remaining four are still under construction. The CSS design was developed to respond to the need for greater flexibility, coupled with the capacity to provide cost-effective solutions in the provision of accommodation and offshore support services. The CSS design allows for the provision of multiple services desired by oil and gas operators to improve production and reduce costs, with weather working capabilities which significantly exceed that of units of similar dimensions. Furthermore precise and fuel-efficient manoeuvring capabilities are achieved through the highest class of dynamic positioning system (DP3) and a diesel electric propulsion system.
As the company continues to adapt to the changing needs of the marine market, it will rely on its strong ties to its partner shipyard and its pioneering approach to vessel design. With the growing opportunities within the deep sea mining and offshore sectors, MAC is set to remain an important market player well into the future, as Robin concludes: "Our strength lies with our close relationship with our partner shipyard, whereby we enjoy costeffective building contracts with favourable payment terms. Most of our clients have returned for further vessels, and continue to utilise MAC as their provider going forward, which demonstrates our commitment to our clients throughout the vessel's life, not just the warranty period. MAC will continue with new building activity, having 26 vessels still under construction for delivery throughout 2015, 2016 and 2017. We will also seek to place new orders for targeted sectors where we can identify needs will be in the coming years."
Marine Assets Corporation
Services: Marine vessels and specialised equipment
Issue 125 October 2015