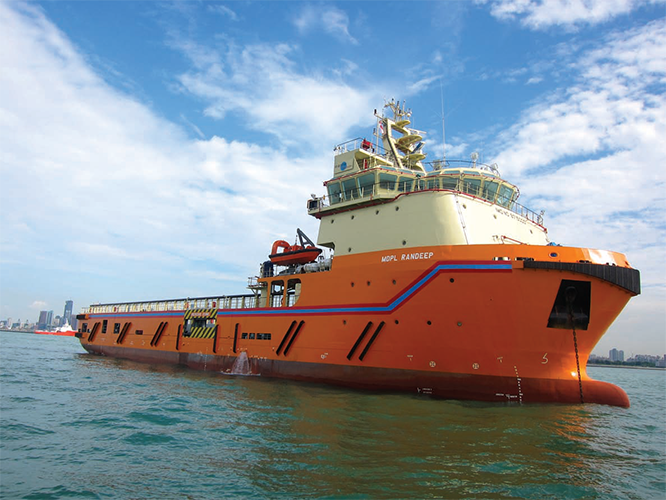 Marine Delivery Pte Ltd (MDPL)
Quality delivery
Established during the economic crisis in 2007 and beginning operations in 2008, Marine Delivery Pte Ltd (MDPL) has developed an impressive portfolio of clients within the shipping and offshore industries over the last six years.
Indeed, by combining strengths such as the professional competency and long-term experience of its employees with a diverse fleet of high quality, new generation vessels, the company has gained a reputation for excellence and a core customer base within the Asia Pacific as well other strategic regions around the world.
Discussing the inception of MDPL, CEO & managing director Amandeep Singh begins: "Marine Delivery was established in Singapore in 2007 and laid its foundation on ship chartering, thus building an impressive portfolio of clientele from within the Asia Pacific and other regions across the globe. Despite the global downturn from the time of inception, having competent and focused hands over its helm since the beginning has enabled the company to stand tall amongst the well-established organisations in the industry as an owner and operator of a diverse range of new generation vessels/ships."
With a globally recognised team of experts capable of operating in all maritime disciplines, MDPL has offered a diverse range of offshore marine assets, either from its own fleet or its managed/chartered assets to oil majors. As a provider of a 24/7 high-quality, global service, the company possesses the in-depth knowledge of critical business areas such as commercial,
legal, offshore logistics, health and safety, offshore standards and the requirement/technical aspects surrounding mobile equipment use for exploration, development and production of offshore oil and gas reserves to ensure all challenges are met.
"Chartering had remained a core strength for the company and West Africa has been a key focus area where, alongside associate companies, we achieved optimal performance of operations and continuous/multiple long-term contracts since 2009. We have explored the region extensively, with a notable amount of activity in Nigeria, through our associated company CS-Offshore.com. Furthermore, one of our new vessels has commenced operations in Angola with the State Oil Co of Angola, so we are looking into establishing a base there as well."
Having gained a proven track record for the operation of vessels on long-term charter for accommodation service/subsea construction support units, AHTS, ASDs harbour tugs, PSVs and MPSVs, the company has further strengthened its superior service endorsing two 4000 DWT PSVs: MDPL Randeep and MDPL Anjali. Delivered in June and August respectively, the two vessels were designed and built specifically to ensure the safety of all personnel working on an oil field or offshore installation; to ensure safe and successful operations, these multi-role vessels surpass the stringent emergency response/safety requirements of the oil and gas industry while providing innovative solutions to clients. For example, the SPS 2008 and MLC 2006 compliant MDPL Randeep is the first safety, standby, rescue (SSR) multi-role vessel with class approved survivor rescue facilities. Already operating in Angola, the vessel is proving highly advantageous to oil majors, who can not only be confident of their ability to rescue personnel should an incident occur, but also benefit from the protection of a high wall deck, which protects cargo and other equipment from harsh offshore environments.
Elaborating further on the success of MDPL Randeep, Amandeep highlights: "Having arrived in West Africa recently, MDPL Randeep was very well received by oil companies, and has been welcomed with much appreciation of the modern and versatile design of the vessel with her enhanced features and multi-role/flexible capabilities – for PSV supply roles, accommodation support (SPS), undertaking ROV/deepwater inspection duties and complete SSR. The multi-functional vessels are innovatively designed and operated to fulfill the performance requirements of the oil majors and to meet the much-emphasised safety aspects of offshore operations – by offering one full deck dedicated to its SSR/ERRV capabilities with special features for evacuation and receiving personnel working on offshore installations."
Sister vessel MDPL Anjali, meanwhile, is on her maiden voyage to Singapore, where it is anticipated she will generate as much attention as MDPL Randeep. "Built for care and performance, these vessels with their cutting-edge designs have set high standards for the industry, exceedingly meeting the diverse demands of the OSV market," enthuses Amandeep. "Having undergone major modifications and upgrades to the basic/original design on the duo, the vessels stand out to be highly sophisticated vessels as we see today, and the pair are proving to be incredible competition for many of our competitors in the market." Indeed, by enhancing safety and care levels for the personnel on offshore and oil fields, MDPL's groundbreaking new vessels are certain to be a catalyst in the way current operations are being conducted in oil fields, particularly in South East Asia and Africa.
Despite being a relatively young company within the shipping industry, the self-sustaining and independent firm's decision to begin operations during the economic crisis has left it wholly prepared to face challenges through the delivery of competent, effective solutions and high quality vessels. "We laid the foundation of MDPL in a fallen market environment for a brighter future, which meant we had nothing to lose as the market had already fallen; however it also meant we had the burden of establishing ourselves and raising the company under such circumstances. Thus the company straight from inception has learnt to be self-sustaining and to grow independently. The company has continued to rise in a fallen market and is in a good position to grow," says Amandeep
Having grown year-on-year, the company is looking to strategically develop a stronger presence in booming oil and gas areas; it will also continue growing its fleet with high quality vessels that can contribute to the safety of personnel while adding value to operations, as Amandeep concludes: "Headquartered in Singapore, we are at a disadvantage to competitors who are established in such countries and are therefore enjoying first right of refusal. We need to step out with new establishments in strategic countries with local partners in order to have both long-term and firm business expansions. We will also be spending some time with various shipyards and naval architects to ensure our future vessels are well suited as much as possible to absorb the downturns should there be any in the future."
Marine Delivery Pte Ltd (MDPL)
Services Niche support to the infrastructure sector