Providing structure and substance
Occupying seven bays of the main fabrication shop at Haverton Hill Shipyard, a covered area of approximately 45,000 square feet, Marine Fabricators specialises in medium and heavy fabrication for structures and equipment used in the renewables energy, marine, and offshore oil and gas industries. Founded in 1998, the primary aim of the company is to produce quality goods, safely, on time and within budget.
Marine Fabricators' fabrication shop is today served by three 15 tonne and two 40 tonne overhead travelling cranes, with maximum hook heights of 10.5 metres and 17 metres respectively. With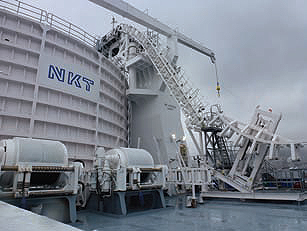 two main access doors, sized to accommodate large structures, the company also has a dedicated, insulated assembly and storage building, which is served by a five tonne Goliath crane. As well as being able to offer additional internal floor space and external storage areas where required, the company's painting sub-contractor, Universal Coatings, is accessible by internal site roads, and its strong relationship with its local neighbours means that Marine Fabricators also has access to three loadout quays.
Marine Fabricators' capabilities have seen the company carry out an array of projects including overboarding/lay towers with capacities from 60 tonnes to 200 tonnes, 600 dia. wire rope sheaves through to 6000 dia. over-boarding vee-sheaves carousels, for flexible pipe and power cables, from 750 tonne capacity and 15 metre diameter to 7000 tonne and 27 metre diameter, and tensioner systems with varying capacities ranging from three to 45 tonnes. Additionally, the company also offers pipe handling equipment, for instance hydraulically operated spooling arms and chute structures, ROV launch and recovery systems for Lawson Engineers and the Kizomba TLP, and A-Frames with up to 150 tonne capacity.
When Energy, Oil & Gas caught up with the company's Directors, conversation focused on how things have developed since we last spoke in 2016. "Over the course of the last year we have successfully manufactured and completed installation of cable carousels and associated cable lay equipment on two vessels, the NKT Victoria and Living Stone, for our customer MAATS Tech," explains Marine Fabricators' Managing Director, Chris Reed.
The company's involvement with the NKT Victoria is significant given that the state-of-the-art, high-voltage cable laying vessel has only recently been announced as the winner of the prestigious 'Ship of the Year' award at a ceremony at the Nor-Shipping trade fair in Oslo. The annual award goes to a Norwegian-built vessel that represents innovation, and value added and technological advances. The NKT Victoria is among the world's most advanced vessels of its kind and provides improved cable laying precision based on DP3 capability and a remotely operated vehicle, using cameras and sonar, thus eliminating the need for divers.
"Marine Fabricators work on the NKT Victoria involved the manufacture and installation of two carousels and a large deck spread of lay equipment," explains Chris. "The two cable carousels in question possess a 7000 tonne and 4500 tonne capacity, respectively, the latter of which was an underdeck carousel equipped with a full spooling system. In addition, we also supplied two No 45T tensioners, an underbender, various roller pathways, a loading arm and repair line container pathways."
Living Stone, meanwhile, is an impressive vessel in its own right. Measuring 161 metres in length, with a moulded breadth of 32 metres, draught of 6.5 metres and dead-weight of 13,185 tonnes, this multi-role vessel is capable of performing cable, umbilical and rock installation, trenching, offshore transport and installation works. In the case of Living Stone, Marine Fabricators' involvement saw it manufacture and install two 5000 tonne capacity cable carousels, with accompanying spooling and lay equipment also provided. The linear product loading speed at the centre core area of the cable carousels can total 1200 metres an hour.
"While 2017 has been a relatively stable year to date, we have used this opportunity in order to work towards, and achieve accreditation to EN1090-1 for CE Marking, Execution Class 3. We are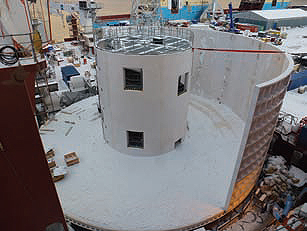 also on the cusp of beginning work on several exciting projects. These include working with Wilton Engineering and Offshore Structures Britain to deliver the suspended internal platforms for Hornsea 1."
Hornsea 1 represents an exciting opportunity for the company, itself being a crucial phase in the development of the Hornsea Wind Farm, a Round Three wind farm currently under planning development in the North Sea, 120 kilometres off the coast of England. Project One is the first development proposed within the Hornsea Zone and will constitute up to three offshore wind generating stations with a total capacity of up to 1200 megawatts, covering an area of approximately 407 square kilometres.
The development consent order for Hornsea 1 would authorise the construction of up to 332 wind turbines, up to two offshore accommodation platforms, up to five offshore HVAC collector substations, and up to two offshore HVDC converter stations. Further infrastructure will include an offshore HVAC reactive compensation substation, subsea interarray electrical circuits, a marine connection to the shore approximately 150 kilometres in length, onshore cables which will connect the offshore wind farms to the onshore electrical transmission station, and the connection from there to National Grid's existing substation at North Killingholme, a distance of approximately 40 kilometres.
Once fully functional in 2020, Hornsea will be the largest offshore wind farm in the world, making its significance when it comes to the immediate future success of the companies involved in its development abundantly clear. Fortunately, the track history of projects successfully delivered by Marine Fabricators suggests that it is more than adequately placed to service the needs of this project, and many other large scale undertakings, for many years to come.
Marine Fabricators
Services: Medium and heavy fabrication