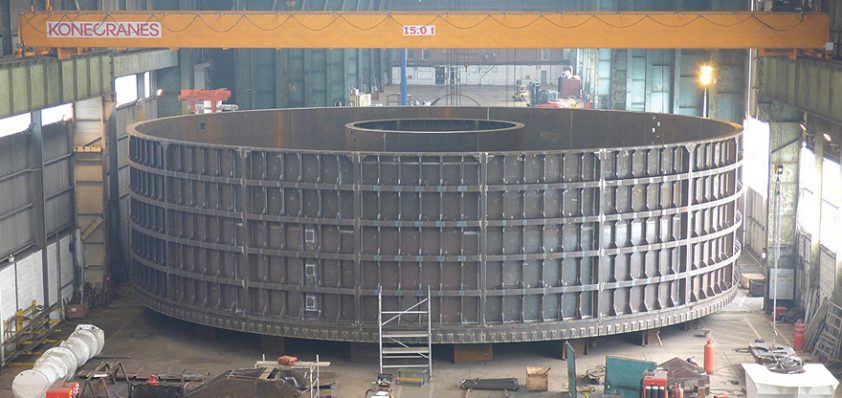 A lasting impression
Based in Stockton-on Tees, England, Marine Fabricators has proven to be a trusted provider of medium to heavy fabrication projects designed for a number of applications across the oil and gas, offshore, marine and renewable energy industries.
The business has been in operation since 1998 and has earned a strong reputation in the fabrication of bespoke as well as more conventional structures. In fact the company was originally established at the suggestion of some of its clients who saw the potential for its founders to take a leading role in a niche market, as founder and managing director, Steve Reed elaborates: "Originally two of us set the company up. We had previously been employed in similar work; that is to say marine and offshore manufacture. We were encouraged by some of our customers to begin our own venture, and we started with a large project to provide three carousels for a vessel conversion for DSND, as it was then. That company has since become part of Subsea 7."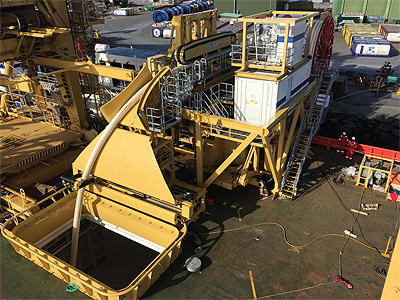 Following the successful delivery of its first projects, Marine Fabricators has continued to grow and has increased the size of its fabrication facilities from two bays within the main fabrication shop at Haverton Hill Shipyard (formerly Swan Hunter) to seven bays covering a combined area of approximately 45,000 ft2. During 2008 with financial support from One North East and The European Regional Development Fund the company installed a new wireless controlled 40 tonne overhead travelling crane, with a second unit arriving in 2011. The fabrication shop is currently served by three 15 tonne as well as the two 40 tonne overhead travelling cranes with maximum hook heights of 10.5 metres and 17 metres respectively.
Furthermore during 2009, to meet project requirements Marine Fabricators manufactured and installed a triple-panel sliding door, 17.2 metres wide and 15 metres high in bay seven of its workshop. This grants the facility effective access to a 2000 tonne capacity load out quay, while the site also benefits from excellent access to the local road network with wide-load access to the A19 and therefore the A1. Other nearby quayside facilities, which are easily accessible, include Tees Offshore Base and the deepwater port Tees Dock. "We originally started with two bays of the old shipyard fabrication hall, around 15,000 square feet, and we have since expanded that to seven bays in response to the increased workload. We are currently mostly involved in the production of cable and pipe laying equipment for ships. We have also undertaken offshore standard and other more specialised fabrication projects too," says Steve.
"With the increase in the amount of floor space that we had available to us we were able to turnover twice as many contracts and by increasing our workforce to meet demand we were able to increase our financial return accordingly," he adds. "We are almost at single shift capacity now, limited by the floor space. We currently do not have any plans to expand on a permanent basis, however we do have options for the hire of another site. Then of course we would be operating two sites, which is never as efficient. So this is something we will consider in conjunction with our future workflow."
Previous projects undertaken by Marine Fabricators include overboarding/lay towers with capacities from 60 tonnes to 200 tonnes; sheaves: 600 dia. wire rope sheaves, through to 6000 dia. over-boarding vee-sheaves; carousels: (for flexible pipe and power cable) from 750 tonne capacity 15 metre diameter to 7000 tonne 27 metre diameter, (50+ carousels manufactured to date); tensioner systems: currently up to 30 tonnes capacity, (ten 30 tonne tensioners manufactured to date); pipe handling equipment: hydraulically operated spooling arms and chute structures; ROV launch and recovery systems for Lawson Engineers and the Kizomba TLP and A-Frames up to 150 tonnes capacity.
The company's investment into its fabrication facilities in anticipation of increasing market demand has allowed the business to double its turnover in recent history and the market is still looking strong. Presently Marine Fabricators is completing a 7000 tonne carousel for MAATS Tech Ltd and is in the process of tendering for a number of major projects for two important clients. Furthermore, the company has a strong order book for the next 18 months, throughout 2015 and into 2016.
Today the company serves a number of clients across a range of industries and its previous customers include 2H Offshore, Amclyde Norson, CTC Marine Projects, Heerema Hartlepool Ltd, EMAS AMC, BAE Systems and Technip Offshore Ltd amongst others. Its main customers at the moment are MAATS Tech as well as AmClyde Norson Engineering and the Norwegian company DEMAnor. Commenting on the company's current customer base Steve says: "MAATS Tech are by far our current largest customer in terms of capital value and tonnage through the workshop. DEMAnor are a new client and the first Norwegian customer for us. We manufactured a winch mounting system, which was then shipped to them in northern Norway. We have been discussing several large projects with them for renewables cable storage and handling equipment."
Indeed Marine Fabricators shows no signs of slowing down as the demand for its largescale production and installation capabilities continues to grow within the renewables and offshore sectors. In this respect, the company's proven track record is a key asset that continues to drive the business forward, as Steve explains: "We have a strong track record, especially where carousels are concerned. We have shown that we are consistently able to build them very efficiently. We produce good quality products and do so on time – which is crucial."
With its strong portfolio of completed works, ideally designed fabrication facilities and wellconnected location, Marine Fabricators is set to continue long into the future. The company's strengths are in its ability to provide solutions in a niche market as well as to take on more standard or larger projects. This diverse range of solutions makes Marine Fabricators Ltd a key partner for clients looking for reliable fabrication solutions.
Marine Fabricators
Services: Medium to heavy fabrication