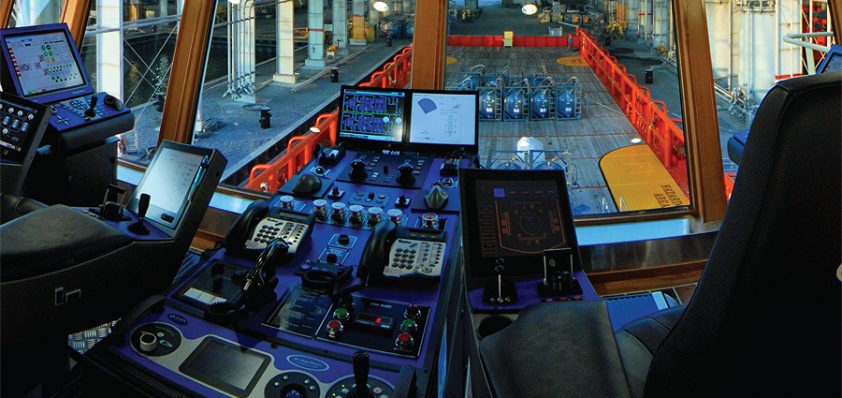 Bridge to the future
With over five years of experience, Marine Technologies has become an industry leader in the development and manufacture of control systems for offshore vessels.
Established in 2002, the company operates from offices in America, Singapore, and Norway, and has placed particular focus on the production of dynamic positioning (DP) systems.
Marine Technologies' initial objective was to develop DP systems that met, as a minimum, IMO guidelines for DP class two systems. Demonstrating its potential for excellence, Marine Technologies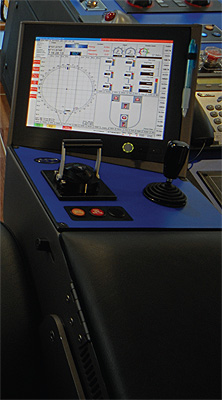 fitted its first DP system to an offshore vessel only 16 months after the company had been founded. "We managed to produce a DP system that was considerably more reliable and simple to maintain than existing units," explains European sales manager, Ole Morten Husoy. "We revolutionised dynamic positioning technology by supplying the system with three control computers, giving a triple redundancy feature which improved the reliability of the overall system. This eliminated many of the problems with the old, twocomputer systems."
Following on from the initial successes of its DP systems, Marine Technologies developed an advanced bridge control system known as the Bridge Mate. This design is based on having a number of identical, multi-functional workstations that independently controls each of the necessary applications on the bridge. This approach, in which Bridge Mate is alone able to control in excess of ten applications such as radar, ECDIS, conning, CCTV, common alarm system, etc., varies from the traditional model of an integrated bridge, where one computer would be required for each application.
The Bridge Mate concept has a number of variations, based on distributed architecture, state-of-the-art technology for hardware and software, and pays a lot of attention to redundancy and segregation philosophies. When supplying both an IBS and DP system to a vessel, several synergies are achieved; by using the same HW, a spare part package of only $10,000 can cover the need of both systems, the DP can be remotely operated from the IBS workstations and data from reference systems and sensors can easily be shared via the redundant Ethernet. In addition, a single remote diagnostics interface can give access from shore-side to both systems for fault-finding and service support.
Ole explains the success that Marine Technologies' relentless efforts to innovate have brought it: "In the past few months we have delivered one of our integrated bridge systems for a seismic vessel, and it has received the highest level of DNV approval to NAUT-AW standard. Only DNV has this class, and to achieve it we needed to implement a grounding avoidance system (GAS). Meeting this standard required us to make a number of developments, all of which were met with approval from the DNV.
"It is quite an accomplishment because there are several other companies who have taken a couple of years to do what we have in the past few months, so we are very happy. It is also a statement about the company that the first bridge we deliver, is the highest class that exists. If we can meet that requirement, then we can meet any others, and do so by a comfortable margin."
Never resting on its laurels, Marine Technologies has been simultaneously developing yet more technological benefits for the industry. "We have recently been constructing our own autopilot," says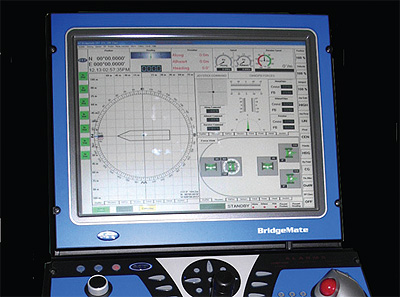 Ole. "This is a software module; it's not a physical unit where you can change course, it is, instead, all undertaken via a graphic user interface on the bridge systems and workstations. We have also had that approved by DNV."
Ole believes it is the sheer level of responsibility it is aiming to remove from navigators that differentiates it from its competitors: "When the client has a situation, we will have an answer. We are trying to make as much as possible pre-set on the bridge; so, when a special emergency situation arises, there will be a logical sequence of developments, and this will be assisted by already pre-set defaults.
"We have also been looking at another new system that makes control much easier. With all of the options now available on the integrated bridge systems, and the variety of applications, it is possible to get lost amongst the menus. The idea of a default button was therefore developed, where you have a standard setting that is universal – therefore, whatever you are doing on the system, a single push of a button could reset everything to default. This means that anyone who comes onto the bridge and takes control of the ship in an emergency can know immediately what is coming up."
Ole outlines, both in the company's internal development and its future plans, that Marine Technologies' growth shows no sign of slowing. "We have hired another 20 people," he explains. "Furthermore, we are expanding our offices here in Norway by another 400 square metres or so,  and are already building another 5000 square metre facility in the United States. We had a problem because the facilities that we moved into in February 2007 were too small by the end of the year. All in all the development of our new offices will probably take a couple of years, but it will certainly be worth it.
"We also now have a company under the Marine Technologies umbrella called C Innovation. This provides and operates big deepwater work ROVs. We have already ordered 13 Schilling ROVs for delivery this year, and are negotiating on another 24 to come. This means, of course, that we have to give a lot of thought to recruitment – it takes, depending on geographical location, between 12 and 18 persons to operate an ROV. This means that C Innovation is a very fast growing business, and we are building it constantly to meet the requirements for the North Sea Market. With all of this in mind, there is no reason why we should not continue to experience the same, strong growth that we have experienced up until now," Ole concludes
Marine Technologies
Products: Vessel control systems