Pole position
Marine Technologies was established in 2002 with the initial objective of developing and marketing dynamic positioning (DP) systems for both industrial and commercial applications that met, as a minimum, IMO guidelines for DP class two systems.
Such was the expertise and knowledge within the fledgling business that in just 16 months it had fitted its first DP system, which featured an innovative triple redundancy design, to an offshore vessel with much success.
Frode Klepsvik, vice president at Marine Technologies, tells European Oil and Gas more about how the business has developed since that time: "I think that the key aspect from the start has been that our core expertise and skill has been in advanced DP systems and associated technology. Our production started in Mandeville and Egersund, and gradually we realised that the core skills that we possessed were easily transferable to other areas of vessel support systems, in particular bridge systems. So really, from being a pure DP provider we are now producing entire integrated bridge solutions that are certified to all international standards and regulations."
The integrated bridge system (IBS), known as Bridge Mate, that Frode highlights is one of the company's more recent developments. The solution, which acts as an advanced bridge control system, features a number of identical, multi-functional workstations that independently controls each of the necessary applications on the bridge. The Bridge Mate concept has a number of variations, but essentially is alone able to control in excess of ten applications such as radar, ECDIS, conning, CCTV and common alarm system.
"The IBS systems are truly state-of-the-art products," says Frode. "The combination of technology and communications solutions that is provided is a very important aspect on board a vessel.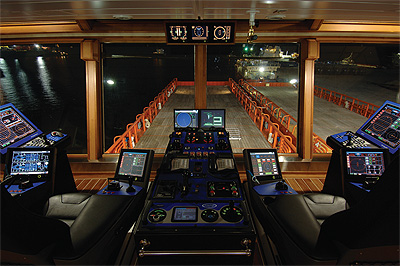 Alongside this we are now also delivering advanced satellite communication systems, and of course we are able to integrate these with the DP and IBS equipment already on board to allow a complete package that is also capable of remote monitoring and remote diagnostics – both of which are becoming increasingly important in modern maritime operations."
Such is the success of IBS that the very first system, which was delivered by Marine Technologies for use on board a seismic vessel, received the highest level of DNV approval to NAUT-AW standards – a testament to the technological know-how and expertise of the company.
Important to much of Marine Technologies' developments is the consideration of crew comfort on board vessels, as Frode explains: "If you look at the shipping industry today there are certain aspects that arise, and foremost among them is crew retention. The welfare of those on board a ship is becoming increasingly important, and communication and effective equipment is vital to this. We think that our communication products, alongside the advantages that IBS and DP systems offer will make a very attractive prospect to ship owners and operators."
Indeed, much of the company's equipment goes a long way to providing crew members with easy to operate and maintain solutions that give the best possible results. For example, one focus has been to make as much as possible pre-set on the bridge so that if and when a special emergency situation arises there is a clear, logical sequence of developments to easily solve this. Furthermore, Marine Technologies has been developing an autopilot to make the operation of the system far easier, and a default button that at one push can reset everything to the default settings. The advantage of this being that any member of the crew entering the bridge can theoretically deal with any situation that occurs.
As can be seen, the growth of Marine Technologies has relied on its pioneering attitude and expertise, and Frode expects this to continue in the coming years: "We are a small, relatively young company that is extremely creative and entering into new market sectors with some novel technologies. Therefore, I think that in the medium to long-term the outlook is good for us. I think that we stand a good chance of capturing a large market share, both in the DP systems, which we are very good at, and in the IBS and communication solutions."
As part of this marketing strategy the business regularly attends industry exhibitions and conferences, with this year's OTC being no exception: "We are exhibiting at this year's event," says Frode. "It is an important meeting place for companies such as ourselves that allows you to monitor the development of the industry as a whole, and to compare your own products with the latest offerings. It goes without saying that you really have to attend these events and OTC is certainly one that we regularly visit."
Looking to the future, Frode reiterates his confidence in Marine Technologies' prospects: "Our technology is extremely reliable and we have had an excellent market response thus far and I believe that this will continue. I would like to see Marine Technologies become a successful player in the maritime technology sphere and I am confident that we have an excellent basis to achieve this," he concludes.
Marine Technologies
Products Vessel control systems